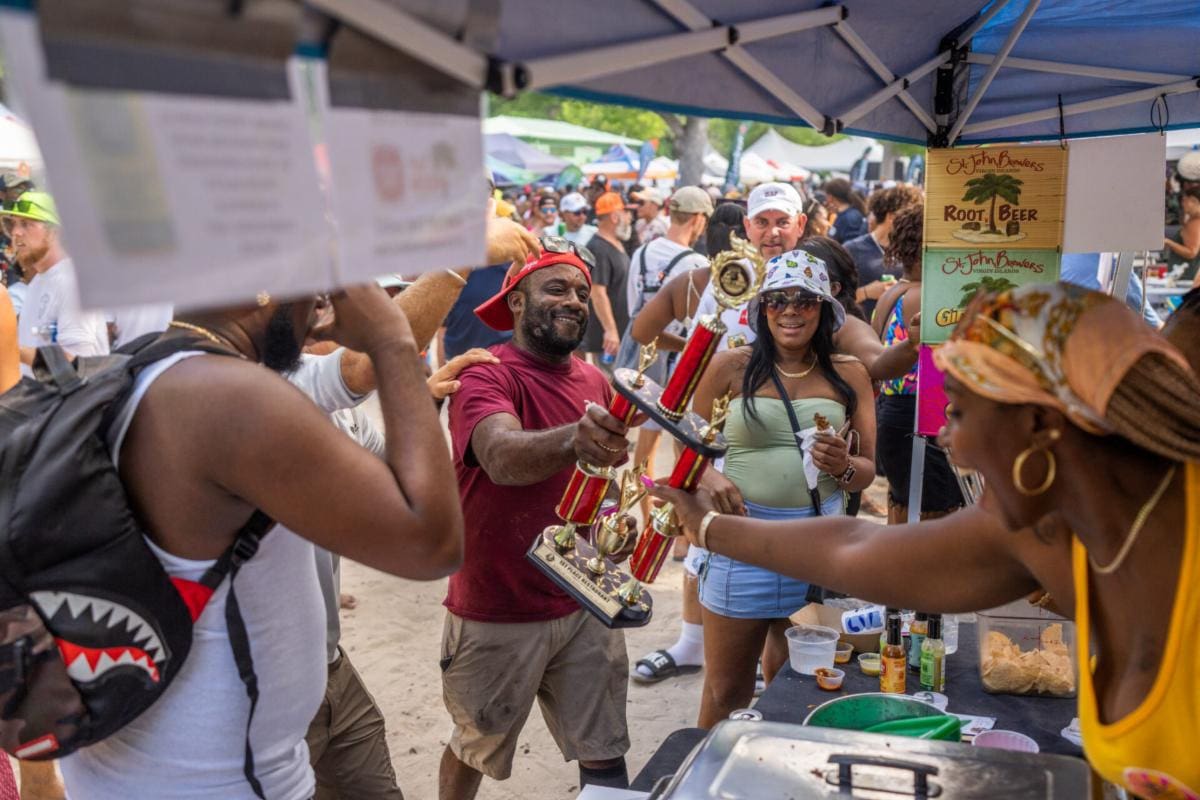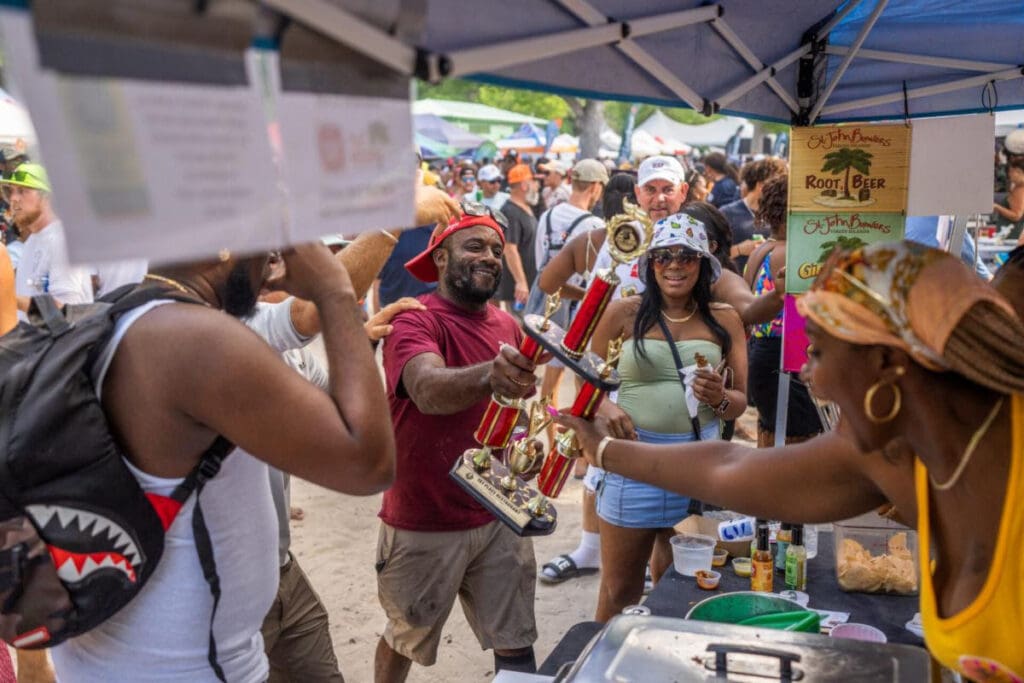 The King of the Wing contest is an annual chicken wing cook-off that completed its 12th year of family-friendly competition at Magens Bay Beach on Saturday, June 10. As the Restaurant Division winner of King of the Wing (KOW), Chef Isaac Buckner and his team from The Tap Room / St. John Brewers will now be attempting to bring home another trophy, this time from the National Buffalo Wing Festival in Orchard Park, New York.
Now entering its 21st year, the National Buffalo Wing Festival has become the "Super Bowl" of the chicken wing industry for restaurants, wing lovers and even competitive eaters. The U.S. Virgin Islands Department of Tourism will accompany the team from St. John to Highmark Stadium (Where the Buffalo Bills play) this Labor Day Weekend (Sept. 2-3) which expects to attract over 50,000 attendees from every state and over 30 countries.
The team at the Tap Room / STJ Brewers is excited to enter the national competition this year. "We started getting positive feedback within the first hour of cooking, but we never expected to win in our first year entering the competition. It didn't quite sink in until we were on the ferry ride back to St. John," said Chef Isaac Buckner.
"What I'm going to bring to Buffalo is a little Caribbean flavor in my sauces with some sweetness and 'heat-ness.' We want to use the influence of all the cultures we have in the Virgin Islands in our sauces," Buckner said.
The Tap Room will join several other restaurants to serve over 100 different styles of wings as well as additional "Buffalo Style" foods this weekend. The wing restaurant teams will compete in the annual National Sauce-Off Competition for bragging rights to the best wing sauces in America! The competition includes eight different categories of wing styles, including traditional medium, hot, extra-hot, creative, traditional BBQ, creative BBQ, creative sweet and creative spicy.
The National Wing Festival has become a top destination for wing lovers from all around the world. Over the last 21 years, the festival has drawn more than 985,000 people and served over 5 million wings. The festival, which also supports local charities, has donated more than $365,000 since its 2002 inception.
Additional Festival features include The World-Class Competitive Eating, Amateur Sauce-off Competition, Miss Buffalo Wing Pageant, Baby Wing Contest, Bobbing for Wings Competition and the Warrior Factory Challenge.
Mark your calendars now for KOW 13 on Saturday, June 8, 2024! If there are any questions, call Vernon Araujo at 714-2020, email kingofthewingvi@gmail.com or visit www.kowvi.com. People can also follow King of the Wing on Facebook, Instagram or Twitter.
Congratulations to the 2023 King of the Wing Winners!
Overall Winner (King of the Wing):
V.I. Water and Power Authority
Restaurant Division:
1st Place- St. John Brewers – Tap Room
2nd Place- Surf & Turf Bistro / Island Hope Wines
3rd Place- Hot on the Spot
Non-restaurant Division:
1st Place- V.I. Water & Power Authority
2nd Place- Sunfari / Patagon
3rd Place- Viya
Best Decorated Booth:
Mystic Valley
Special Seasoned Participant award to Caribbean Saloon for being the only team to participate all 12 years!
Thanks to all the judges and especially the celebrity judges Esther Choi and Jaeki Cho.
Special thanks to: All the bartenders, volunteers & sponsors, 183 Media, A&R Transportation, A9 Trucking, Alpine Securities, Banco Popular, Bronx Communications, Children's Dental Care, Cost-U-Less, Heineken and Johnnie Walker which are distributed by Bellows Int'l, Deloitte, Department of Planning & Natural Resources, deSigns, Goldman Law Offices, Haugland VI, Heavy Materials, House of Rajah, IGY Marinas, Instinet, Keswick Insurance, Lew Henley, Magens Bay Authority, Magens Bay Concession, Marjorie Rawls Roberts, PC, Rapier Med, Royal Caribbean, Seas the Day Charters, USVI Department of Tourism, VI Police Department, USVI Department of Public Works, VI Rescue, VI Taxi Association, VI Waste Management, Viya, Voodoo Charters and White Bay Group.