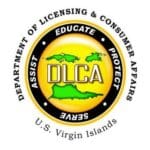 The Virgin Islands Department of Licensing and Consumer Affairs (DLCA) hereby notifies the public of a hearing to address community concerns on pending applications for a tavern keeper a liquor license to conduct the proposed business activity listed as "Bar sales of alcoholic and non-alcoholic beverages at the following physical locations:
The Tuck Shop LLC-6A, Wimmelskafts Gade, St. Thomas, V.I. 00802
Isla Blue Restaurant LLC, No. 5 Bakkerroe, St. Thomas, V.I. 00802
Pursuant to Title 8 of the Virgin Islands Code Section 13(c), DLCA may suspend or revoke an alcohol license upon finding, after public notice and adequate hearing, that such suspension or revocation is in the public interest. DLCA invites all those property owners within residential areas, schools or churches that are 500 feet or less from the described location to present testimony either for or against the issuance of the aforementioned license.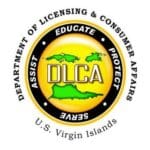 Residents may also submit any comments, objections and/or approvals by hand-delivery to the Alcohol Control Unit located at Property and Procurement Building 8201 Sub Base, Suite 1, St. Thomas. V.I. 00802, or by electronic mail to nicolas.francois@dlca.vi.gov and anisha.industrious@dlca.vi.gov.
The public hearing is scheduled for 4 p.m. Wednesday, May 31, at the Department of Licensing and Consumer Affairs Conference Room, Property and Procurement Building, 8201 Sub Base, Suite 1, St. Thomas V.I. 00802.
If there are any questions, you may contact the Alcohol Control Unit directly at 714.3522 or 725-6068.