Since the start of the year, a colorful seascape has taken shape on a wall outside the Ivanna Eudora Kean High School. Weekend passers-by could also see a small crew of mural artists applying brush strokes, often shaded by an umbrella.
It's part of a mural project promoted by Artists for Oceans, said Kean High School Assistant Principal Juelis Hodge. For this particular artwork, students worked with an assigned artist to complete the design for "A Legacy to Leave Behind." Then, she said, volunteers from the high school art classes did the actual painting.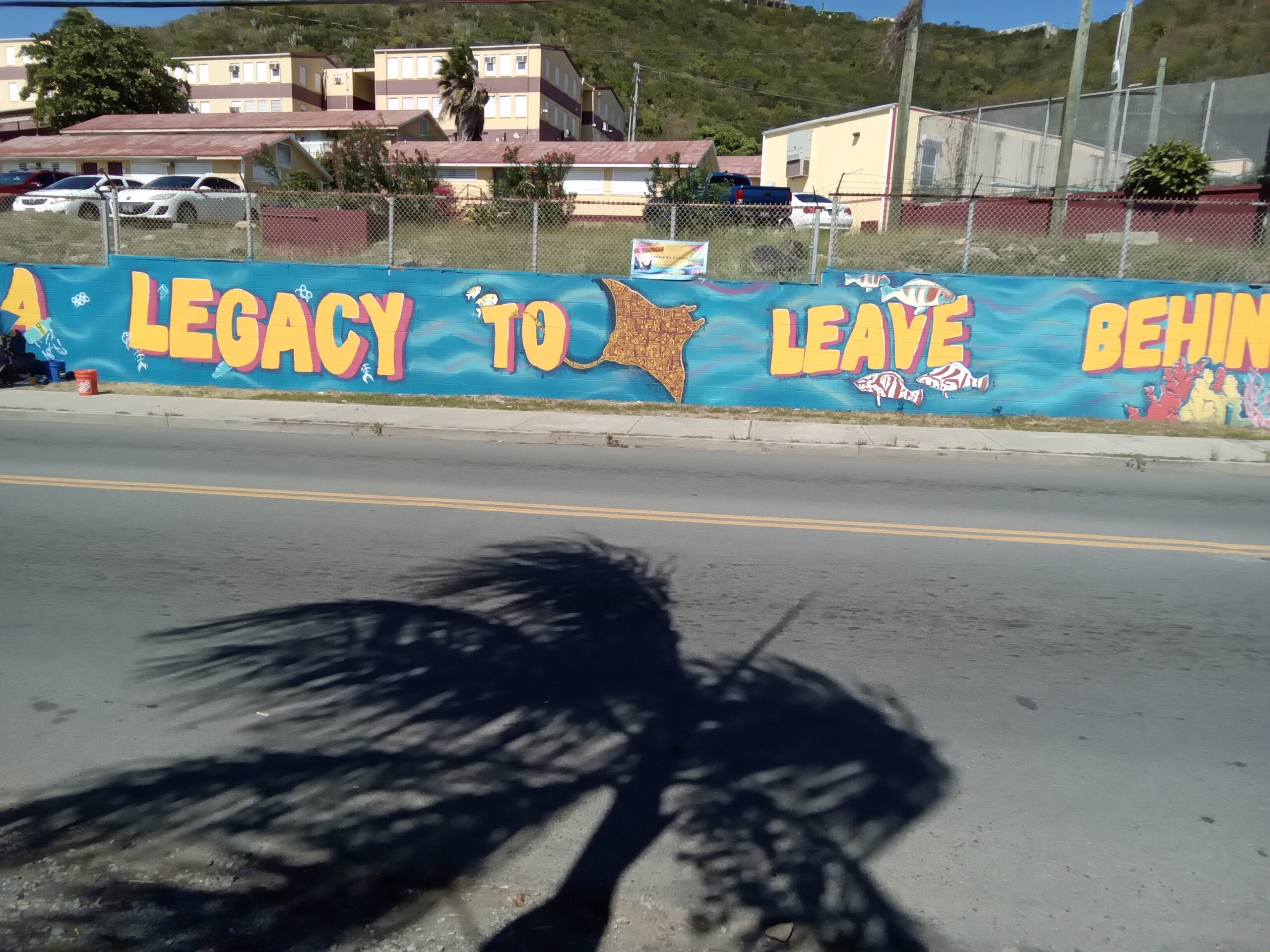 It's just one example of young people getting in touch with their community-mindedness through volunteer service. For public school students, the requirement for graduation is to perform 100 hours of volunteer service.
The requirement set for private and parochial schools is not as defined, but in places like Gifft Hill School on St. John and the Virgin Islands Montessori School and Peter Gruber International Academy, administrators say it is widely encouraged.
GHS Gives Back Day was an annual event until COVID-19 put activities on hold in 2020. This year, the spirit of giving sprang from St. John private school students again said spokeswoman Andrea Milam.
"On Thursday, Jan. 26, all of our students, from the toddler class through 12th graders, engaged in service projects across the island as a way of giving back to the community that so generously supports our school," Milam said. "GHS Gives Back Day also serves to further inspire our students to be caring, compassionate ambassadors within their community, and it gives them the opportunity to experience how fulfilling it can be to lend a helping hand."
Many of the projects Milam described were very hands-on. Students created thank-you notes and handed them out to Cruz Bay business owners. One class teamed up with the Waste Management Authority to paint a mural near the Theovald Moorhead barge dock. The theme of keeping the Virgin Islands beautiful also showed up in another class project; third graders making posters telling visitors how to help care for their island home.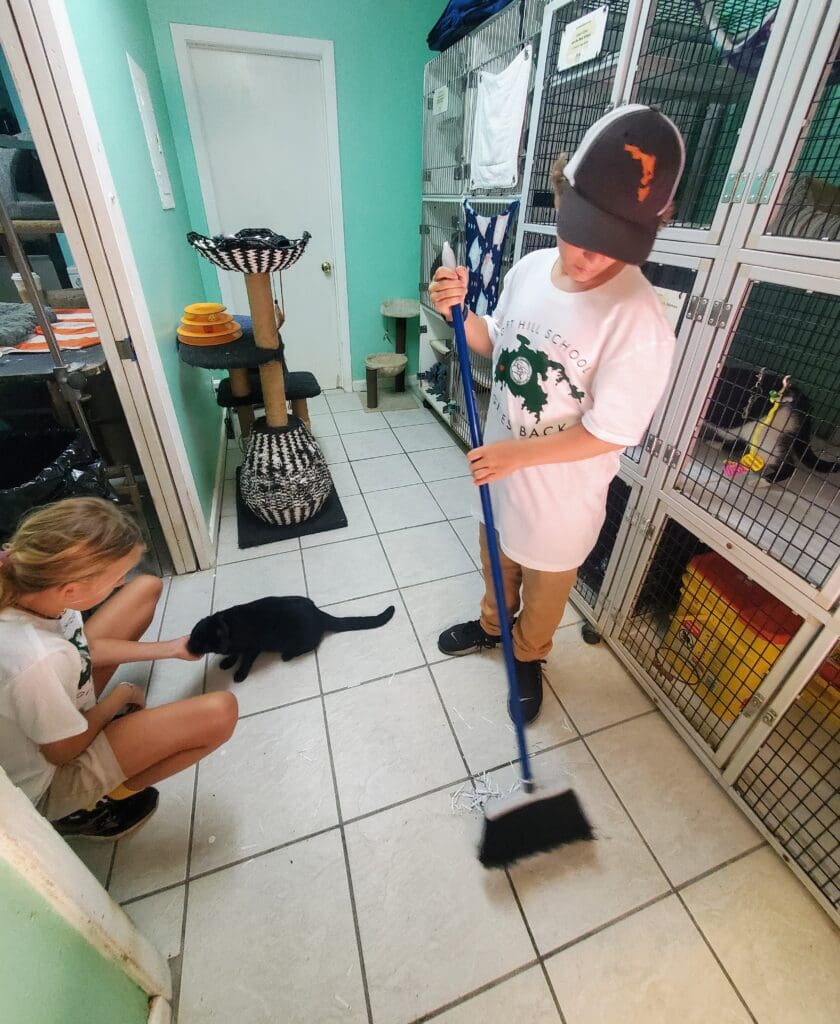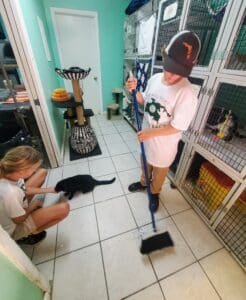 Helping hands from Gifft Hill School also helped wash firetrucks at the Robert O'Connor Sr. fire station. Another crew from a different grade helped unload a shipping container of supplies for the Myrah Keating Smith Clinic. Other student cleanup crews did duty with Sports, Parks and Recreation, and the Virgin Islands National Park and paddled kayaks to Princess Bay to remove trash from the mangroves.
Lemonade sellers raised funds to aid local nonprofits; volunteers also helped the St. John Historical Society organize its archives.
Over on St. Croix, Education Department Student Services Director Rena Francis said community service "helps build character" across the public school system.
"Our students are doing some form of community service, but mostly we focus on the high school level. Starting with the 9th Grade, all students put in a minimum of 100 hours of community service with a nonprofit group or a government operation," Francis said.
Some St. Croix students serve as volunteers at the Gov. Juan Luis Hospital. Others put in time at the St. Croix Animal Welfare Shelter. They assist at the annual Agrifest agricultural fair or participate in public parades and ceremonies.
Other students put in hours around their school campus, helping new classmates get used to their new routines.
One student at Educational Complex High School even had the inspiration to design a "Murla Mood Board," where students can post their emotions or simply read those of other students in hopes of helping each other.
"They get to learn a lot when they do their work with the volunteer organizations and some work with private organizations that give them some on-the-job experience," Francis said.
Francis says there have been students who find a future through community service. Some student volunteers who put time in at the animal shelter may begin by feeding animals and cleaning cages, she said, but then go on to become vet techs.
The more enthusiasm they find through service, the more hours they put in.
"Some students don't do 100 hours at all. They exceed that by far," the student services director said.
At V.I. Montessori School and Peter Gruber International Academy, community service is built into the education model, says Director Michael Fisher. "We do quite a bit of our service on campus, mentoring other students, usually in the lower grades," Fisher said.
There are also student-driven service projects chosen and promoted as out-of-classroom learning enhancements. Often one day of the week, called Volts Wednesdays, is a school day set aside for community mentorship projects, personal service projects, or enhanced learning in a chosen field of interest. "The students choose the projects and then go out in the community and perform service," Fisher said.
"We also have, on unscheduled days, beach cleanups as part of their environmental studies and other opportunities where we perform volunteer projects," Fisher said.
And down the road from Montessori — back at Kean High — student volunteers are encouraged to log in service hours by participating on sports teams and the Junior Reserve Officers Training Corps (JROTC), said Assistant Principal Juelis Hodge. Both groups participate in environmental clean-up activities, she said. Some of the groups working under the direction of the University of the Virgin Islands at the Marine Advisory Service.
JROTC students, like those at Gifft Hill, also host charity walks, raising funds to aid local nonprofits, Hodge said. Kean High cheerleaders, boosters and other volunteers also help Rotary Club East host their annual Breakfast with Santa event in December.