President Joe Biden has directed all federal agencies to waive cost-sharing requirements for four U.S. territories, meaning the U.S. Virgin Islands would not have to chip in on many federal grants, according to a release from the Department of the Interior Wednesday.
The federal Office of Management and Budget rule waives the matching or sharing fees for all grants under $200,000 to the territories and gives federal agencies and departments the option to waive matching funds for grants over $200,000.
Just how many local federal grants the directive might cover, and how much money the Virgin Islands might save, was not immediately clear. The USVI Office of Management and Budget had not yet evaluated the directive when reached Wednesday.
It also was not immediately clear if the rule, which is part of an amended 1980 law, was retroactive or only applied to new grants.
Biden's action reinterpreted how the law — 48 U.S.C. § 1469a(d) — is implemented, making matching funds for grants to territories under $200,000 mandatory instead of optional. It substitutes the word "shall" for "may" in the last sentence of the subsection.
The Department of the Interior statement said the fee waiver was meant to make more funds available for investment in long-term plans for ecosystem restoration, climate resilience, and economic growth in American Samoa, the Commonwealth of the Northern Mariana Islands, Guam, and the U.S. Virgin Islands. It was not immediately clear why Puerto Rico, the remaining fifth U.S. territory, was not included.
The announcement was made at the Interagency Group on Insular Areas conference for territorial governors, members of Congress, and other federal government officials. At the meeting, Secretary of the Interior Deb Haaland announced that the Interior Department would extend the waiver of all match requirements, regardless of amount.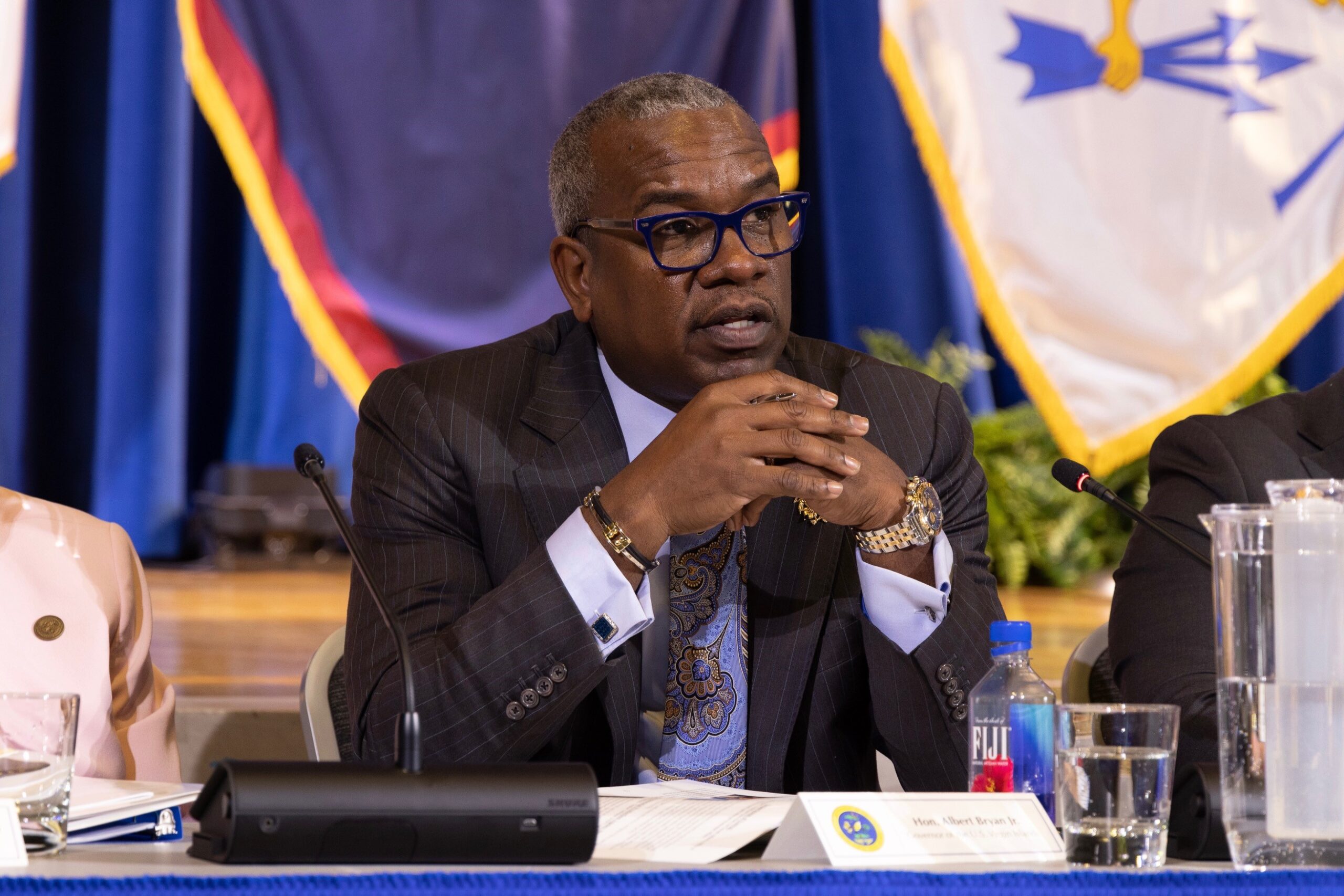 Gov. Albert Bryan Jr. was at the meeting too, saying the territory was relying on advocacy from the Department of the Interior and others, like the Federal Emergency Management Agency.
"We have $12 billion worth of repairs to do and a match requirement that is close to $1 billion dollars, which is almost the exact size of our annual operating budget — just to put into scope what a tremendous lift that is," Bryan reportedly said. "And with the stroke of a pen, the Biden Administration and FEMA can wipe that away."
Haaland said the reduced financial burden on the territories would accelerate the benefits of Biden's Bipartisan Infrastructure Law and Inflation Reduction Act.
"In implementing this new policy, territorial governments will have greater flexibility to access these funds, further equipping them to upgrade critical infrastructure and invest in climate resilience," Haaland reportedly said.