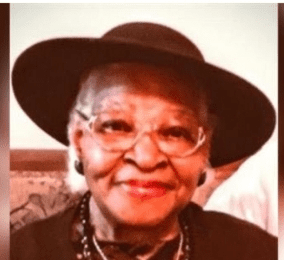 Let all that I am praise the Lord; with my whole heart, I will praise his holy name. Let all that I am praise the Lord; may I never forget the good things He does for me." "Our days on earth are like grass…the wind blows, and we are gone…but the love of the Lord remains forever with those who fear him. His salvation extends to the children's children…of those who obey his commandments…Let all that I am praise the Lord (Ps 103: 1, 2,15 – 18, 22 – New Living Translation)
Louise Ursula Stephen entered her eternal rest on Sunday, Jan. 22, in Atlanta, Ga. She was born on Friday, July 7, 1933, in Paramaribo, Suriname (formerly Dutch Guiana), South America.
Louise was the third of six children to Adolphina Jacquilina and Jackues Alfred Nelom. Louise represented the fifth generation of Neloms in Suriname, dating back to the late seventeen hundreds; and she was the last remaining matriarchal member of the fifth generation of Neloms in that country. She and her five siblings lived their formative years sacrificially, as both parents served as missionaries of the Moravian Church, for extended periods of time, in the hinterland mission fields of Suriname.
In 1955, at the age of 22, Louise married Peter Joseph Stephen, a native of neighboring British Guiana, and an aspiring minister of the Gospel. Together they went on to serve for over 60 years in
ministry as a pastor, missionary and educator in churches in Suriname, British Guyana, the U.S. Virgin Islands and the United States.
Among her innumerable accomplishments, Louise is most proud of raising seven children; completing her education by earning a certificate in early childhood education from the College of the Virgin Islands – St. Croix Campus; and starting pre- and early education programs in the churches she served in.
Louise was preceded in death by her husband and lifelong mate, Peter Joseph Stephen; and son, Linden Stephen.
She leaves behind six children: Wesley (Gloria) Stephen, Joseph (Sherri) Stephen, Annita Stephen, John (Colette) Stephen, Linda (Fabrizio) Sergio, and Cherryl Stephen.
She also leaves behind six grandchildren: Pamela, Mellina, Gabriel, Samuel, Luca, and Matteo; five nieces: Rina, Muriel, Hedy, Jenny and Alexandra; three nephews: John, Kenneth and Dennis; godchildren: Krystel, Kel and Keith Compton; and numerous friends both near and far.
Visitation
Feb. 3. 5 – 8 p.m. (ET) at Gregory B. Levett and Sons – Gwinnett Chapel, 914 Scenic Hwy, Lawrenceville, GA 30045
Celebration of Life
Feb. 4. 10 a.m. to noon (ET) at Mt. Zion AME Zion Church, 135 Sorrell Drive, Loganville, GA 30052
These services will be recorded and streamed live. If the event is interrupted at any time due to technical issues, the entire event will be uploaded and available to view later in the day.