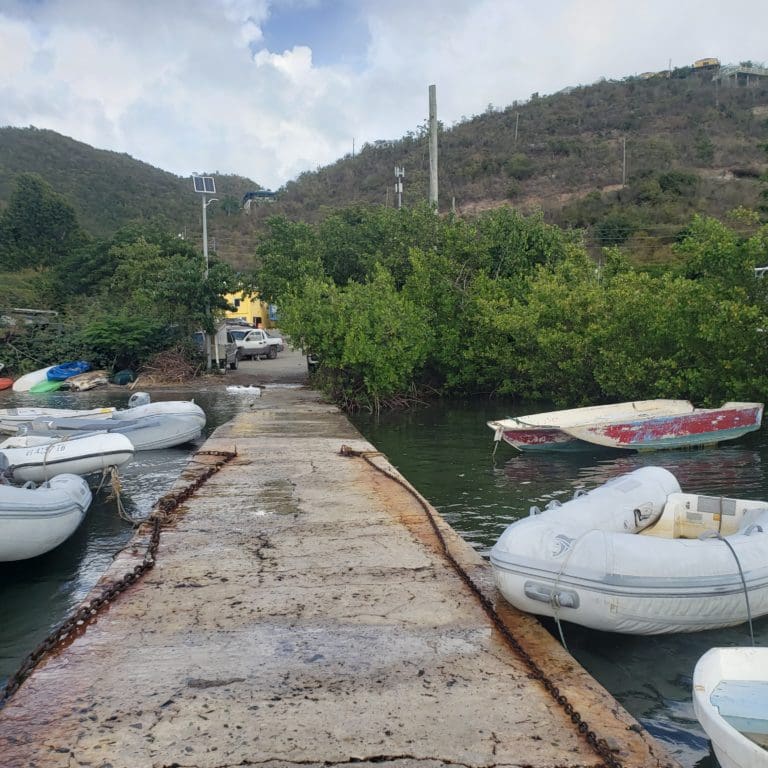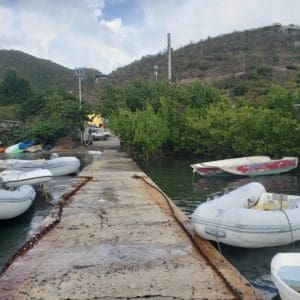 The Coral Bay Community Council has secured a grant to proceed with the next phase of its "Small Access Docks" project.
The goal is to provide more shoreline access and other amenities for transient, recreational boaters on the southeast side of St. John while being as inclusive as possible with area landowners and businesses, the nonprofit organization said in a press release.
Currently there is a single historic "town dock" on private land that is overloaded with dinghies in shallow water that is approximately four feet deep or less, the release stated. A community meeting was held in November to discuss the project and gauge public support.
"Multiple small docks would help spread the economic benefit of boating access to the landowners and community, allow boaters to visit more locations and amenities, and is intended to reduce both water- and land-based environmental impacts along the shoreline by avoiding congestion in one area," according to the press release. The small access docks are expected to range from 50 to 100 feet in length.
The community of Coral Bay is a popular destination for tourists and transient recreational boaters who are drawn to the Virgin Islands National Park, the boaters' Hurricane Hole, and access to the British Virgin Islands, the release noted.
The project will be funded by a Boating Infrastructure Tier 1 Grant from the U.S. Fish and Wildlife Service to the Department of Planning and Natural Resources — Division of Fish and Wildlife, with CBCC as the subrecipient, according to the release.
As part of that grant, the council is requesting proposals by qualified firms and individuals to perform benthic and shoreline environmental analysis to support developing small dinghy dock designs and permit applications for several sites. The RFP is available at the CCC website. The deadline is Jan. 20 to submit proposals to cbcc@coralbaycommunitycouncil.org.
CBCC is also hiring a dock and boating services expert on a short-term basis to help manage this project and provide expertise. Visit the website to learn more.
Beyond Coral Bay, the project will provide a process that could be useful for replicating these docks in other bays in the Virgin Islands, the release stated.
For the past several years residents of St. John's east end communities have mounted opposition to the development of a mega-yacht marina in the Coral Bay area. In more recent times, smaller locally owned charters have appeared in the area, and have received a more favorable reception.
Transient boaters are defined as visiting boats that are 26 feet and longer. The project will develop the plans and permitting documents for several access docks within the harbor so vessels can drop off guests on a dock and then attain a mooring buoy or anchor, or secure the vessel dinghy to a dock.
There are approximately 14 landowners of parcels along the harbor. They have been contacted and those who are interested are becoming part of the planning team, the council said, adding that planning will assure that the actual final locations and designs will not harm the seagrass or mangrove habitats.
"Other boating infrastructure might also be planned and significant BIG grant applications for future construction money for the docks and facilities are possible," the release stated.
Community Input  
The planning activities for docks with stakeholders and landowners will include discussion and possible inclusion of any of the elements in the relevant range of transient boater services listed in the BIG regulations such as:
(a) Mooring buoys, floating docks, dinghy docks, day docks, and other structures for boats to tie up and gain access to the shore or services;
(b) Fuel stations, restrooms, showers, utilities, and other amenities for transient-boater convenience;
(c) Lighting, communications, buoys, beacons, signals, markers, signs, and other means to support safe boating and give information to aid boaters;
(d) Equipment and structures for collecting, disposal, or recycling liquid or solid waste from eligible vessels or eligible users.
Since 2008, CBCC has received more than a dozen grants from federal agencies (EPA, NOAA, USDA, DOI), foundations, professional associations, and local agencies, all for various components of effective watershed management planning and restoration implementation, the council said.
CBCC also routinely works with the Virgin Islands government, including the Department of Planning and Natural Resources, Public Works, Agriculture, and more.
More information is available at www.coralbaycommunitycouncil.org.