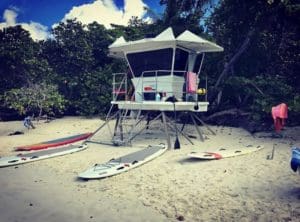 Friends of Virgin Islands National Park (Friends) is currently training and recruiting lifeguards and instructors for its Learn To Swim program which provides free lessons to adults and children. The program starts up again in late January.
🏊🏽 Dec. 27, 28 and 29 — Friends of Virgin Islands National Park and St. John Rescue are hosting an American Red Cross Blended Learning Lifeguarding course.
🏊🏽 Jan. 14 — Water Safety Instructor (WSI) class with an online component needs to be completed beforehand.
Training is paid for by Friends and all participants should be willing to sign a letter of intent to be involved with the Friends' Learn to Swim Program in some capacity, whether as a lifeguard, water safety instructor or beachside presenter.  These positions are paid.  The minimum age for these courses is 15 years old.
More information can be found at https://friendsvinp.org/learn-to-swim/