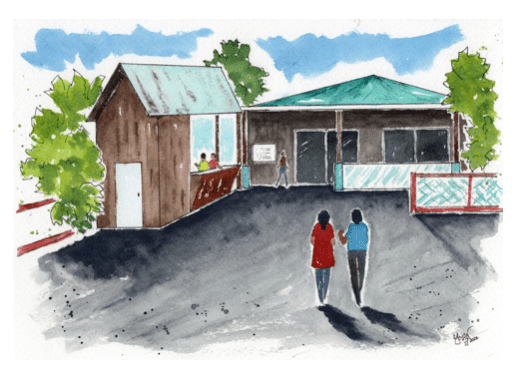 Community First, a project of Liberty Place, Inc., is seeking logo entries that represent the charge of ending homelessness in the Virgin Islands. Entries must be submitted to a staff or board member of Liberty Place by January 16, 2023.  One or more submissions are acceptable, and there is no fee to enter the contest.
"Submissions should embody the concept of 'Home,' 'Community,' and 'Support Services,'" Community First Director of Programs Scott Hensley said. Design logos should also represent the rich diversity of Caribbean culture, he added. "Our belief is that housing alone will not end homelessness, but rather the building of community, and raising hope is required to make a lasting impact on the lives of our most vulnerable and marginalized neighbors," Hensley said.
Contest rules and regulations have been submitted to St. Croix public and private schools. Entries from the community are also solicited. The winning entries of 1st, 2nd, and 3rd place prizes will be selected by a panel of Liberty Place Board members, Inc. and residents of Community First.
Email Scott Hensley at Prevention03@hotmail.com or call 340-201-0360 for more information.
Community First is a grassroots, community-based organization that provides housing and supportive services for individuals experiencing homelessness. Accessible, barrier-free services are provided to empower people experiencing homelessness, hunger, and poverty, as Community First advocates for solutions to these problems.
Community First serves people from every background and is intentionally inclusive. The organization serves victims of human trafficking, members of the LGBTQ community, veterans, domestic violence survivors, individuals living with a severe mental illness or with two or more disabling conditions, and those who have just fallen on hard times.
According to the brochure, Liberty Place (a US 501(c)(3) and Virgin Islands nonprofit in good standing) is committed to supporting human rights by providing safe and diverse spaces to live, learn, work and engage in community. Its wrap-around homeless services are delivered in collaboration with many businesses, nonprofit and local and federal governmental partners. Liberty Place welcomes individual donors and volunteers to partner with.
Liberty Place, Inc. was founded in 2011 following the brutal murder of a Crucian transgender youth. Three Crucian LGBTQ persons who had spent time on the U.S. mainland incorporated Liberty Place and persisted in influencing a greater tolerance in the U.S. Virgin Islands. Liberty Place created 'Safe Zone' diversity training in local high schools and at the University of the Virgin Islands; it hosted the U.S. Department of Justice and assisted the Department of Justice in training the V.I. police department about monitoring and documenting hate crimes. The organization advocates for marriage equality and organized the first and several subsequent St. Croix Pride celebrations.
Hensley encourages members of the community to contribute to the strength of our community by serving as a volunteer with a special skill to share; delivering a training program focused on finances, job search, health, exercise, or other life skills; creating "welcome home" kits for new residents at its emergency shelter and housing programs; participate in food, special event, and holiday programming; join the "Moving Solutions" team that assists residents as they transition into their "forever" home.
Community First is located on the former Villa Morales Restaurant site, where the organization is developing a kitchen garden for kitchen-to-table meals to supplement support from many community chefs providing hot meals each day. Community First wants to move medical and behavioral visits to their safe, on-site space and expand their job-and life-skills training and enrichment programs.
Emergency & supportive services for St. Croix's formerly homeless include emergency overnight shelter, laundry and shower facilities, permanent supportive housing, food security program, linkage to care and care management services, day shelter services, transportation, medication management, community outreach and advocacy services, and building capacity and increasing access to resources.
Supporters
Capital Improvements:
St. Croix Foundation for Community Development
Community Foundation of the Virgin Islands
Individual and Corporate gifts
Program/Operation:
Community Foundation of the Virgin Islands
Individual and Corporate gifts
For more information:
Scott Hensley: prevention03@hotmail.com or 340-201-0360
Liberty Place: libertyplacestx@gmail.com or shelter phone: 340-719-4357