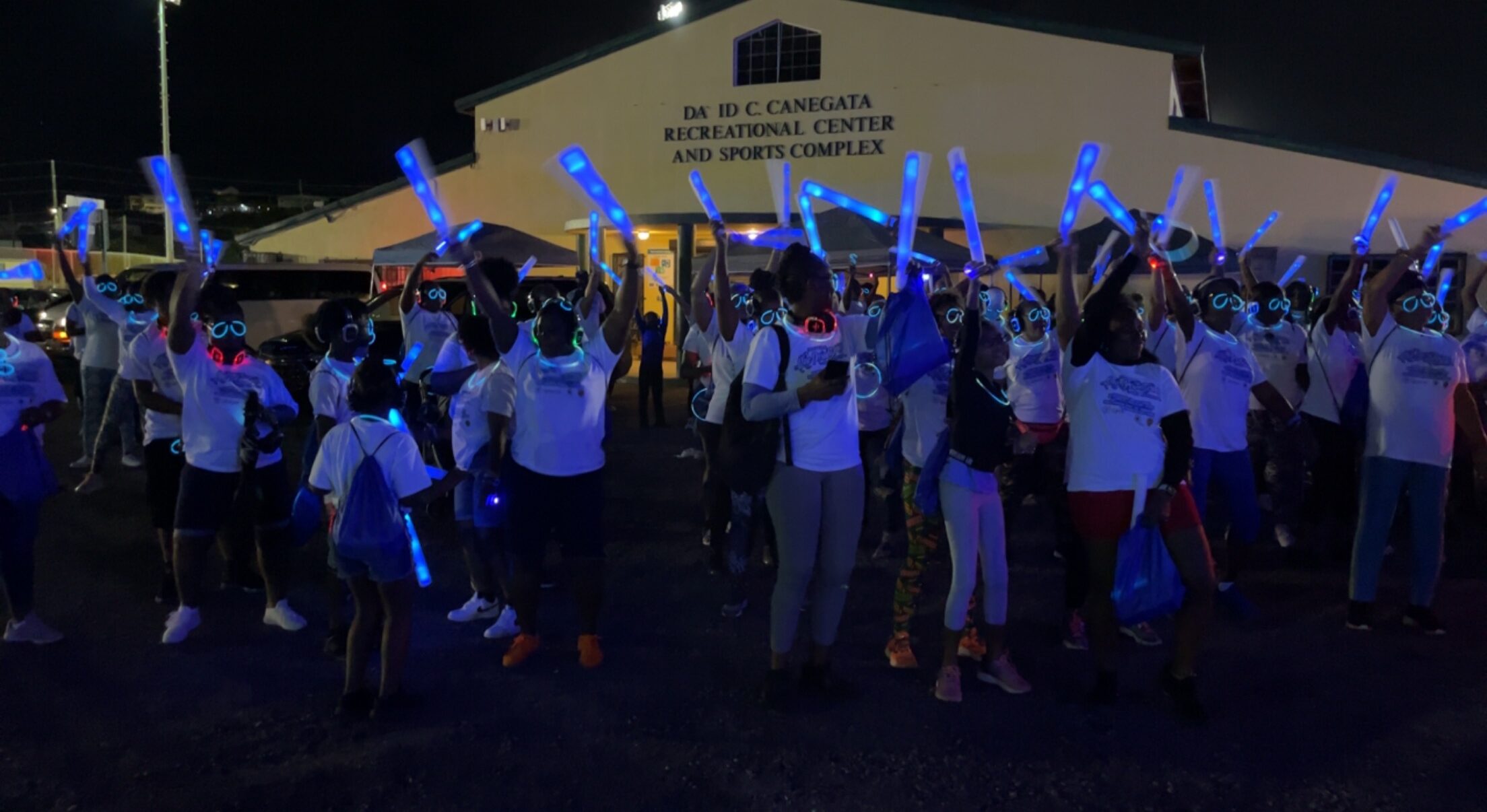 The streets were in aglow on Saturday night as the free Inaugural Blue Dream Tramp danced through the Christiansted town. In honor of diabetes awareness month, the V.I. Diabetes Center of Excellence, V.I. Department of Health, Division of Chronic Disease and the V.I. Department of Sports Parks and Recreation presented a fun way for the community to come out and exercise.
The tramp began at the David Canegata Ballpark and led through Christiansted town and circled back around through the bypass and ended back at the ballpark. About 200 participants wore headphones for the silent party-themed tramp, while they wore glow-in-the-dark glasses, necklaces, rings, bracelets and held wands. Bystanders came out from restaurants, lounges, and stores to see the tramp passing through Christiansted. Some even jumped into the crowd to dance with participants.
Line dances like the electric slide took place at certain points throughout the tramp.
"Tramping is a part of our culture and people do not even realize when you tramp you burn calories. Lack of physical activities is one of the contributing factors to diabetes," said the Director of Chronic Disease Lyna Fredricks.
After the tramp, the departments offered giveaways that included a scale and NutriBullet to make healthy smoothies.
"We wanted to bring awareness to the people of the Virgin Islands because diabetes is an issue for our community. The prevalence rate is at 14.9 percent, which is higher than the United States which is 11 percent," said Fredricks.
Fredricks said that diabetes touches so many lives, so they couldn't let the national recognition pass without the Virgin Islands having an event to commemorate and celebrate bringing awareness to diabetes.
The event will also take place on St. Thomas on Dec. 10 at 5:30 p.m., starting at Fort Christian Parking Lot, and the tramp will lead along the waterfront.
"If you have prediabetes there are things you can do to prevent or delay yourself from transitioning to diabetes and those things are a healthy diet and increasing physical activity," said Fredricks.