After missing two years due to COVID-19 restrictions, the 10th running of the Rotary Sunrise Kids Triathlon welcomed back 58 children to the Magens Bay course on Saturday.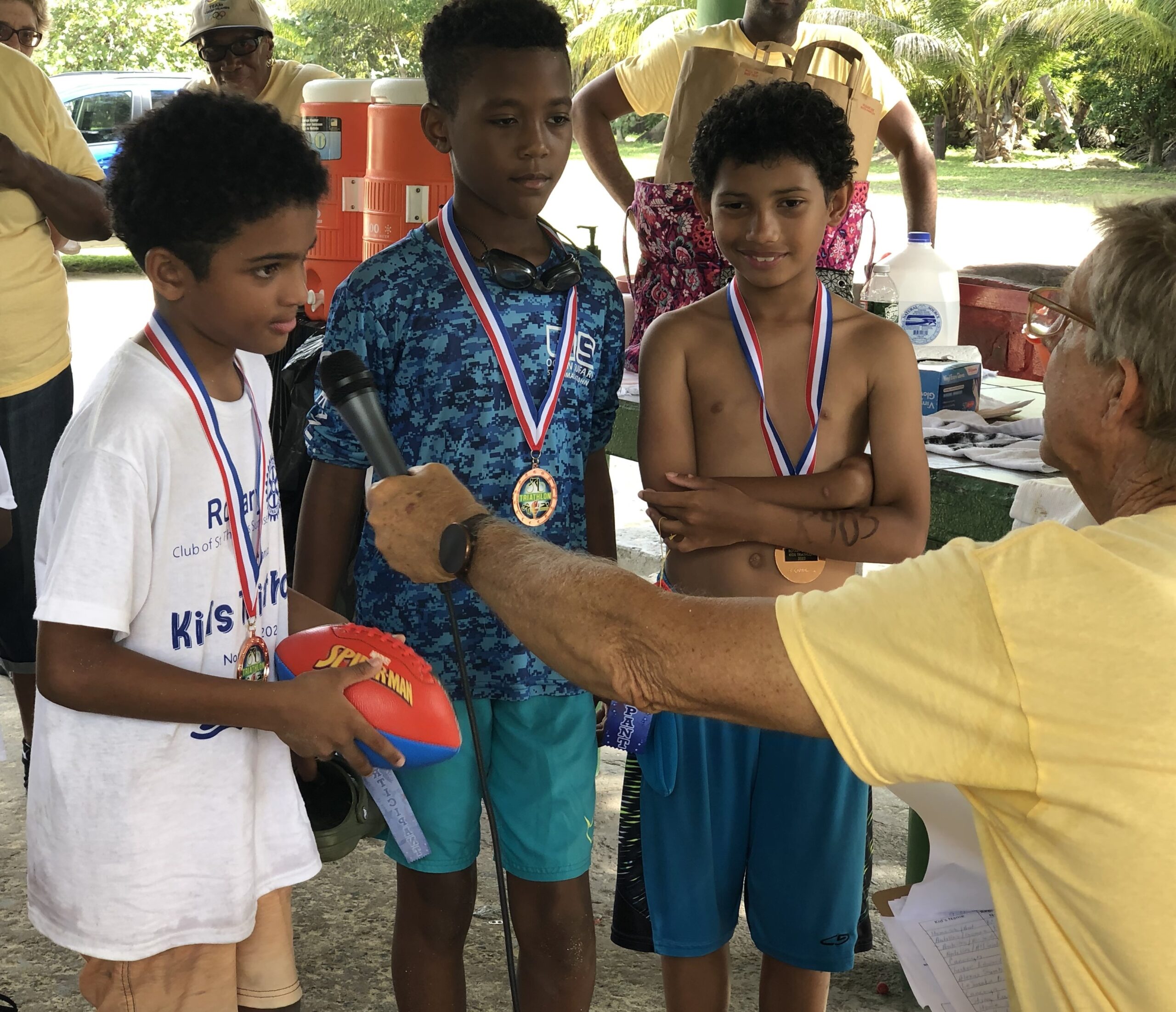 Children ages 5-15 competed in three separate classes — swimming, cycling, and running around the west section of the park. Twelve different schools were represented by students racing individually and in teams of two or three.
The recent heavy rains and high surf predictions provided some anxiety before the Saturday event, but the water samples had cleared up and knee-high rollers didn't hold the swimmers back, even in the 5- to 8-year-old category. Bright clear skies and light winds made keeping the participants cool and well-hydrated the biggest challenge.
In the 5- to 8-year-old category, the top three individual finishers were: Bennett Auchincloss, Shankin Sawyer and Adaie Blahken. In the team category for 5- to 8-year-olds, Antilles School took first place, while Home Schoolers came in second.
In the 9- to 11-year-old category, the top three individual finishers were: Tucker Edwards, Alexus Gumbs, and Le Juan Van Beverhout.
In the team category for 9- to 11-year-olds, first place went to Avery Pearsall and Reagan Uszenski, while Maxwell Nichols, Jacob Kalloo and Warren Kaxemier came in second. Third place was won by Jerome Boschulte, Omar Brown and Braydon Richardson.
Addelita Cancryn School dominated in the Teams category for 12- to 15-year-olds, winning all three places. First was Tomorrow's Inspiration Team with Amara Brathwaite, Jerome Osborne and Jah-zonte Osborne, while second was the Winning Phoenix Team with Mathew Greenaway Jr., Alvin Turbe Jr. and Bryant Bastardo. Coming in third was the Phoenix Rising Team with Allan Vasquez, Traie Merrifield and Ismail Bastardo.
The big showing in the Teams section gave Addelita Cancryn the winning edge over Antilles School in total participants, with All Saints and Home Schoolers tied for third. This won Addelita Cancryn a $500 donation to the school athletics department.
Liberty Communications was not only a major sponsor but also provided their team as the lap-counters. The event would not be possible without the support of Magens Bay Authority, which has been the steady rock the event stands upon. St. Thomas Rescue was on call and came in handy for some scrapes and overheating worries. Custom Builders helped with transportation of all major equipment and volunteers on site.
One of the biggest competitions is between which group had the most fun: the children participating, their parents, or the event volunteers. Again this year, it ended with a three-way tie.
The next Rotary Sunrise Kids Triathlon will be in the spring of 2023.