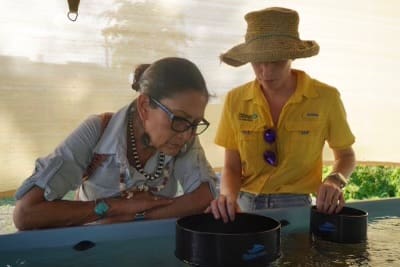 Secretary of the Interior Deb Haaland highlighted the efforts to bolster coastal and climate resilience in the U.S. territories in a brief press conference held Saturday at the Nature Conservancy on St. Croix.
Also in attendance was the Assistant Secretary for Insular and International Affairs, Carmen G. Cantor and other contributories to the Conservancy's efforts.
"We have had a wonderful past few days and had a chance to see the natural beauty of the U.S. Virgin Islands as well as the hard work by local communities and local teams to protect and conserve these unique landscapes," said Haaland.
"These efforts fit into the Interior Department's broader initiatives to restore ecosystems and end climate resilience," the secretary said.
Haaland said that she learned about the massive destruction caused by hurricanes Irma and Maria to homes, businesses, and communities, impacting people's livelihoods and the economy, as well as damaging coral reefs on both St. Croix and St. John. She also learned about ongoing restoration work in the community as well as ongoing work to restore and maintain coral reefs that will sustain a healthy environment for the territory.
The Biden-Harris administration is taking steps to strengthen communities, create jobs, invest in climate resilience, collaborate conservation, and promote clean energy deployment in the U.S. territories, the secretary said.
Haaland said that Interior has invested $570,000 in the U.S. Virgin Islands and provided $400,000 in fiscal year 2022 for the coral reef and natural reef initiative. The program provides grant funding and management and protection of coral reefs to combat invasive species in insular areas, contributing to the health of coral reef ecosystems and other natural resources for long-term economic and social benefits.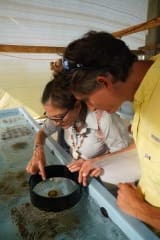 While talking about the coral reefs, Haaland became a bit emotional when speaking about the effects of climate change. Asked to elaborate a bit on the emotion, she said, "We were talking earlier, and it was explained to me that coral reefs can live for hundreds and hundreds of years, and it's interesting if somebody wants to chop a 500-year-old tree down, everybody gets really upset about it. We do not think about a 500-year coral being destroyed because of ocean acidity or somebody breaking it off or dying because the ecosystem is changing in the ocean.
"I feel like every piece of nature is important and just flying over here and seeing the reef over Buck Island it was exemplary how important these ecosystems are to the health of these communities," Haaland.
She continued, "Some people ask what keeps me up at night. Climate change keeps me up at night. I worry about it consistently. We all need to do what we can to protect our oceans."
Halaand described the work that the Nature Conservancy is doing with the coral as "remarkable."
The Nature Conservancy is building a seawater nursery to conduct assisted coral fertilization and coral reef conservation work, it announced in 2019. It has been working to graft coral for about 10 years, representatives said at the time, and now will work to grow coral by distributing gametes (sperm and eggs released by coral) over the species to promote reproduction.
According to its website, the Nature Conservancy's work began over 40 years ago, and they have been restoring coral reefs, protecting beaches, and safeguarding wildlife.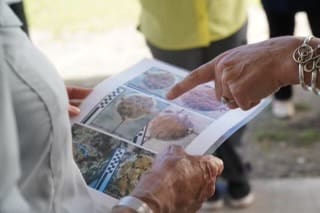 "I am happy as a country we are spending resources on the research and development that it takes to grow these corals. Looking at the filtration systems and all the things that they are measuring like the temperature in the water and the chemicals in the water. It is an intricate and complicated process. I appreciate it from that perspective but I'm sure the people doing the work here think of it in another way," said Halaand.
"What we are doing is trying to develop methods to restore the coral. To bring them back to where they once were," said Nature Conservancy Director Celeste Jarvis.
"We are facilitating their reproduction. We are planting enough coral together so that they will create a beautiful coral reef."
Haaland also made time to participate in Veterans Day activities and visit National Park Service and U.S. Fish and Wildlife Service-managed sites.
The Department of the Interior's mission is to conserve and manage the nation's natural resources and cultural heritage for the benefit and enjoyment of the American people. They provide scientific and other information about natural resources and natural hazards to address societal challenges and create opportunities. The department honors the nation's trust responsibilities or special commitments to American Indians, Alaska Natives, and affiliated island communities to help them prosper, according to its mission.