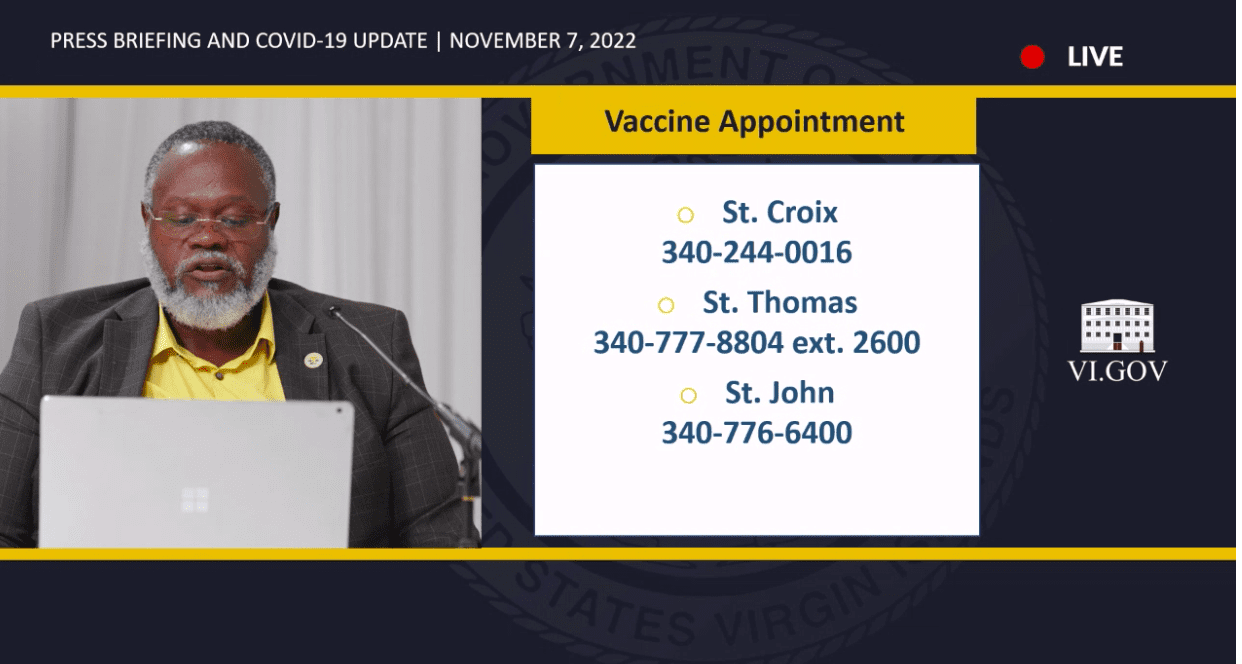 The number of COVID infections increased from 44 last week to 61 this week but there are no hospitalizations, said Rueben Molloy, assistant Health commissioner, during Monday's weekly Government House press briefing.
"There has been a low but consistent uptick in the last week and while COVID numbers don't indicate a particularly huge increase, they are still a good indicator that the virus is presently spreading in the community and we should all take precautions to prevent its spread," Molloy said.
St. Croix has 47 cases, St. Thomas has 14 and there are no infections on St. John, said Molloy. Testing and vaccines continue on all islands for all age groups and COVID and flu vaccines are available at all Community Health Clinics. To make appointments, call 340-244-0016 on St. Croix, 340-777-8804, ext. 2600, on St. Thomas, and 340-776-6400 on St. John.
There are still no monkeypox infections reported in the territory, but the vaccine is available, said Molloy. Call 340-690-6301 to make an appointment.
Molloy announced that the chairman of the Elections System is requesting that voters wear masks at all voting centers on Tuesday, but since the mask mandate was discontinued in the territory, it is personally up to voters whether they wear one or not. He added that there will be hand washing stations and hand sanitizer at the voting centers.
Daryl Jaschen, director of the V.I. Territorial Emergency Management Agency, gave a brief weather update following a weekend with heavy rainfall in the territory. Between Friday and Sunday, St. Croix received 4-5 inches of rain, 6-7 inches was reported on St. Thomas, and 5-6 inches on St. John. The territory was under a flood watch until 6 p.m. Monday.
For Tuesday, Election Day, Jaschen forecast a few isolated showers in the morning, increasing between 1 p.m. and 6 p.m., with rain heavy at times. After 6 p.m. the rain will ease, he said.
"The bottom line tomorrow for all of us is, do not let the weather be a reason not to vote. Bring an umbrella just in case," the director said.
Richard Motta, the Government House communications director, announced that stipend checks through the American Rescue Plan Act for Social Security beneficiaries will be distributed Nov. 9 and 10 from 9 a.m to 5 p.m. on St. Thomas.
The $500 checks can be picked up at the Schneider Regional Medical Center parking lot; on St. Croix at the VIYA parking lot in Estate Diamond. St. John seniors can collect a check at the island administrator's office.
"As you know, this is something the governor and administration has been working on — this and other ways — to bring relief to individuals impacted by COVID and the rising economic inflation," Motta said.
Recipients will be required to present a valid I.D., the last four digits of their Social Security number, a phone number and correct address.
"We realize some individuals cannot physically pick up their checks in person and since the local government is unable to validate the accuracy of the addresses provided by the Social Security Administration, we are urging you or someone on your behalf to contact the Office of Management and Budget via email or call," Motta said.
Those who are not able to pick up checks on the designated days can do so next week. Arrangements also can be made through arpa@ombi.vi.org or by calling 340-774-0750.
Motta also announced that three cruise ships visiting St. Croix during the week will carry more than 10,000 tourists to the island.
"The cruise season is in full season in St. Croix," Motta said.