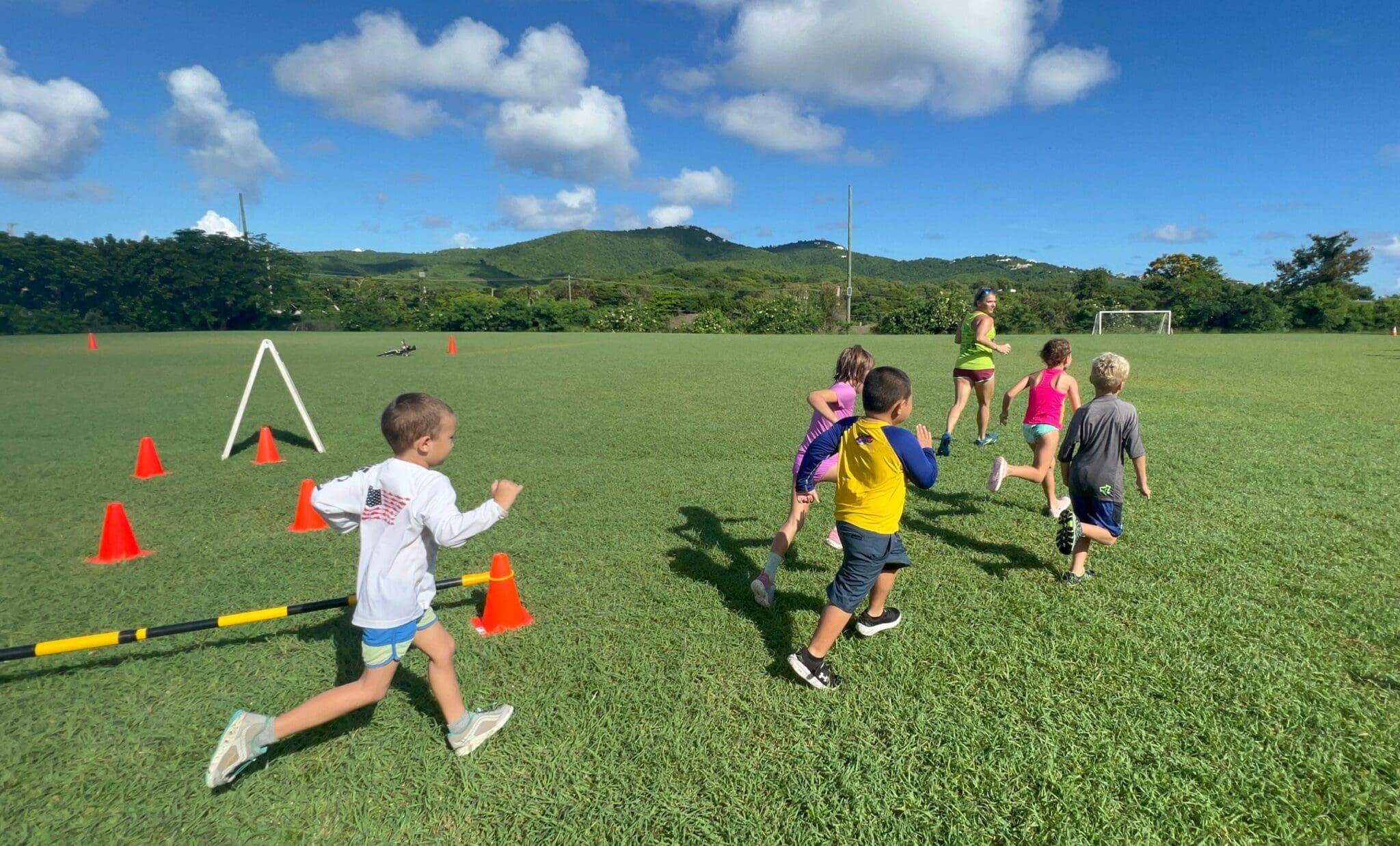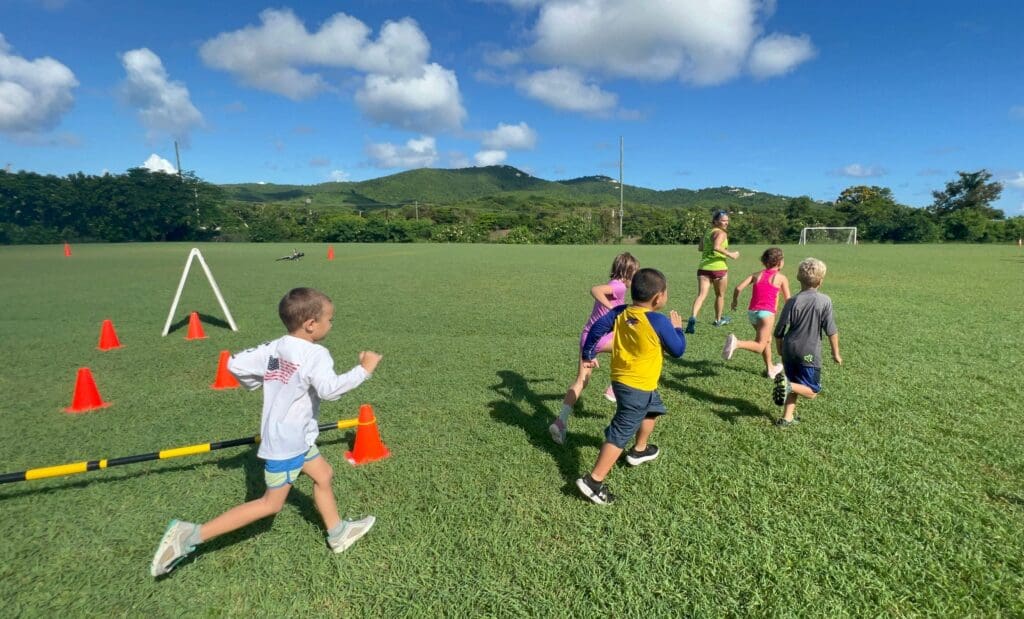 It was all "skills and drills" for the young athletes who attended Sunday's multi-sport clinic, which was hosted by the Virgin Islands Triathlon Federation on the Good Hope Country Day campus.  The format enabled small groups of kids to rotate through skill sessions on the three sports involved in triathlon: swimming, cycling and running. The clinic was free and open to kids of all abilities, ages 5 through 13.
Two local World Triathlon Level 1 coaches, Stephen Swanton and Roberto "Tito" Blewett, were on hand to instruct and guide the athletes on the fourth leg of triathlon: transition.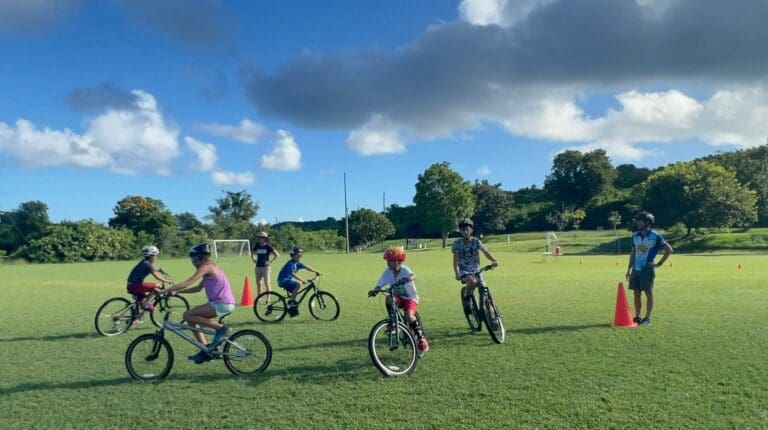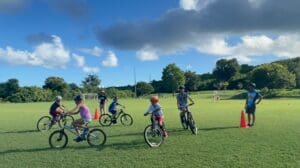 "The fourth part of the triathlon can be the most important part," VITF President Swanton said. "You can make up time or lose a lot of time in the race while in transition, so you need to practice going from one sport to another." Swanton and Blewett are currently enrolled in the World Triathlon Level 2 coaching course and applied their knowledge through hands-on presentations to the groups.
A small group of 5 to 7 years-old kids started the morning by getting wet in the St. Croix Dolphins' pool, which is located on the Good Hope Country Day School campus. Experienced swimmers and triathletes demonstrated the skill of rounding a buoy, as well as being able to navigate the hectic mass start of the race.
After the swim, the athletes moved to the lower field to practice the transition from swim to bike. Learning the order in which to put on the gear needed for the bike ride makes for an efficient transition.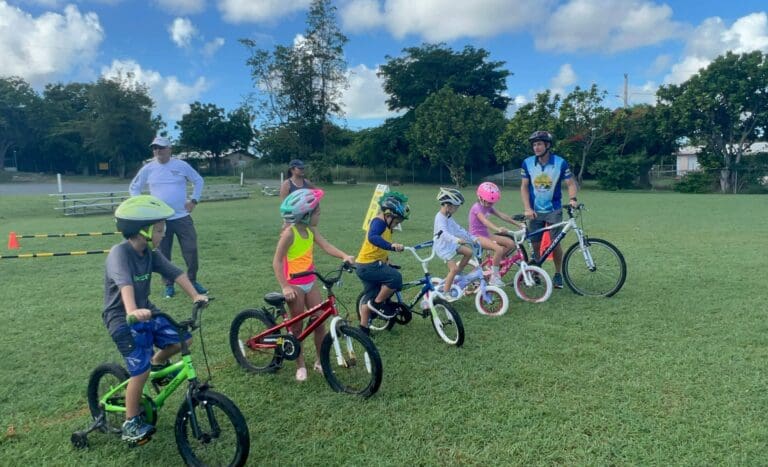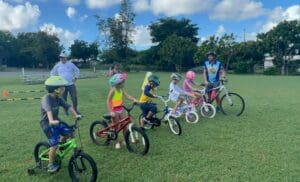 From the transition, the group pushed their bikes to the mount line and participated in a game in which they rode their bikes in circles, trying to maintain good control. The young athletes then brought their bikes back to the transition area, where they learned to rack their bikes and get ready for the run.
Drinking water while running is not as easy as it sounds, so the group watched a demonstration on how to pinch a cup to make a funnel in order to drink without spilling. The athletes were sent off to run and to successfully hydrate on the out-and-back course.
Nearly a dozen volunteers and instructors made the multi-sport clinic a success.  The VI Triathlon Federation held the clinic to brush up on triathlon skills in preparation for the upcoming Junior Tri VI Triathlon, which will be held on Sunday, Nov. 6, at Cramer's Park, St. Croix. The swim/bike/run event is open to kids of all abilities, ages 5 through 15. For more information on junior multi-sport events, contact theresa@vitf.org or call 513-2707.