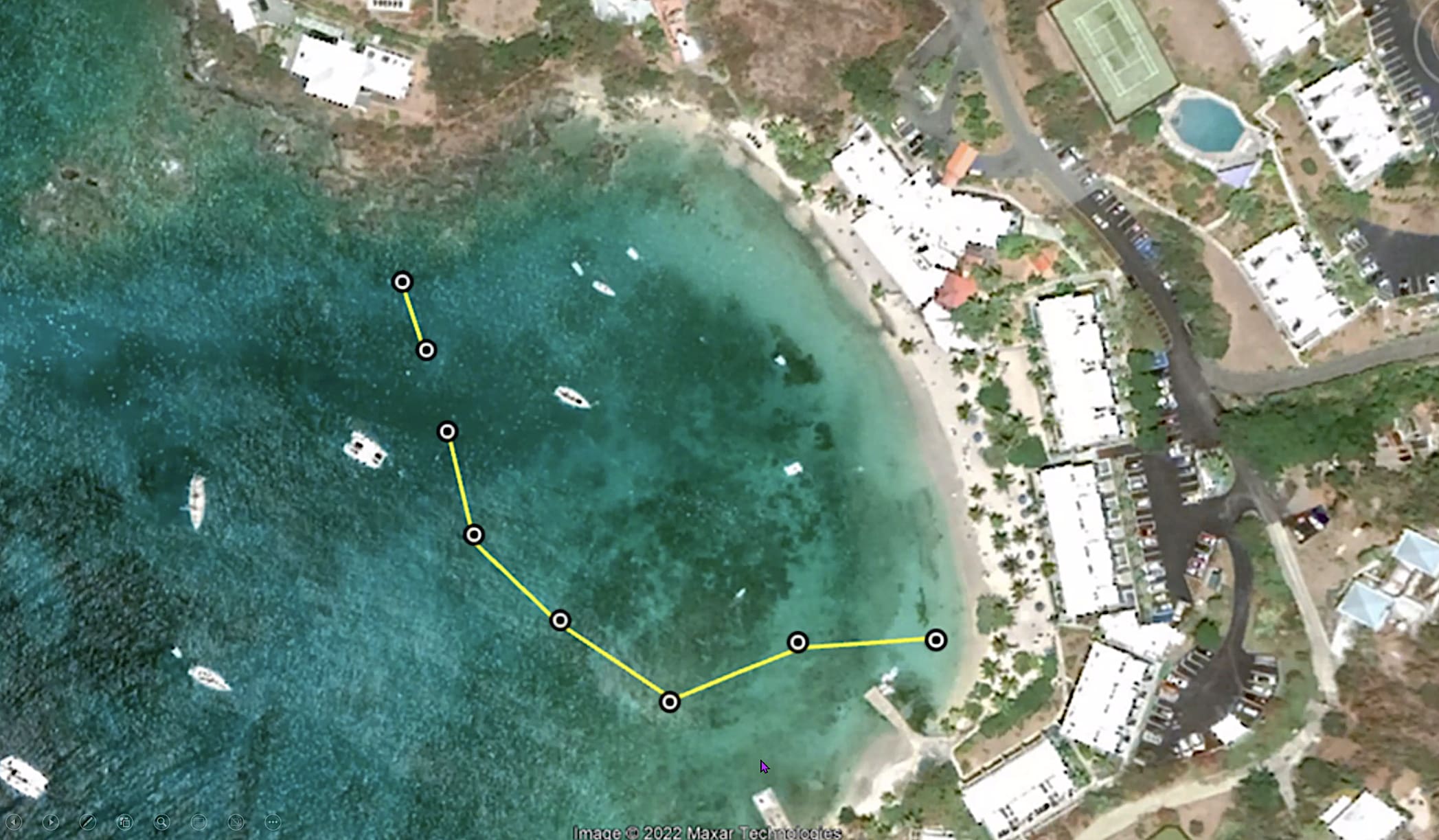 Swimmers at Secret Harbor could soon be better protected from motor boats as the Coastal Zone Management Committee approved a plan Tuesday afternoon to install buoys.
Boats will be restricted to an area some 415 feet offshore, with the exception of a dive boat picking up guests from Secret Harbor Beach Resort. The swim line will consist of red float buoys on a floating rope 750 feet in length, with helix anchors placed every 50 feet for a total of 16 anchors. Seven buoys would be placed at the anchor points, warning that it is a swim area.
The area of shallow water is popular with both hotel guests and local children, said Amy Dempsey, president of Bioimpact, a consultant on the project. Boats accessing the shoreline both endanger swimmers as well as coral in the area.
Part of the project will be to remove abandoned anchors and other underwater debris in the shallow bay. Secret Harbor will also partner with the University of the Virgin Islands to identify and help rehabilitate coral in need of help, the CZM officials mandated in approving the permit.
Experts from the Army Corp of Engineers reviewed the projects and didn't find any problems, said Karen Urelius, a senior project manager with the Corp.
"I didn't identify any red flags," Urelius said.
Elsewhere, the Committee approved a plan to replace retractable roofing at the Ritz-Carlton Hotel with a solid, wood-beamed roof. They also approved a plan to replace a storage area and a shed behind the hotel kitchen with a new storage building. They also plan to add 11 new handicap-accessible parking spots.
The whole project could take six to eight months.
The Committee also heard plans for the continued demolition and new construction of a Department of Health building near Lionel Roberts Stadium. The structure had been heavily damaged in Hurricane Marilyn in 1995 and sat vacant since 2004 due to a leaky roof. The site has been leveled, and the Department wants to tear up the existing foundation. Then a new 5,000-square-foot building will be constructed on the existing 2,640-square-foot site at 1309 Hospital Ground, said Rosalinda Browne from the Department of Health.
The new building will be used for the federal Women, Infants, and Children supplemental nutrition program. Plans call for a large mural outside as well as shade provided by existing mahogany trees.
Browne expected the project, once approved by the Committee, to be complete in September of 2023.
Public comments or questions can be sent to DPNR until Aug. 30 at czm@dpnr.vi.gov.