Voters across St. Thomas and St. John spoke softly on Saturday as the Election System of the Virgin Islands opened its voting centers for Primary Day. Candidates vying for a chance to move on to the November General Election made the rounds in the district, along with those running for territorial seats.
Those who oversee activities at the voting centers — three on St. Thomas, two on St. John — said they expected low-key balloting on Saturday. Some of those center managers, called poll judges, said they saw voter turnout start slow in the morning and build up by midday.
For the most part, those predictions proved true. Campaign workers, on the other hand, turned out in support of their favored candidates and brought their enthusiasm along.
Damlet Berkitt stood by the road leading to the UVI sports center, holding a poster for Senate candidate Shenelle Fina Francis. Berkitt gestured over to the other campaign supporter standing nearby.
"We want to help her get a chance to serve us. She has a good plan, and we're looking forward to see that," Berkitt said.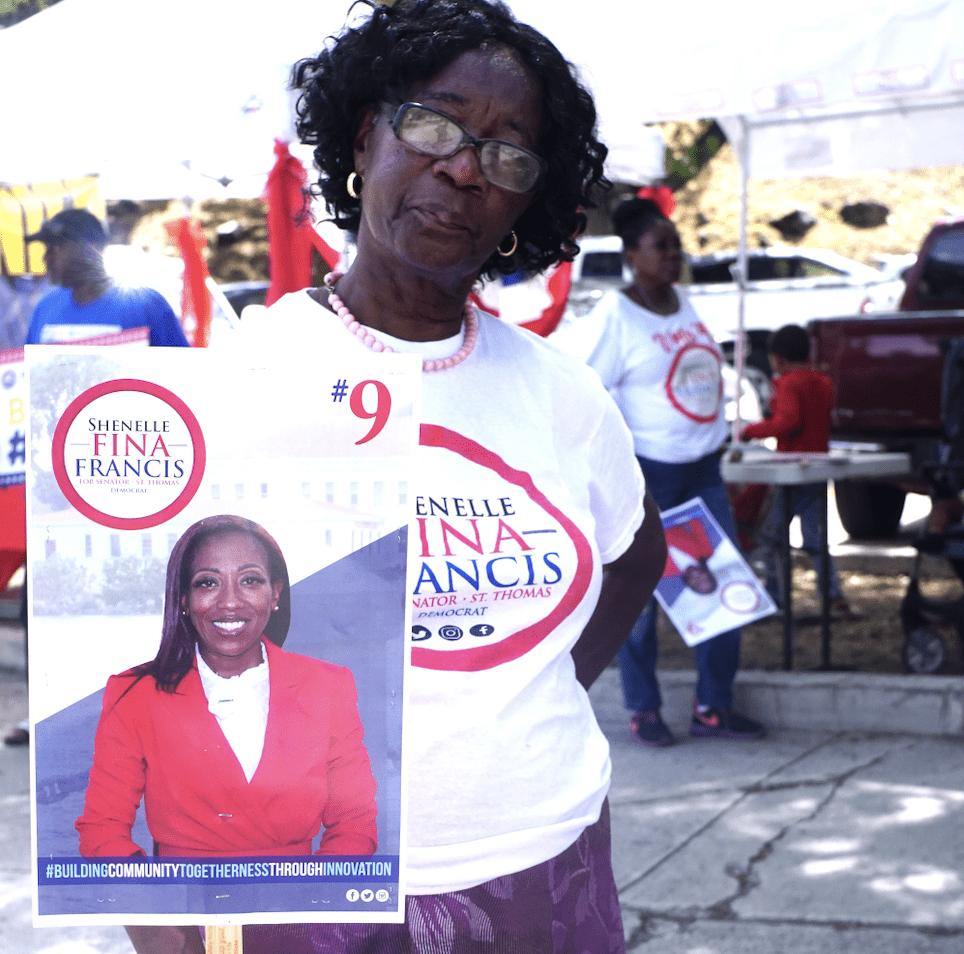 Supporters set up tents outside the University of the Virgin Islands Sports and Fitness Center. The camps outside the voting center at Tutu Park Mall stretched to the end of the block and down the hill to the main road leading to Fort Mylner.
In some spots, candidates took turns with canvassing duties.
Inside those respective polling places, voters quietly stopped by the reception desk to have their appearance logged in, then took their place at a portable partitioned table to fill out a paper ballot. Voters also stepped up to electronic Voter Express tablet computers to vote electronically.
Most of those who came seemed more interested in the electronic devices, originally purchased by the Election System to help visually- and hearing-impaired voters.
At UVI, almost all of the partitioned tables remained unused, while Voter Express machines that ringed the area saw voters tapping away.
"The open this morning was pretty slow, so slow. We had 57 voters by 10 o'clock at this voting center. Then at about noon, we had 109, and right now (about 2 p.m.), we had 146 that had voted," Phillips said.
She added the thought that voters find the early voting system more convenient and have gravitated to that system instead of waiting for Primary Day.
At the Julius E. Sprauve School in Cruz Bay, campaign workers appeared in ones and twos. One supporter of the gubernatorial team of Kent Bernier and Oakland Benta stood at his post all day Saturday. Pablo Ubierra stood across the street from the poll from 8 a.m. until the evening, holding a campaign poster.
Kai Frett, a lone but enthusiastic supporter of district Senate incumbent Donna Frett-Gregory appeared near the Sprauve School voting center from 10 o'clock, seeking a chance to make last-minute appeals to those on their way to cast their ballots.
Half a block away, seated under a canopy, Jennifer Williams and her team waited to greet voters on behalf of incumbent Governor Albert Bryan Jr. When asked about the turnout, Williams said voters might have been expressing doubts about who and what they were voting for.
"We don't feel like we're getting good treatment from our elected officials. Sometimes we don't know what our elected officials are doing," Williams said.