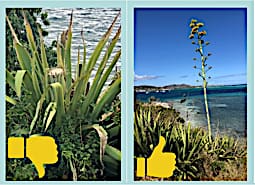 The flowers may have wilted from towering agave stems but it is not the time to cut them down, according to wildlife experts at the Division of Fish and Wildlife. Allowing the spike to dry and the baby agave to fall naturally helps new agave to grow and could eventually get St. Croix's Egger's Century Plant off the endangered species list.
The Egger's Century Plant, known scientifically as Agave eggersiana, only grows its stalk and blooms once in its lifecycle, reproducing every 10 to 15 years. The distinctive yellow flowers pop out between January and April, then the plant begins to wither. The little nodes left behind on the spike are actually baby agave. These bulbils, as they are called, are spread when they fall off or the stem falls over. That happens around this time of year (July-August), usually.
The continuation of the species depends on the bulbils reaching soil, said officials from the Division of Fish and Wildlife. These baby agave fall from the 20-foot stalk like acorns, spreading as they roll, come to rest, and start to grow. The plant reproduces asexually, so those are essentially clones.
While planting this type of agave bulbils is legal, selling them is prohibited under U.S. Virgin Islands law. If Virgin Islanders see a plant in danger, perhaps the stalk leaning over a roadway or parking lot, the Division of Fish and Wildlife can help collect and plant the bulbils, the officials said.
Federally and locally protected plants don't have the same legal protection that endangered animals do, according to Fish and Wildlife. An endangered animal on private land is still protected while a plant may not be. Helping the Virgin Islands Christmas tree survive requires awareness and participation by Crucians. The Department of Planning and Natural Resources offers a land stewardship program that can train laypeople how to best care for endangered or threatened environments.
There are six natural populations of the plant on St. Croix: South Shore, Cane Garden Bay, Manchenil Bay, Protestant Cay, Great Pond, and West Vagthus Point. Conservationists hoped to protect these sites, rebuild the agave's population, and build populations in 10 other areas, according to a recovery plan issued by the U.S. Department of the Interior.