In a few months, policy-makers, grant-writers, scholars, and others will finally get a glimpse of some demographic material about territory residents gleaned from the 2020 census.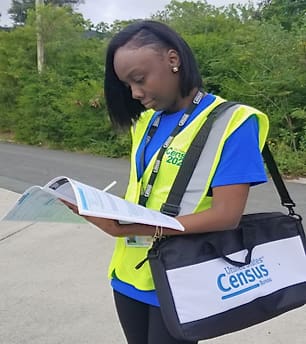 The U.S. Census Bureau announced Wednesday that it will release basic demographic, social, economic, and housing characteristics for residents in the "U.S. Island Areas" in October. Besides the U.S. Virgin Islands, those are American Samoa, the Northern Mariana Islands, and Guam.
A more detailed set of information covering those categories will be coming in July 2023, according to the Census Bureau release.
The bureau released population figures and basic housing numbers for the islands in October 2021.
The 2020 Census showed the largest decline in population in the Virgin Islands for a century – a drop of 18 percent from the 2010 Census to just 87,146. The number of housing units increased by 2.4 percent in the same timeframe, to 1,356.
Data collected in the census every 10 years is important for many reasons, including determining the territory's share of federal funding in many programs, according to Marissa Johnson Rogers, interim director of the University of the Virgin Islands' research arm, the Eastern Caribbean Center.
The Center has partnered with the U.S. Census Bureau for decades in conducting the decennial census. Frank Mills, who led those efforts from 1980 through 2020, retired from the Center in January.
Johnson Rogers said the demographic information provided by the census is useful for a host of people, including researchers, policy-makers, people considering opening businesses, those who determine housing needs, and educators.
The 50 states, the District of Columbia, and Puerto Rico all rely on a periodic sample poll of residents called the American Community Survey to gather specific demographic information about the people within their borders. For them, the census is pretty much just a head count.
But the smaller island territories of the U.S. are not included in the American Community Survey. Instead, they use a lengthy questionnaire at the time of the census to gather such information as household incomes, education levels, and size of housing units.
Consequently, the release of demographic information for the islands typically lags behind the release for the rest of the country.