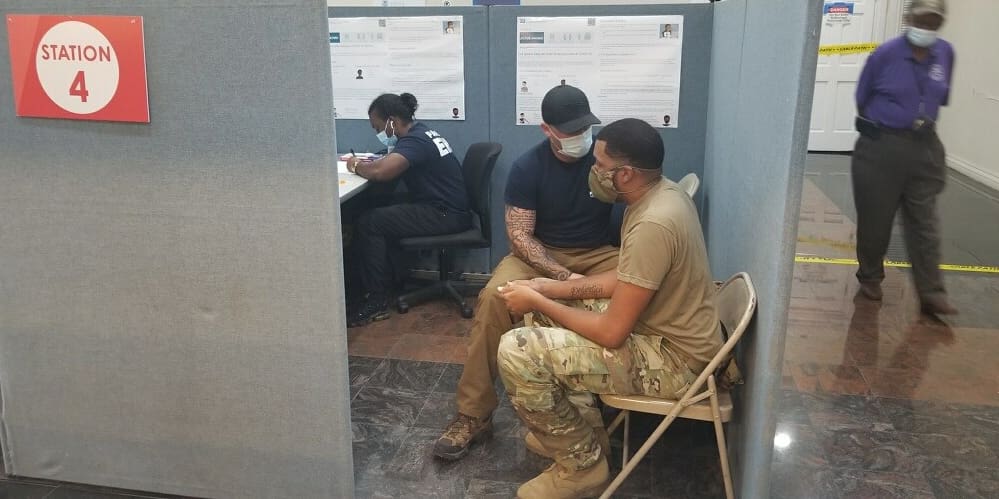 The U.S. Department of Defense gave National Guard personnel a choice: Get the COVID vaccine by June 30 or be discharged from service.
Those with religious or medical objections to vaccines were allowed exemption but everyone else had to get the jab, said Marcia Bruno, public information officer for the V.I. National Guard.
The local force is in good shape, Bruno said.
"Approximately 99 percent of the V.I. Air National Guard and 94 percent of the V.I. Army National Guard are fully vaccinated," she said Friday, a day after the deadline.
Mandatory vaccinations by the Department of Defense are nothing new to the U.S. military, Bruno said. The department requires 17 total vaccines under varying circumstances for its service members.
This includes all the common vaccines: measles, mumps, and rubella, hepatitis A and B, polio, influenza and more. Certain branches of the military or those in special need may be required to get more exotic vaccinations, like rabies, typhoid, and anthrax.
Those guardsmen and women who have not been properly vaccinated will be honorably discharged at a yet-to-be-determined date, she said.
"V.I. guardsmen have been committed to maintaining personnel readiness because we understood that wearing the uniform signifies an obligation to protect, maintain and preserve our freedoms. Getting the vaccine only ensured that we remained healthy and ready to continue to fulfill that obligation," Bruno said.
Their service is much more than wearing a uniform.
V.I. National Guard supported airport and seaport screening for domestic and international arrivals during the worst parts of the COVID-19 pandemic. They did the same at community vaccination centers and pop-up testing sites in the territory. They also assisted with vaccine distribution and patient transportation.
"By the end of June 2022, soldiers and airmen screened over one million people at our air and seaports, drove over 50,000 miles, and provided manpower to critically short staff supporting COVID-19 requirements," Bruno said.
The V.I. National Guard's activity isn't limited to the territory. Following the riots in the capital on Jan. 6, the V.I. guard deployed more than 120 troops to Washington, D.C., joining the more than 26,000 National Guard men and women mobilized from around the nation to support federal and local officials ensuring a peaceful transfer of power.