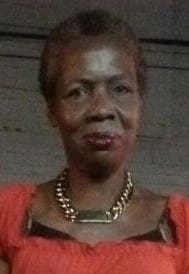 Dezarie Clarke of Frederiksted, St. Croix, died on Saturday, May 28.  She was 62 years old.
She was preceded in death by her companion, Fred Hughes; stepfather, Carl Reece; grandparents: Thelma Collymore and Daniel Collymore; sister, Valarie Clarke; brother, Wendell Clarke; nephews: Alexander Gordon and Alexander O'Neal; and uncle, Sonny Charles.
She is survived by  her mother, Joann Reece; father, Cyrus Clarke; daughters: Tiffany and Lisa Hughes; sons: Fredrick and Randolph Hughes; grandchildren: Imani Jones, Li'Niqua, Tagh and Zedekiah Bruney; great-grandchild, Isaac Torres; brothers-in-law: Samuel Felix and Cylius "Roland" Gordon; sisters: Elaine Clarke, Christine Clarke, Pauline Clarke and Carla Reece-Felix; and brother, Jezreel Reece.
She is also survived by nieces: Ronelle Wallace, Chenelle Halliday, J'Nelle, Nichelle, Arnelle, Claynelle and Laurnelle Gordon, and Alba Clarke; nephews: Cylius Jr., Phillip and Jah-Marley Gordon, Rodney McCloud, Wendell and Nataniel Clarke and John Reid; great-nieces and great-nephews too numerous to mention; aunt, Olga Boyd; uncle, Philip Charles; as well as other relatives and friends too numerous to mention.
The family would like to thank Catholic Charities for the Homeless, My Brother's Table, Mission Outreach, Light House Missionary, The Village VI Partners in Recovery, Human Services, and all the Frederiksted businesses, friends and families that have been instrumental in the well-being of Dezarie over the years.
In lieu of flowers, a donation can be made to the Catholic Charities at www.catholiccharitiesvi.org
Cremation services are entrusted to Schuster's Crematorium LLC.