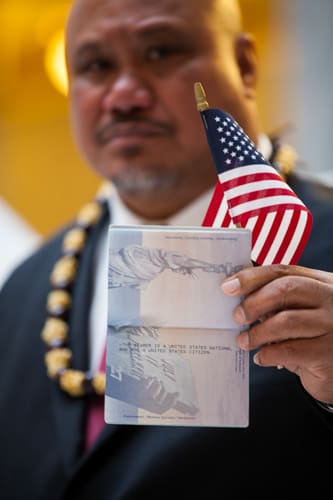 Most Americans think their citizenship is constitutionally protected: A person born on U.S. soil is a U.S. citizen. Not so, however, for millions of people born in the five U.S. territories. A broad coalition of political leaders and legal scholars are asking all three branches of government to change that, an equal-rights advocate said Wednesday.
As it stands, citizenships for people born in the U.S. Virgin Islands, Puerto Rico, Guam, the Northern Mariana Islands, and American Samoa, is decided by Congress. Should mainland lawmakers change their minds, U.S. Virgin Islanders' passports could look like those of American Samoans, said Neil Weare, president and founder of the Washington, D.C.-based citizenship advocacy nonprofit Equally American.
American Samoans' passports look like normal U.S. passports except the page that reads, in block letters, "THE BEARER IS A UNITED STATES NATIONAL AND NOT A UNITED STATES CITIZEN." Weare said the difference is more than aesthetic.
Which line do they go to after an international flight: U.S. citizens or aliens? Officially, American Samoans are neither.
"If you are struggling to understand this, it's because it doesn't make any sense," Weare said. "How about when you go to a foreign country and they ask for your passport and in the back, it says you're not a citizen. That doesn't make you feel very comfortable."
That national-not-citizen status will certainly catch the eye of a foreign country issuing visas.
"It's a very uncomfortable position to be in, for anybody, to not have certainty. And that's exactly what citizenship and U.S. passports are supposed to provide: absolute certainty of what your status and rights are," he said.
With traditional congressional inertia and limited sway at the White House, Weare and like-minded people from across the political spectrum have asked the Supreme Court to hear the case of an American Samoan challenging the so-called Insular Cases, which he says are colonial relics.
Those cases, decided over a century ago by the U.S. Supreme Court, are bluntly racist in their arguments and set up second-class citizenship in the U.S. territories.
Two Supreme Court Justices have already called for the Insular Cases to be overruled, the usually ideological-opposites Justice Neil Gorsuch and Justice Sonia Sotomayor, who is of Puerto Rican heritage.
The case Weare is making hinges on John Fitisemanu, an American Samoan who believes he's being denied his full rights as an American. Fitisemanu petitioned the Supreme Court in April to hear his case.
Territorial leaders from across the political spectrum filed a brief with the Supreme Court to overrule the Insular Cases and hear Fitisemanu's, including Congressional Delegate Stacey Plaskett, former Congressional Delegate Donna Christian-Christensen, former V.I. governors Kenneth E. Mapp and John de Jongh, and others from Puerto Rico, Guam, and the Northern Mariana Islands.
"It is time that the Supreme Court, President Biden, and Congress condemn the Insular Cases as inconsistent with the Constitution and who we are as a Nation," Plaskett said in a written statement, calling the policy "race alienating and dehumanizing."
Congressional whims on the status of Virgin Islanders are not a guarantee of rights, she said. In 2022 people born in the U.S. Virgin Islands and other territories should not live in perpetual limbo as to whether Congress could deny them recognition as U.S. citizens, she continued.
Weare agreed.
"Who's a citizen and who isn't? Well, Virgin Islanders are citizens so long as Congress wants them to be. What does that mean and how should Virgin Islanders feel about that? And how should people in other territories feel about it? It's like, 'Well, as long as we want you, you're citizens, and if we want to change that, we can at any time,'" said Weare, who grew up in Guam. "It's just a result of policy. That could change."
A who's-who of legal scholars also signed on, filing a total of eight amicus briefs with the court in support of birth-right citizenship.
"As a matter of original understanding, it is clear that the Fourteenth Amendment guarantees a right to U.S. citizenship to people born in U.S. territories. And it is long past time that the Supreme Court dispel any doubts to the contrary," wrote Michael Ramsey, professor of law at the University of San Diego, and author of "Originalism and Birthright Citizenship" published in the Georgetown Law Journal.
In another brief, retired federal and local judges from Puerto Rico, Guam, and the USVI argue the Supreme Court should overrule the Insular Cases because they are "rooted in offensive racial stereotypes" and, based on their experiences, "unworkable in application."
This brief was co-authored by Judge Adam G. Christian and Judge Soraya Diase Coffelt, among others.
Yet another brief came from the Virgin Islands Bar Association, calling for the Supreme Court to overrule the Insular Cases and recognize that all people born in U.S. territories have a right to citizenship – not dependent on Congress.
Alisha Udhwani, president of the V.I. Bar Association, wrote that it was long past time for the court to overrule the cases.
"People born in the U.S. Virgin Islands should not have to worry whether Congress will one day decide to stop recognizing them as U.S. citizens. The only reason this is even a question is because of a series of racist Supreme Court decisions known as the Insular Cases," Udhwani wrote.
The Supreme Court is expected to consider whether to grant a review of Fitisemanu later this year, Weare said.