"My mother instilled in me to trust and fear God and fear no other; to trust yourself, to look to God for all answers, and he will see you through." These were the words Loraine A. Gibbs lived by.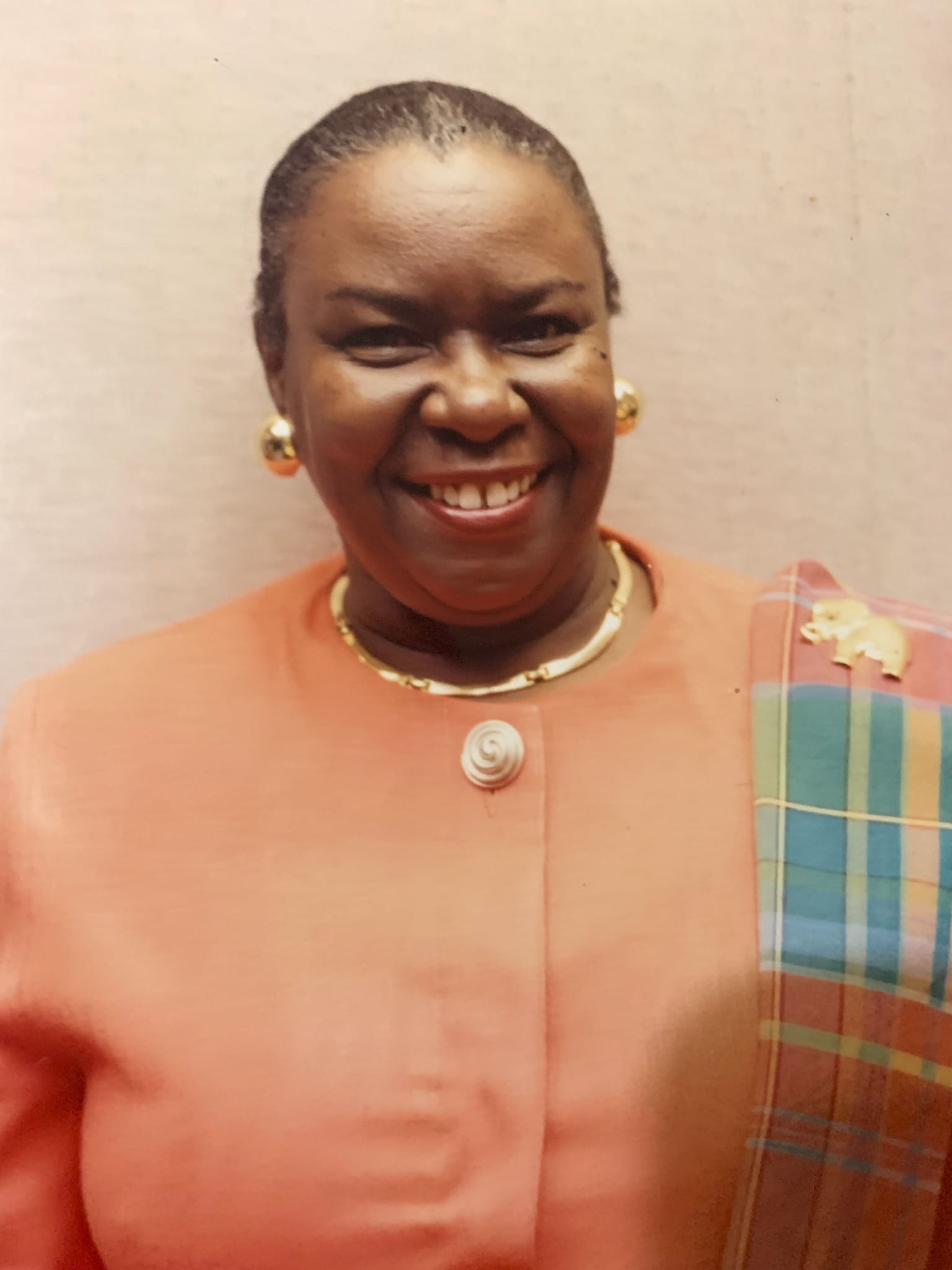 Loraine Agatha Jackson Gibbs was born in Christiansted, St. Croix, on November 4, 1950, to Beatrice Pearl Jackson and Lauritz Emmanuel Gibbs. Loraine lived with health issues for many years and succumbed to them on May 16, 2022.
Loraine grew up in D. Hamilton Jackson Terrace and Company Street with her mother and brothers, Victor and George (aka Ali). Ms. Bea took Loraine to mass at Holy Cross Catholic Church regularly. A product of public education, Loraine attended the Christiansted Elementary School, Elena Christian Junior High School, and Central High School.
As a young person, Loraine had a strong work ethic as she helped her mother make bread every morning. They sold bread, sweet bread, lozenges, peanuts, and fudge throughout Water Gut. In high school, Loraine worked at the Alexander Theater in Sunday Market Square as an usher.
Miss Catherine Smith, Mrs. James, Mrs. Sergeant, and Mrs. Schuster were certain teachers who were instrumental in shaping Loraine's development. Loraine graduated high school in 1968 and was inspired by Doreen Christiansen to attend Morgan State College, now Morgan State University. At Morgan State, she met Virgin Islanders Janet Williams Lake, Myrna, and Pearline James, and Dr. Larry Larsen, just to name a few. It was at Morgan State Loraine began her journey to become a teacher. Through hard work and determination, Loraine earned a B.S. in Vocational Education in three and a half years and returned home to St. Croix.
Ms. Gibbs' first teaching assignment was at Elena L. Christian Junior High School, where she taught Home Economics to students in the Vocational Program. Later, she taught Vocational Education at St. Croix Central High School. She was promoted to Vocational Education Department Chairperson. Ms. Gibbs proved to be an educator who demonstrated love, discipline, and guidance to her students. In preparation for leadership in the Virgin Islands Department of Education, Ms. Gibbs returned to her beloved Morgan State University to pursue an M.S. in Administration and Educational Leadership.
It was inevitable that Ms. Gibbs was promoted to Assistant Principal at John H. Woodson Junior High School under Principal James Rodgers and later under Principal Basil Williams. After a few years, Ms. Gibbs was promoted to Principal at John H. Woodson Jr. High School with Assistant Principals Vaugh Hewitt and Doris Brodhurst, who rounded out her administrative team.
Loraine Gibbs mothered two generations of students. Most of her former students, staff, and colleagues remember Ms. Gibbs' tough love and fairness. Carmen Charles-Charlery said, "She was our mom away from home."
Gene Stone said, "Thanks for the paddling you gave me in school. Thanks for keeping me on track in my young life growing up."
Shay Walt said, "She was a great educator. Her legacy lives on in the children's lives she impacted…mine included."
Karen Heywood said, "Fastest woman in heels you will ever meet."
Through Ms. Gibbs' labor and commitment to educating St. Croix students, she rose through the ranks of the department to become Deputy Superintendent, then Insular Superintendent of the St. Croix School District under the Schneider/Mapp Administration. Lorraine Gibbs can be considered the "Creme de la Creme" of educators combining her no-nonsense discipline, astute management skills, and strong instructional leadership. Ms. Gibbs had professional affiliations in Phi Delta Kappa, St. Croix Educational Administrator Association, and the American Federation of Teachers. After retirement, Ms. Gibbs became principal of the Marriot High School in Washington, D.C.
Ms. Gibbs was not just an educator but a lover of people, politics, fashion, and casino entertainment. She shared her kindness, wealth, and wisdom with many people and with the youth in the St. Croix community. During the St. Croix Crucian Christmas Festival, when parades were still held in Christiansted, she would prepare a spread of Crucian delights for weary parade-goers, and all were welcomed.
Loraine's love of politics prompted her to support many gubernatorial and senatorial candidates. She served as Chief of Staff for former Senator Alicia "Chucky" Hansen. She prided herself on keeping abreast of the political fray in the community. To that end, Ms. Gibbs ran as a senatorial candidate on an educational platform in 2000.
"Loraine was always intact from head to toe," Anastasia Stacy Rivers said. Her impeccable style was displayed in her clothes, jewelry, and shoes and the furnishings at her Company Street home. Her fashion sense not only included her wardrobe, but Loraine was also a fashion and wedding commentator at fashion shows for Essence of Tropics, the brainchild of designer Dorette Pemberton, and for many St. Croix weddings. Loraine was a speechwriter and wardrobe consultant for many Miss St. Croix Queen contestants. She was an accomplished seamstress with a keen sense of fashion design.
For many years, Loraine battled with health issues pertaining to diabetes and eventually became a dialysis patient. Life under these circumstances was difficult, but Loraine kept her infectious smile, continued to love God, her family, her godchildren, and friends, and she continued to visit the casino.
"In the months before her death, at the end of every visit, we would elbow bump and say, 'until we meet again.'" Charlene Joseph said.
"Rest peacefully – generous, outspoken, and powerful queen – until we meet again."
Funeral services are Friday, June 3, at Holy Cross Catholic Church in Christiansted
Viewing begins at 9:30 a.m. Service at 10:30 a.m.