The Virgin Islands has 901 active COVID-19 cases, Health Commissioner Justa Encarnacion said Monday, with a positivity rate of 14.92 percent. There are 518 infections on St. Thomas, 362 on St. Croix and St. John has 21 cases. Sixteen people are hospitalized — 11 at the Schneider Regional Medical Center, and five at Juan Luis Hospital, with one ventilated in each hospital, for reasons other than COVID, she said.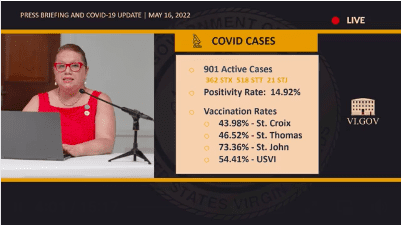 It is slightly down from last week, but since the vaccination rates are low, the territory may face mandates again, she added during the weekly Government House press briefing.
"If we begin to see an increase in positive numbers and an increase in hospitalizations, we will have to reintroduce the mandates. We don't want to do that. To prevent that, stay well, stay safe, stay healthy," she said.
Since the territory has "opened up" and the vaccination rate is low, the commissioner advised people to be cautious and self-monitor when in crowds, wear a mask, social distance, and use hand sanitizer.
The total vaccination rate for the Virgin Islands is 54.41 percent. On St. Croix, almost 44 percent are vaccinated, 46.52 percent on St. Thomas have the immunization, and 73.36 percent on St. John are vaccinated, according to the Health Department.
Encarnacion said the virus is moving from the pandemic to the endemic phase. COVID-19 will always be circulating through the community, like the flu or common cold. And, some in the community will always be positive for the infection whether or not they know it.
Recently the V.I. Health Department revised its procedures for isolation with those of the Centers for Disease Control and Prevention, and Encarnacion repeated them during the weekly media briefing Monday.
CDC Procedures:
Positive COVID-19 test with or without vaccinations
When people suspect they are infected, they should get a test and isolate immediately for five days.
 Isolation can end after five days of fever-free for 24 hours, no fever-reducing medication has been taken, and symptoms are improving. If very sick, stay in quarantine for 10 days and talk to a doctor before coming out of quarantine.
After isolation, watch for symptoms for 10 days and wear a mask at home and in public. Avoid places where you can't wear a mask and do not travel for 10 days after symptoms or a positive test. Avoid high-risk people who may get very sick.
If exposed to COVID-19 and not up to date on vaccines
 Quarantine for five days and get tested if in close contact with a positive case. Wear a mask at home and watch for 10 days for symptoms. If symptoms develop, isolate and get tested.
After quarantine, take precautions for 10 days, always wear a mask, take precautions while traveling and avoid high-risk people.
With up-to-date vaccines and boosters
 No quarantine is necessary for those with two vaccines and two boosters.
 No quarantine is necessary if exposed and had confirmed infection within the last 90 days, without symptoms. Get tested on day five. Watch for symptoms until the 10th day.
 Isolate if symptoms develop, get tested, and wait for results. Wear a mask for 10 days and take precautions until day 10 when traveling and avoid high-risk individuals.
Vaccines are still available throughout the territory, as is testing.
The COVID hotlines are 340-712-6299 on St. Croix and 340-776-1519 on St. Thomas Mondays through Fridays, 8 a.m. – 5 p.m. To pre-register for a test visit www.covid19usvi.com/testing.
Richard Motta, Government House communications director, announced that Gov. Albert Bryan Jr. will testify before the U.S. House of Representatives Wednesday at 10 a.m. and talk about the territory's natural resources. The hearing will be available on YouTube and the Government Channel 23.
Motta also asked the community to show appreciation this week to the V.I. Police Department and Virgin Islands EMTs.