More than a week after a fire destroyed a nine-unit apartment building in Estate Grunwald, St. John, firefighters are monitoring the site, which continues to smolder.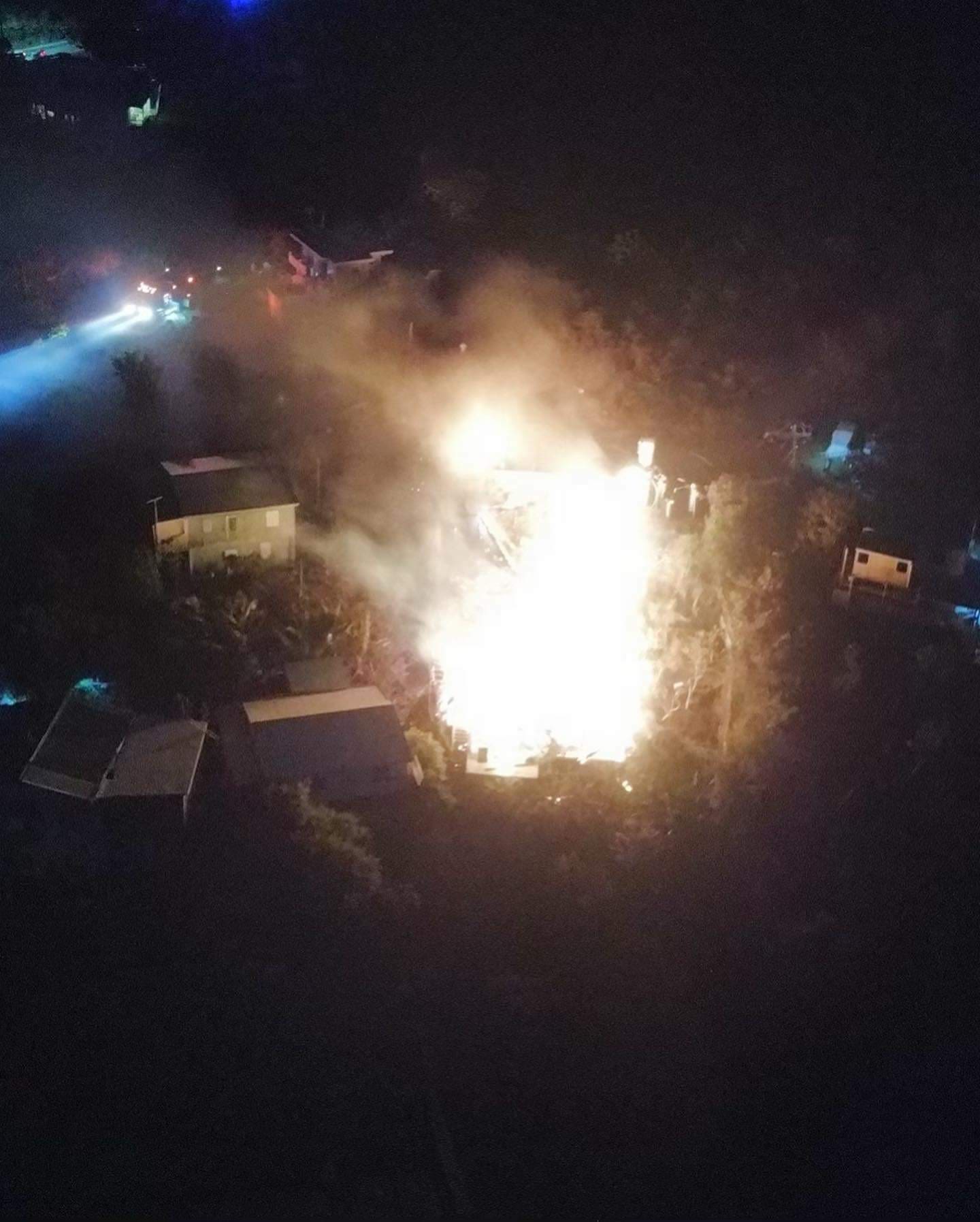 "We've been on the scene every day," said Clarence Stephenson, deputy fire chief for St. John. "It's just a pile of rubble now, but underneath, it's still very hot, like a coal pit," he said. The cause of the fire is still under investigation, he said.
No one was seriously injured in the blaze, which spread quickly through the three-story wooden structure on Sunday, March 20, around 10 p.m. Dana Heuschkel, who survived the fire with her partner Tadis Pierre, said most of the residents were at work and out of the building at the time.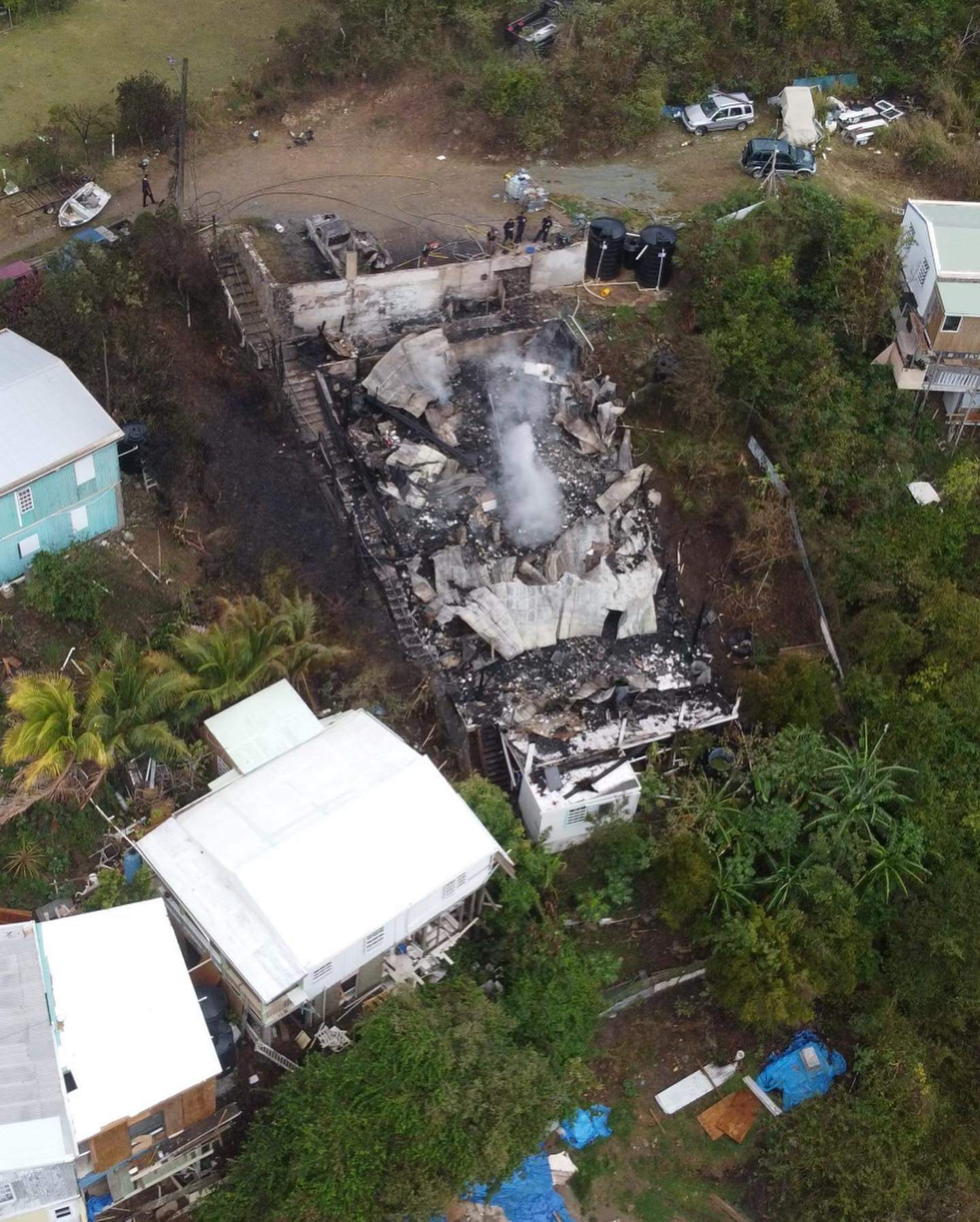 "I smelled smoke, woke Tadis up, and I saw flames over the balcony," Heuschkel said. The two ran in and out of their apartment, salvaging what they could – "purse, laptop, phones and a handful of clothes. It was less than five minutes until Tadis was yelling for us to leave," she said.
Heuschkel lost her cat. She is now staying in a small trailer with four other cats rescued from the fire, "and Tadis has been Jeep/couch/bed/hotel surfing since," she said.
Two firefighters were treated at Myrah Keating Smith Community Health Center — one for smoke inhalation and another for an injury — but both are back on the job, Stephenson said.
None of the residents were injured during the fire, but 16 individuals, including two children, are now seeking permanent housing in an extremely scarce market.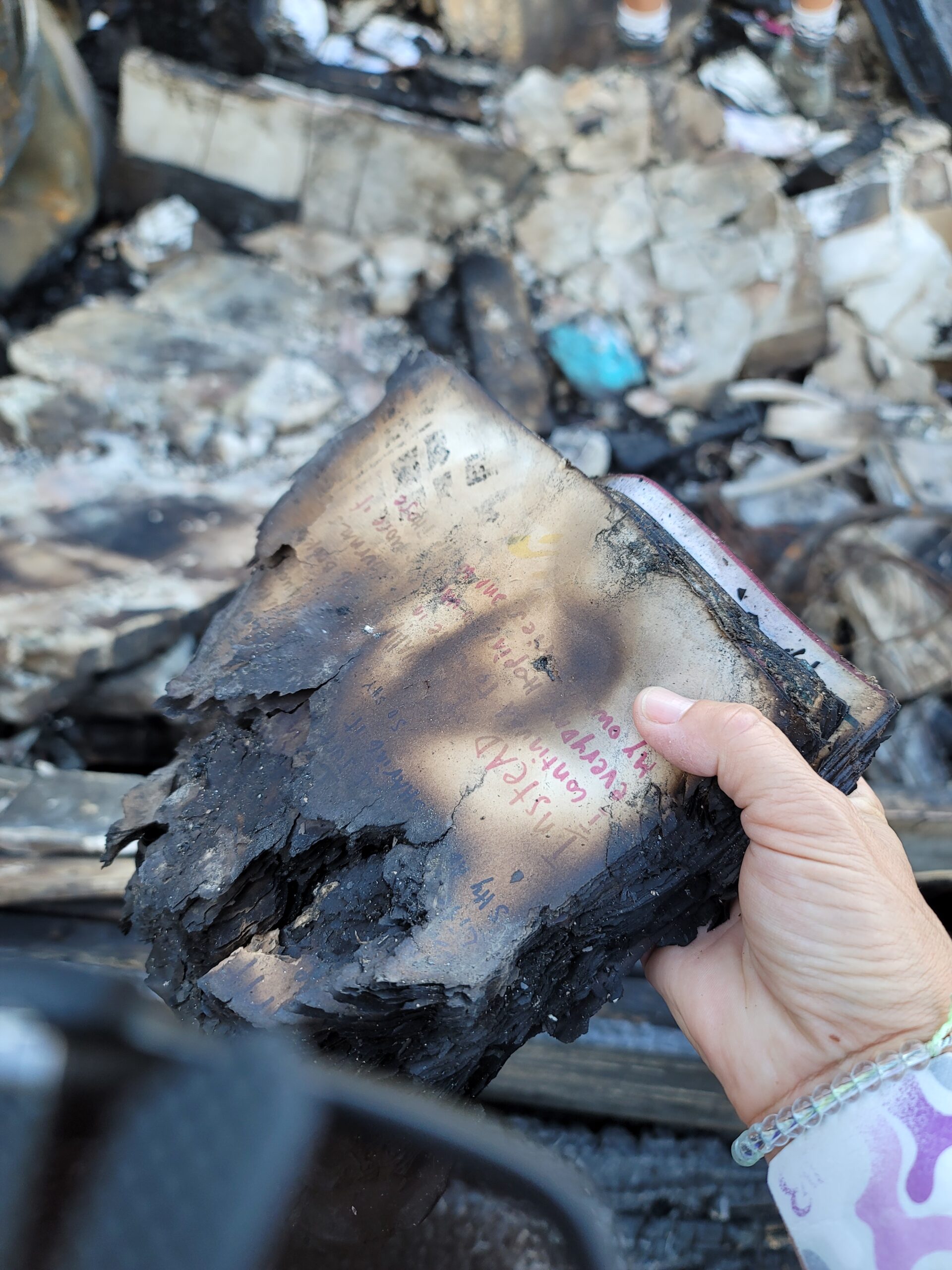 "There's nothing on the horizon for them in terms of housing," said Mike Hedy, a bartender at the Beach Bar St. John, where two of the survivors work. "No one is giving up their Airbnb units. Everyone has been very generous. Raising the money for their rent isn't the issue. It's finding housing for them. We've had a lot of disasters, but we can't fix this."
The community instantly rallied to assist the fire survivors. The St. John Revolving Fund immediately offered $2,500 loans to the survivors, with terms of their choosing, according to Cid Hamling. The fund was started 27 years ago by local nurse Laurie Tittle after Hurricane Marilyn left storm victims without funds for medical emergencies like prescriptions and lost eyeglasses.
Hamling said people can donate to specific individuals affected by the disaster or to the general Grunwald Fire Fund. She hopes to gain enough donations to offset the fire survivors' loans; any additional money raised will be distributed among them equally. Donations on their Facebook page are processed through Pay Pal and checks can be mailed to the St. John Revolving Fund, PO Box 37, Cruz Bay, VI 00830.
"We are truly blessed and lucky to live somewhere that being in need isn't seen as a curse but an opportunity to show true human kindness and love," Hamling said.
Corwin Moore, an eight-year resident of St. John, started a Go Fund Me page to assist all of the fire survivors, including six of his friends who lost everything. So far, more than $26,000 has been raised.
Most of the survivors work in the service industry, and local restaurants have stepped up to do their part. Cruz Bay Landing held a pancake sale on Sunday, which raised more than $4,000. One of the restaurant's chefs lost his home as a result of the fire.
The Beach Bar held a fundraiser featuring the Mother Goat band on Friday, March 25. The staff donated their tips, owners Reed and Sherry Compton matched their donations, and others continue to contribute through a link posted on the bar's online store. Nearly $25,000 has been raised so far, according to bar manager Adam Dowd.
The ReSource Depot, temporarily closed for construction, opened its doors for fire survivors to choose clothing and household items. Throughout the island, donation jars appear on counters of local businesses.
During the blaze, the Fire Service enlisted the help of water haulers who shuttled water from the standpipe in Cruz Bay to the site of the fire, located down a steep, rough road nearly two miles from town.
"I must commend the members of the Fire Service who responded to this fire," said VIFS Director Daryl A. George. "They did a tremendous job. The courage and determination they displayed is truly admirable. I would be remiss if I did not also acknowledge Prestige Water Delivery, B & C Trucking, Truck King, and L & N Trucking for supplying water on the scene. They played a major role in the success of our operations, and we are grateful for their assistance."
Led by Lt. Magabe Calixte, all 12 firefighters based on St. John responded to the call when the fire broke out, according to Dept. Chief Stephenson. At one point, he considered calling for a boat to bring additional personnel from St. Thomas.
The fire makes evident the need for more trained firefighters who live on St. John, according to Stephenson. A new cohort of 20 for the St. Thomas-St. John District will begin training in April, he said, but of the 43 applicants for the 20 slots, only three live on St. John.