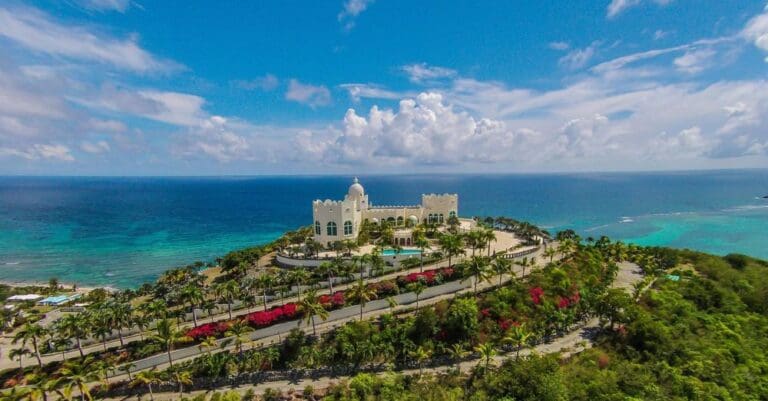 The hilltop castle on St. Croix's east end is officially off the market, sold to a native Crucian for $9.5 million, the real estate agent said Thursday.
One of the territory's most iconic and unusual properties, the six bedroom, six bathroom, 9,500-square-foot hilltop estate sits on more than 102 acres adjacent the St Croix Yacht Club. Its tall curved windows, Moorish-inspired parapets and pronounced central dome are more North African fortress than West Indian vernacular.
The property reportedly originally listed at $15 million in 2016, was briefly reduced to $8.9 million and eventually closed at $9.5 million. The buyer was U.S. Virgin Islands-born John Alexander, said Honnie Edwards, founder of Calabash Real Estate, which facilitated the sale. Peter Briggs of Christie's International Real Estate | the Saints, whose office is located on the East End of St. Thomas, listed the property.
"Including the castle property, I have sold almost $40 million of St. Croix development-oriented properties within the last 12 months, and am excited about what the future holds as St. Croix evolves into the luxury market alongside St. Thomas and St. John," Briggs said.
Alexander, who lives in Pocatello, Idaho, plans to open a financial services corporation in St. Croix. The Wall Street Journal reported Alexander plans to develop the property as an event space, for short-term rentals, and add commercial spaces for retail shops and more.
Edwards confirmed the development plans but declined to elaborate beyond saying details would come soon.
The castle sale joins two other large real estate stories in the territory. Wednesday, the Source reported two islands once owned by disgraced financier Jeffery Epstein were listed for sale for $125 million, and that the U.S. Virgin Islands government had sold St. Croix's King's Alley Hotel for $3.65 million after 20 years on the market.
Edwards said real estate in the territory is hot.
"There are strong sales across every price point in the Virgin Islands right now," she said. "What's driving it is the need for housing and also the liquidity of COVID. A lot of people were sitting on a lot of money. And the opportunity; there's just a lot of opportunity here. We've got a large airstrip. We've got fiber. We've got a workforce. We've got space and green space, which people love to see."
Briggs is equally optimistic about the St. Croix market and is eager to serve his clients. "I am also looking forward to my firm's recent partnership with Christie's International Real Estate. Now known as Christie's International Real Estate | the Saints, our firm is at the forefront of digital and international real estate trends, offering clients unparalleled service, connectivity, and access to the international real estate market," he said.