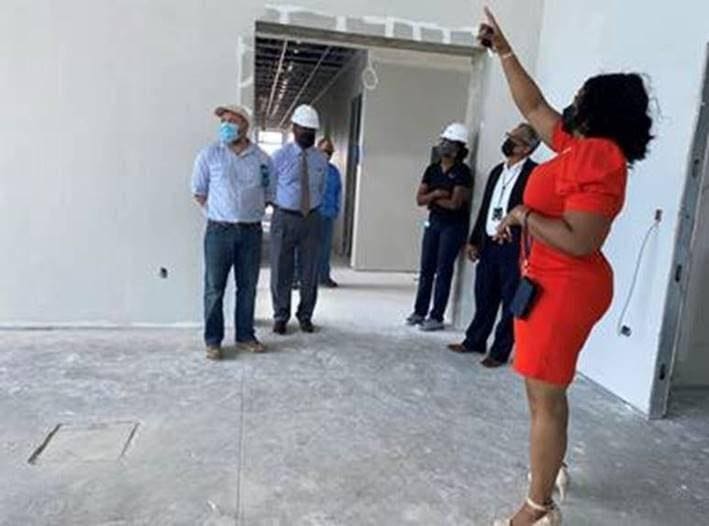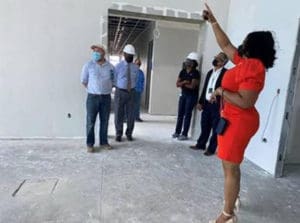 Contractors, project managers and representatives from the University of the Virgin Islands and the Development Authority toured the school's new medical simulation center on February 23.
This medical simulation center will be located on the Albert A. Sheen Campus on St. Croix and is funded by the U.S. Economic Development Administration through a federal grant.
The center has been in the works since 2014. Ground broke for the St. Croix simulation center in 2016.
It was originally tied to a proposed medical school on St. Thomas, and spurred by an announced philanthropic donation. More recent releases do not mention the philanthropic donation, which was tied to accreditation of the St. Thomas medical school. The St. Thomas medical school preliminary accreditation has been delayed several times.  An October, 2021 release suggests a new application for accreditation may be in the works.
According to a release from the V.I. Economic Development Authority, the UVI Medical Simulation Center will provide what it describes as a state-of-the-art immersive medical simulation experience and high-quality medical education.
During the tour, Phil Langley of Eleven Construction reportedly provided updates on the facility's construction, site superintendent Feliz Navarro described the use of the facility and potential for investment and training, Economic Development Authority board secretary and EDA CEO Waybne Biggs emphasized the connection between the simulation center and economic development.
"In addition to this project being a strategic benefit for the U.S. Virgin Islands in medical simulation and training, it's also an opportunity that contributes to our Territory's economic development, diversification and sustainability," said Davies. "This is an economic development project with the potential to favorably impact the lives of residents and visitors alike.
With the creation of new employment opportunities in the medical simulation field using high-tech equipment, the facility will also provide meeting spaces for conferences and lectures, simulated medical and surgical training rooms, and briefing rooms, among others. It will also serve as a venue for medical device manufacturers to introduce new advances in medical technology to medical and health professionals from around world to visit our shores for continuing medical education and other business investment opportunities," added Davies.
The one-story 21,920 square foot center is planned administrative, public and simulation spaces. The simulation areas are planned to feature two surgical skills labs, three inpatient simulation rooms, one birthing simulation room, four outpatient exam rooms, a virtual reality surgical skill suite, a nursing skills training room, an immersive simulation room, one simulation operating room complete with medical gases, a surgical instrument processing area and a live-tissue storage cooler. The public spaces is planned to feature an 86-person capacity lecture hall, conference space, a dining room with catering kitchen and administrative offices.
Medical simulation is an educational methodology that leads to increased patient safety; better patient outcomes; and improved resource and liability management. Financial loss that is often associated with inconsistent staff training and timely assessments can be mitigated through regular training, according to the EDA release.