Six horses from the Golden Age Ranch Horse Sanctuary on St. Thomas were flown off-island last week as their journey to new lives on the mainland began.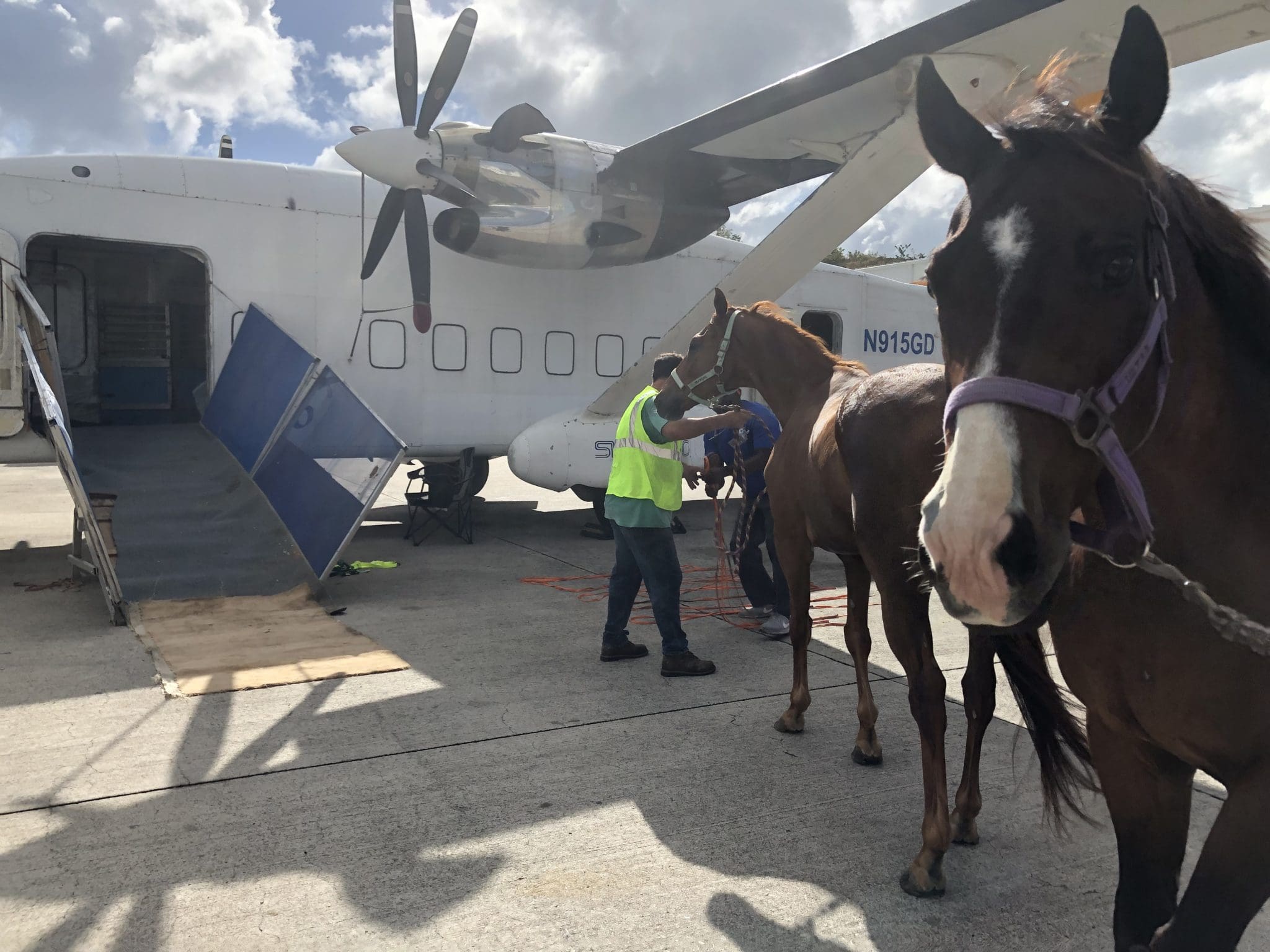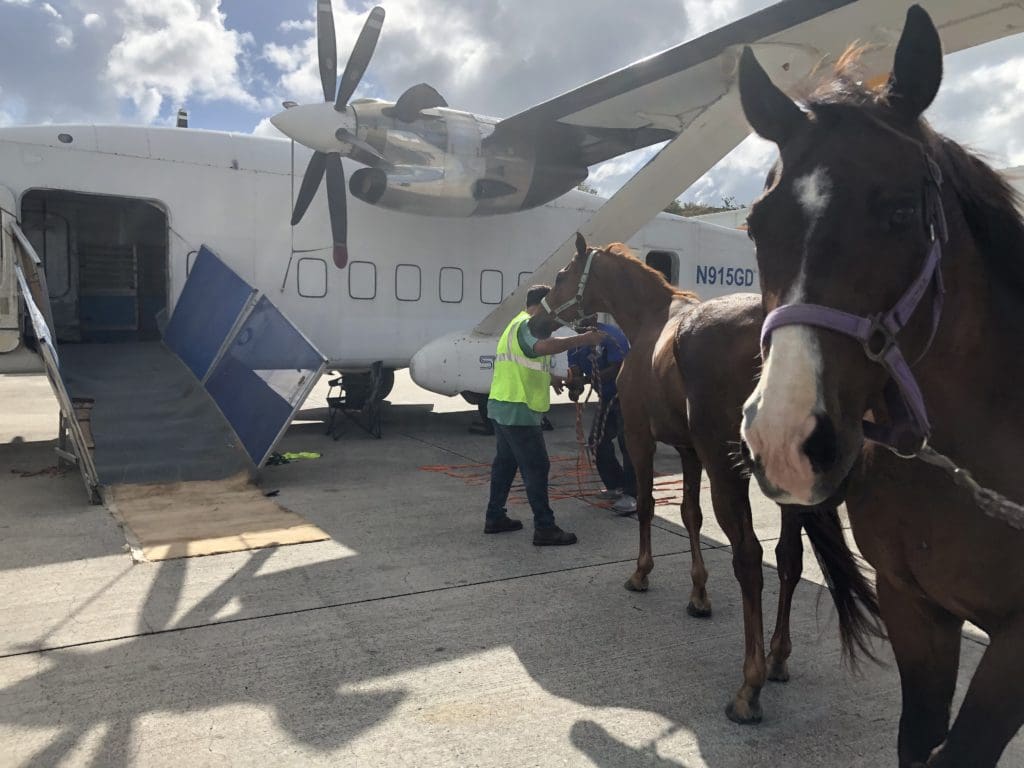 Their final destination will be Dark Horse Stables in Florida, which has agreed to take in all of Golden Age's rescued thoroughbreds – including 14 still awaiting transport from St. Thomas – at its state-of-the-art facility on 95 acres in Lake County.
Though Dark Horse Stables will take over the horses' care once they arrive in Florida, getting them there is an expensive undertaking, but one that is ultimately in the best interest of the animals, said Golden Age Ranch board member Tiffany Muse.
"Our mission at Golden Age Ranch has always been to provide shelter, care, feed, and love to off-the-track thoroughbreds in the Virgin Islands. As a sanctuary, we are responsible for ensuring the horses that come to us have access to appropriate medical care and resources to ensure a suitable and healthy retirement," said Muse via email.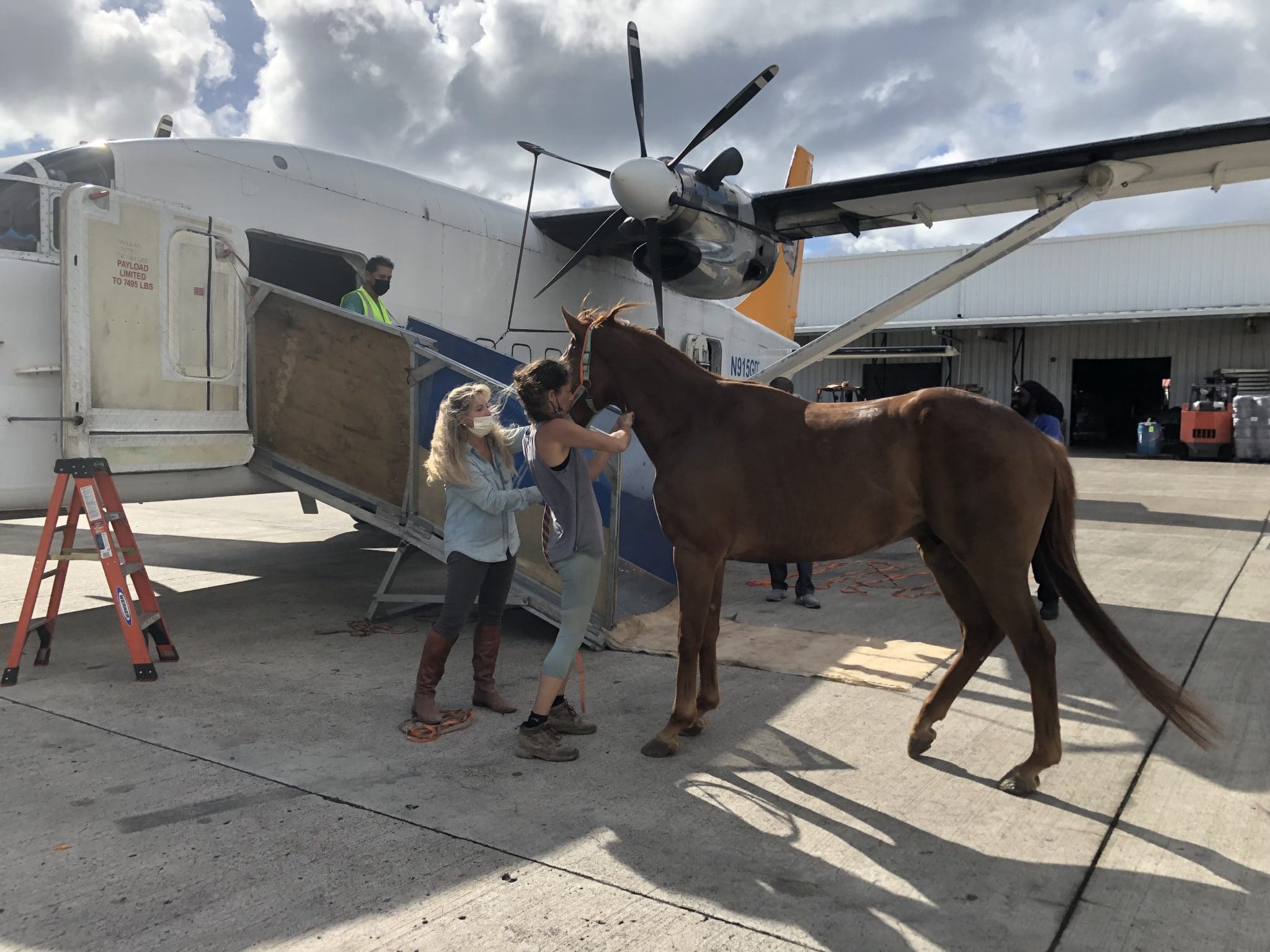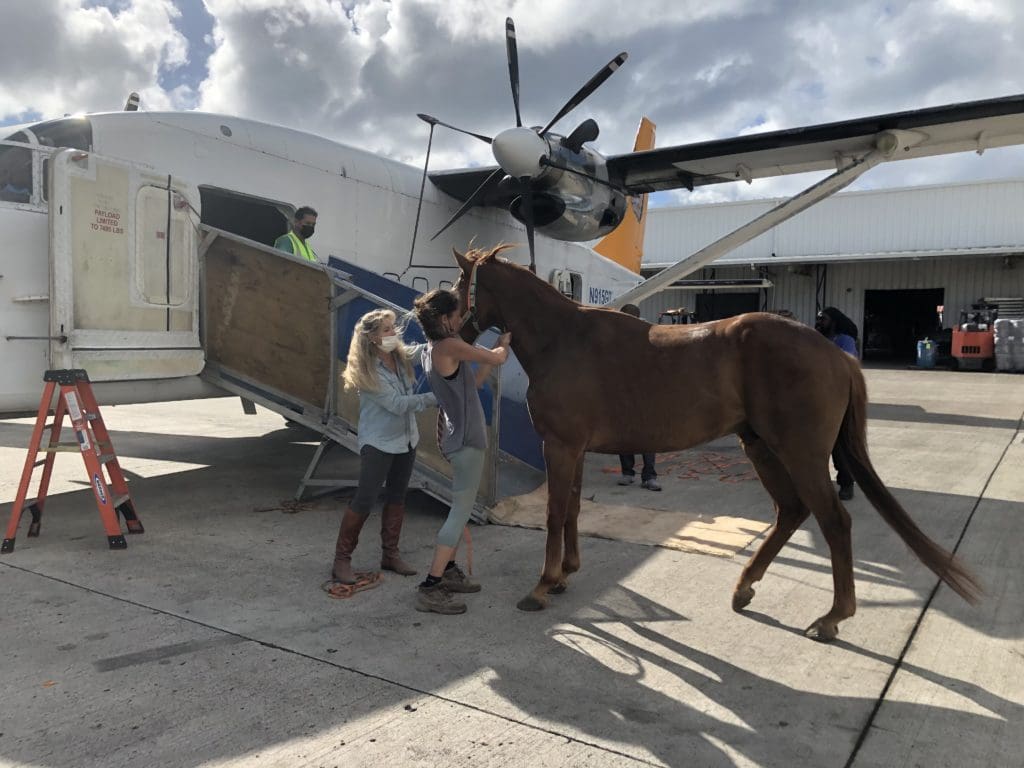 However, the ranch has struggled financially since its main source of income — paid rides on Lindqvist Beach – evaporated when the Magens Bay Authority board of directors last year put a halt to the rides that required access through the Smith Bay Park property it manages on the east end of St. Thomas.
"Aside from the financial difficulties, our aging horses need medical care we are not able to obtain here in the Virgin Islands," said Muse, noting the lack of an equine vet, a farrier, or even medical equipment and supplies on St. Thomas.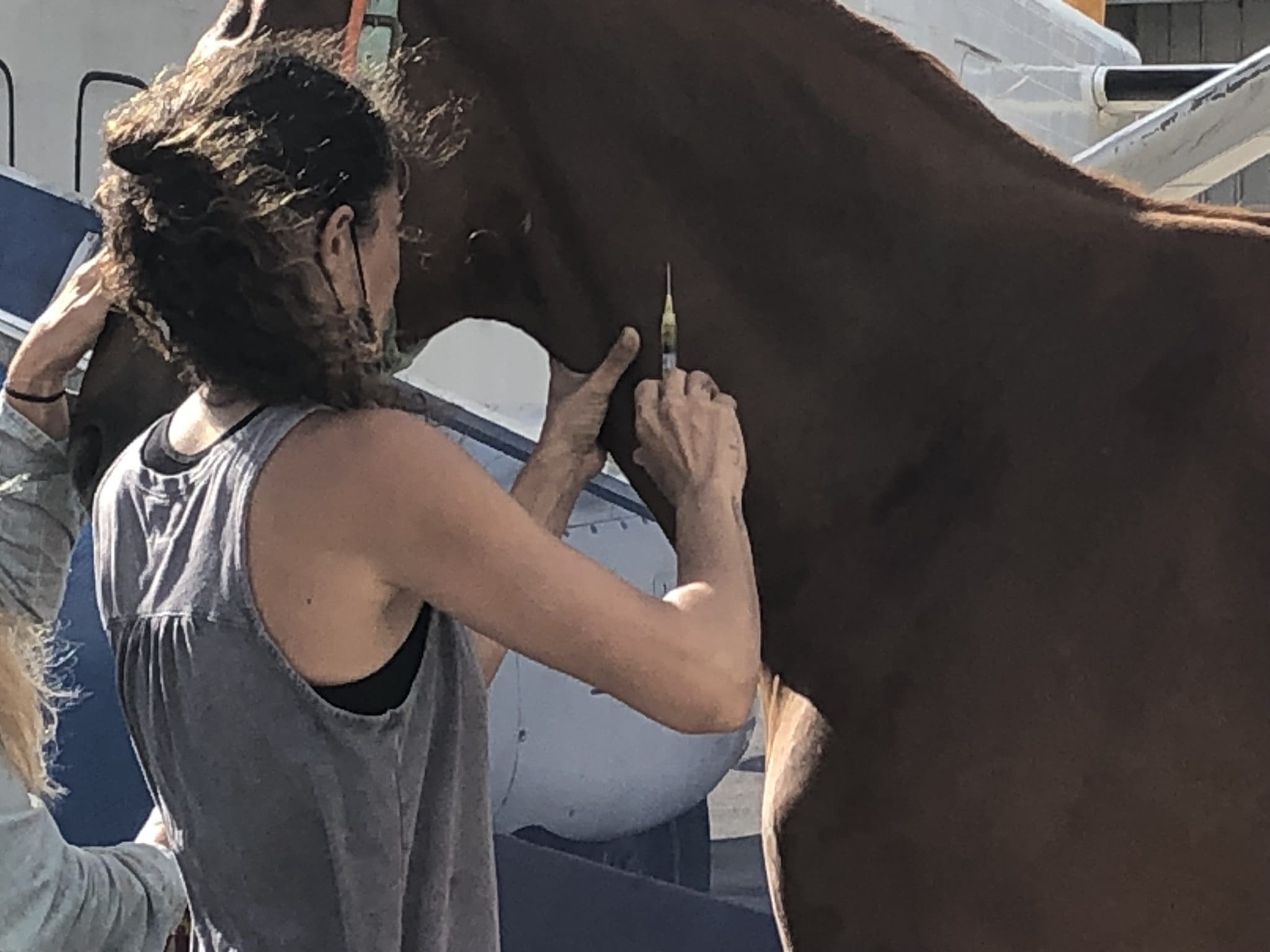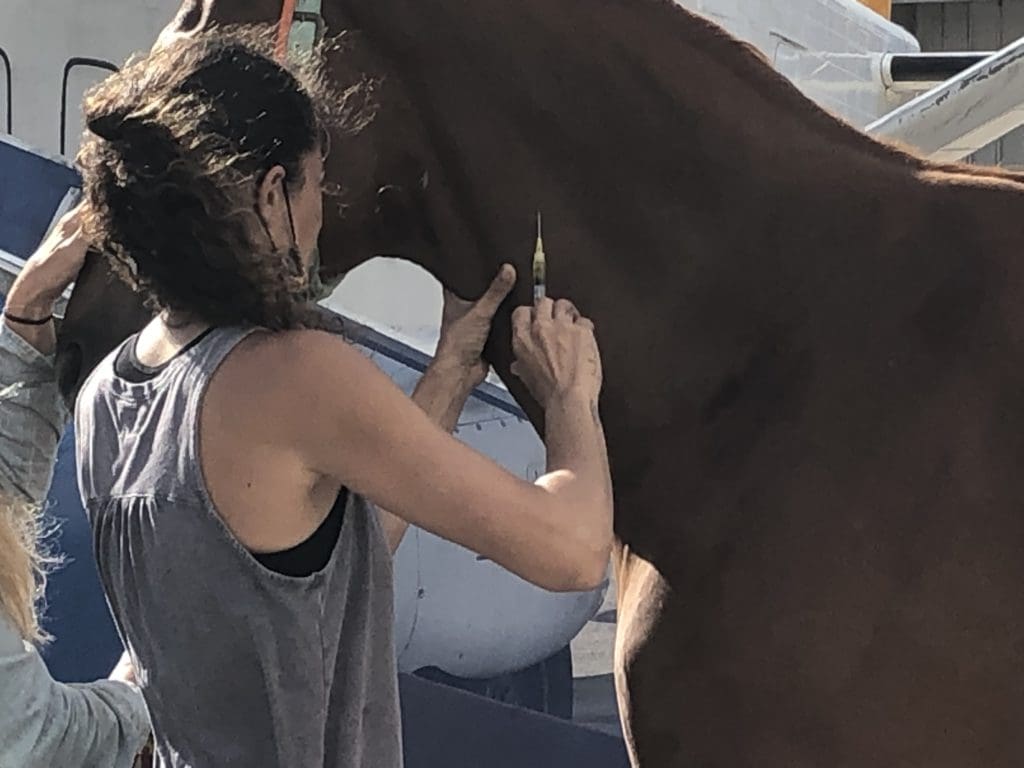 "The horses' ailments and injuries are exacerbated by the inadequate space and rocky conditions of the stable property," which has left them with chronic hoof injuries, said Muse. "The sobering reality of the situation has required the board of directors to make the responsible decision to send the horses to an equine home on the mainland where they will receive the care they need."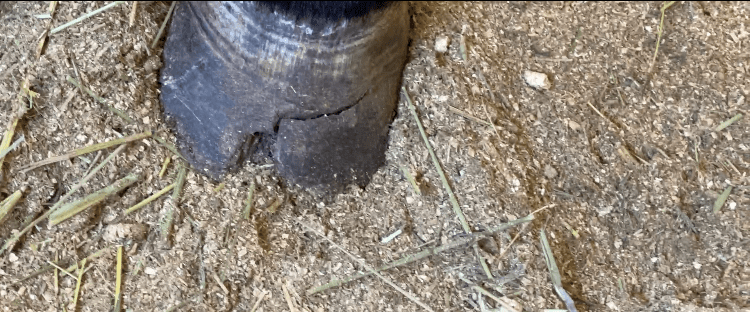 The horses are currently quarantining at Caribbean Thoroughbred Aftercare in Puerto Rico and will be flown to the mainland on March 11. However, before that can happen, Golden Age Ranch needs to raise $21,000 for the last leg of the journey, as well as an additional $30,000 for the next six horses scheduled to leave in April, said Muse.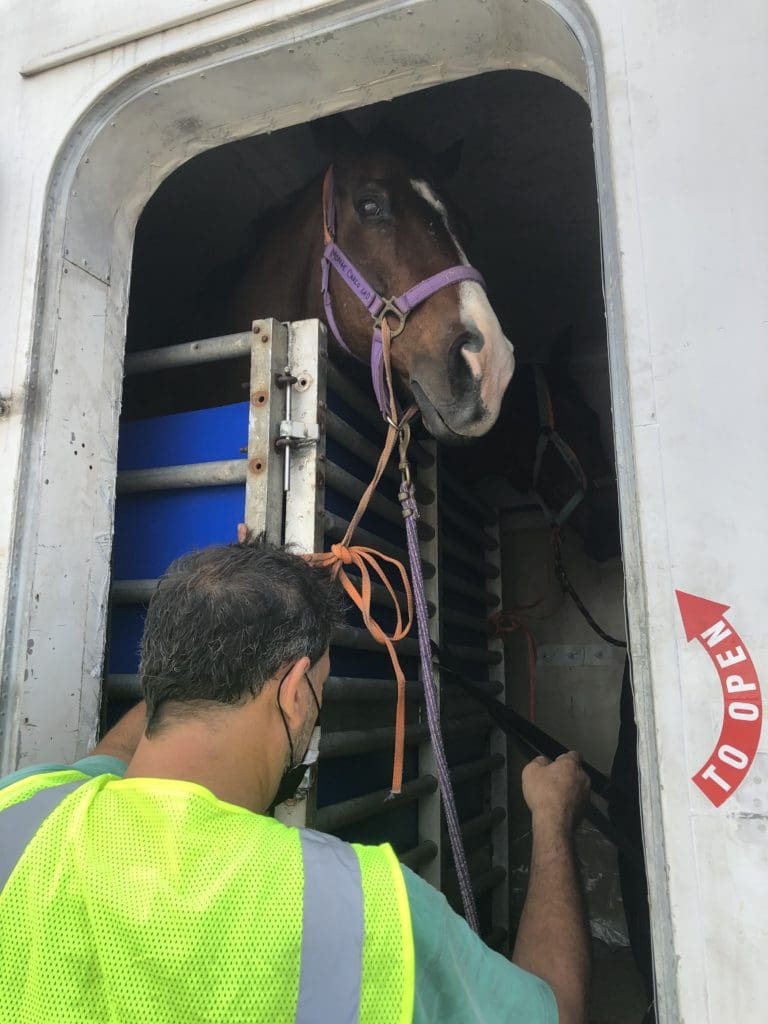 Donations can be made through this link, and no amount is too small, she said.
Meanwhile, Dark Horse Stables owner Laura Prieto said she is prepared and excited for the new arrivals. "There were a few tears when we saw them get on the plane in St. Thomas," she said – the culmination of months of planning.
Prieto first heard of the horses' plight when Debbie Grace, a former Golden Age Ranch board member, reached out for help last summer as funds were running dry and even feeding the thoroughbreds became a struggle.
"I was on the board of directors for a year, and it just broke my heart that there was some contention about even getting the horses off-island. It is just the right thing to do for these horses," said Grace, referring to schisms that developed as the majority of the Golden Age Ranch board voted to rehome the thoroughbreds.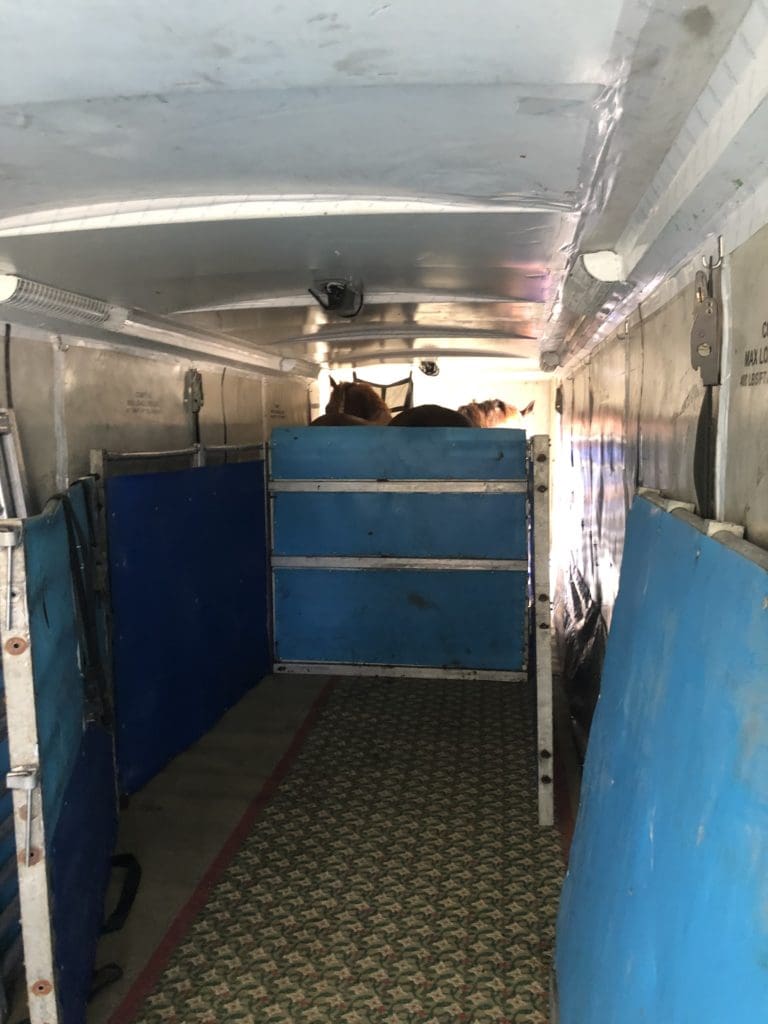 It was a bittersweet decision for Scarlett Kurban, a horse handler whose rescue Blaze was among those to leave Wednesday, but without question the right one, she said.
"He's my personal horse who I rescued off the track, and I just wanted him to have a better life," said Kurban, who was on hand to help load the horses onto the plane. "I used to keep him down in Dorothea with me, and when that fell through, I had to find somewhere else for him, and voila. I want him back on the mainland."
The lack of an equine vet on St. Thomas was the deciding factor, said Kurban. "We have no equestrian equipment to know answers. It just leaves you in a really vulnerable position where euthanization is the most humane thing to do. If we had more medical, we could do more."
"We feel blessed to have accomplished our goal of rehoming all of the Golden Age Ranch horses to greener pastures in such a short time, and we are tremendously grateful for all the support from the horse community," said Muse.
A State-of-the-Art New Home
The Prieto family facility, while not a charity or a rescue, is dedicated to the rehabilitation of neglected and abandoned horses and funds that mission by offering boarding, training, and riding lessons, among other services, including medical care at their state-of-the-art equine hospital.
The stable has 12 insulated stalls, 25 acres for pasture boarding with shady trees, arbor tunnels, and space to roam; two large paddocks; a clay dressage arena; a jumping field; an eventing course; riding trail, and a lake and spring-fed ponds.
"We're pretty much well ahead of the game," said Prieto, who has been following the horses' quarantine in Puerto Rico and posting about their progress on the stable's Facebook page. "We're blessed – we have 95 acres, so we've been able to dedicate 13 acres" of grass pasture with a spring-fed pond surrounded by massive Live Oak trees for the new arrivals to enjoy.
"It's an unfortunate situation," Prieto said of the St. Thomas horses. "We're more than happy to help."
Already on hand are the supplements and medicines she knows the newcomers will need, including special shoes for their chronic hoof issues and a vet and a farrier to treat and assess them. Prieto even has feed buckets with the horses' names, she said.
They will undergo assessments by the vet and farrier within their first 48 hours, she said, and then be allowed to adapt to their new surroundings in their dedicated pasture. From there, "our intention is to assess each horse and find their capabilities," said Prieto.
"Thoroughbreds are not your average horse. They tend to need a lot more care than your average horse," she said. They also are long-lived, and "there is life beyond the races, without a doubt."
What that life will be for the six St. Thomas horses, and the others to follow, remains to be seen, said Prieto.
"We never push a horse in any particular direction. We let them pick their own career path," whether that is dressage, jumping, riding lessons, or trail rides, she said. "You can always tell by their reaction," what they would like to do, and their work ethic is better when they are doing something they love, she said.
"Dark Horse Stables is a remarkable facility that can provide the necessary rehabilitation that our horses require. They have the specialized facilities and skilled staff to treat everything from eye injuries to ligament tears – and everything in between," said Muse. "This partnership provides a very bright future for our beloved horses."
How You Can Help
Donations to help fund the airlift of the Golden Age Ranch horses can be made through this link. No amount is too small.
Additionally, Dark Horse Stables is holding a major fundraiser on March 12, including a 50-50 raffle and auction that will feature such items as tickets to a Garth Brooks concert, a two-night stay at Universal Studios, jewelry, and Disney collectibles, among other items.
The stable also is holding a tack sale and swap to raise funds for its new charges from St. Thomas, and in April will feature a live concert by a local band on the property's dock. Patrons, who will enjoy the music from their boats, will have an opportunity to donate.
Visit the Dark Horse Stables website and Facebook page to learn more and to donate. Contact them by phone at 352-227-8145, or email them at landfprieto@gmail.com.