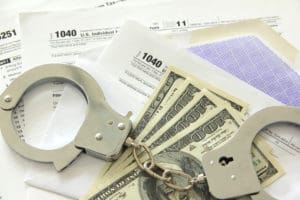 A former St. Thomas businesswoman is in federal custody on the U.S. mainland, awaiting extradition on charges of wire fraud. As authorities closed in on their suspect, prosecutors unsealed a 19-count grand jury indictment specifying charges against Alexandra Smyth.
Smyth is accused of collecting $25,000 from two clients, promising to submit payments to the U.S. Internal Revenue Service and to the V.I. Bureau of Internal Revenue. Instead, investigators allege Smyth diverted the funds for her personal expenses, to pay a credit card bill, and for travel.
Federal prosecutors allege that for an unspecified time, Smyth was operating a tax preparation service called Perfect Balance in Estate Thomas. Smyth described herself online as an IRS licensed tax preparer, but not as a certified public accountant.
The suspect was apprehended by authorities in Florida, arrested Sunday and charged there with tax fraud. She is being held at the Paul Rein Detention Center in Broward County, pending a court hearing scheduled for Friday.
Documents filed in the U.S. District Court for Florida's southern district cited a removal proceeding request from the Virgin Islands, based on an indictment reached in 2020, but sealed since then. Magistrate Lurana Snow ordered the defendant to appear at a detention and removal hearing on Friday, Feb. 25.
Smyth was specifically charged with "knowingly and with intent to defraud, devise and intend to devise a scheme to defraud B.E. and P.M., and to obtain money and property by means of materially false and fraudulent pretenses, representations and promise."
The grand jury charges the suspect with 19 counts of wire fraud, corresponding to 19 payments made by clients identified in court records as B.E. and P.M. between April 25, 2018 and Sept. 18, 2018. Because the payments — ranging between $200 and $7,604 — were received electronically, prosecutors say the conduct falls within the wire fraud statute described in the United States Code, Title 18, Sec. 1343.
By 2019, some of Smyth's other apparently dissatisfied customers started a discussion on the Facebook page, What's Going on, St. Thomas?; the online chat took place under the heading "How Much Money does Alex Smyth of Perfect Balance and Perfect Heart Owe YOU?"
There were 165 comments posted under the topic. The most recent one, posted Thursday, included an image that appeared to be a photo taken by law enforcement. Following the post, there was a note by the What's Going On media manager, saying commenting had been turned off for the post.
At this time, no other individuals have been identified by authorities as victims of the alleged wire fraud scheme. If tried and convicted of the charges spelled out in the indictment, Smyth faces a maximum penalty of 20 years in prison and/or a $250,000 fine.