Editor's Note: An earlier version of this story reported that Wrensford is the only Black female general surgeon in the territory. This is incorrect, as there is also a distinguished general surgeon on St. Croix. The Source thanks its readers for writing in – and apologizes for the error.
While doing physical education class at Charlotte Amalie High School, Dr. Glenda Wrensford still remembers looking across the field to Schneider Regional Medical Center and knowing that one day, she would work there.
At the time, the hospital was still relatively new – it opened just a year or two before Wrensford, and her family had moved to St. Thomas from St. Kitts – but having it in her line of sight daily affirmed her dream of becoming a doctor. Even as early as kindergarten, Wrensford said her family would tease her about her desire to "fix every boo-boo" her siblings had, wrapping them in ointment and bandages.
"We go through a lot to become general surgeons," Wrensford told the Source after celebrating the opening of her practice Saturday. "It's a rigorous program, and not everyone makes it. You really have to love it, and you have to love the people you serve, and I couldn't see myself any place else other than St. Thomas, working with my neighbors."
Wrensford had just finished her general residency abroad when she moved back to the territory in 2013, happily working for the hospital and under other practices. But she continued to push for her own and Saturday, dedicated the Early Bird Surgical Center – located at Al Cohen's Plaza on Raphune Hill – to her father, who passed away when she was one.
"My dad started a business in St. Kitts way back in the 1950s called the Early Bird Rum Shop," she explained. "When he died, my mom kept the business, and that's what supported us throughout childhood and everything, so when it was time for me to pick a name, I knew that 'Early Bird' had to be in it."
Wrensford is the youngest of 15 siblings, and while her time with her father was short, she said her family was always wrapped in his legacy of generosity and kindness. Because of him, she had eight fathers in her brothers, and her mother persevered with the strength he had instilled.
"Even in death, he always gave us the support that we needed," Wrensford said.
Much of her family flew in Saturday for the practice's opening, the first time they had traveled since the start of the pandemic.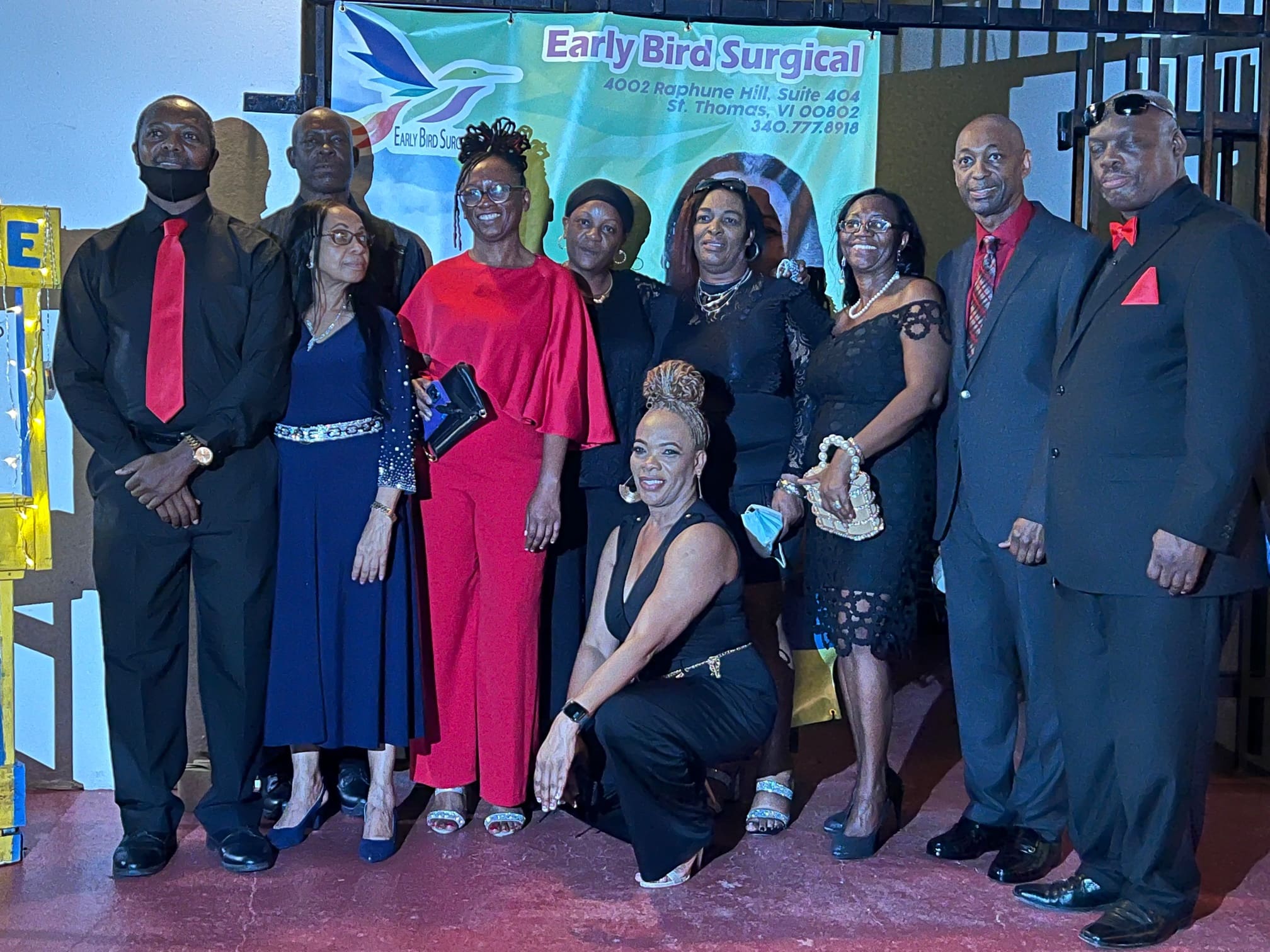 "She was three years old when she said she wanted to be a doctor, and she followed through because she is very determined," said older brother Joseph Wrensford, who is tenth in the line of the 15 children. "If she says she is going to do it, she gets it done."
Wrensford's colleagues also attended Saturday's opening, along with women across the community who wanted to show their support. Dr. Jessica Wilson, who started working at SRMC within days of Wrensford, commented that "everyone knows she is quiet, but she is a powerful force," who goes after her dreams.
"It's always so enriching to support other women," Senate President Donna Frett-Gregory added. "I know the road Dr. Glenda took being a Black Caribbean woman could not have been an easy road. Medical care in the Virgin Islands remains a challenge. When we have individuals who come back home and serve, that's all that matters. What she is doing here will help improve health care within the territory."
Source editor Michele Weichman contributed to this story.