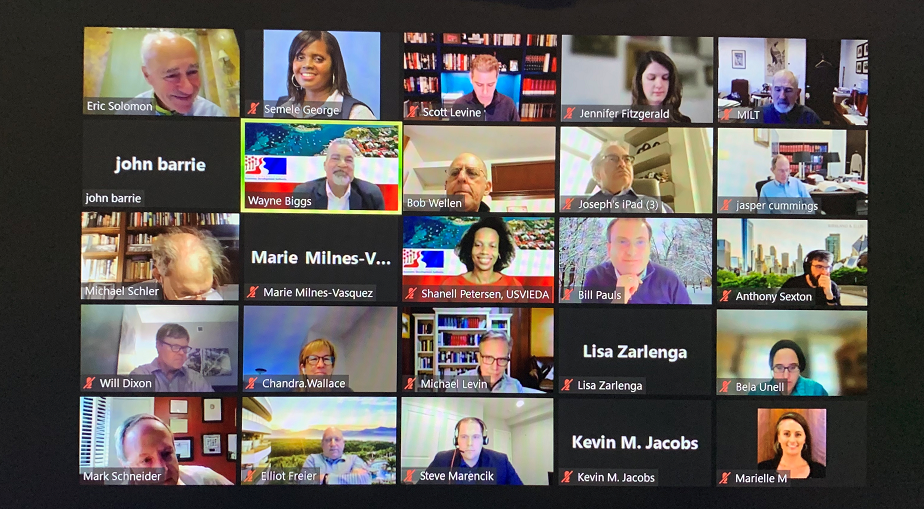 Addressing some of the country's leading tax attorneys and government officials at the Virtual 2022 Mid-Year Tax Section Meeting on Feb. 3, Wayne L. Biggs Jr., chief executive officer of the Virgin Islands Economic Development Authority (VIEDA), made the case for prospective investors to consider the U.S. Virgin Islands as their clients' next location for business investment and growth by promoting the V.I. Economic Development Commission's Tax Incentive Program.
Hosted by the American Bar Association (ABA) Tax Section, this annual meeting was held from Jan. 31- Feb. 4, attracting tax attorneys and government officials to discuss the latest federal, state and local tax policies.
VIEDA's participation in the Virtual 2022 Mid-Year Tax Section Meeting is one of several initiatives being utilized to target prospective investors through location advisors.
"This was an opportunity for my team and I to learn from, and meet with, these professionals, several of which are also location advisors that engage in site selection conversations with business investors who are looking for business investment and growth opportunities in various promising locations," said CEO Biggs. "So, this was a meeting our agency believed was worthwhile to attend, participate and sponsor to help attract new businesses to the territory."
According to the Winning Strategies 2020 in Economic Development Marketing report by Development Counsellors International, one of the leading sources of information influencing executive perceptions of an area's business climate is meetings with economic development groups. The report also revealed that 76% of survey respondents — who were location advisors — considered "planned visits" and "special events" as the most-effective marketing techniques.
In fiscal year 2021, VIEDA received 23 applications for tax incentives of which 11 were approved and 11 are pending review and decision. This is an increase of more than half of the applications received in fiscal years 2019 and 2020.  If approved, these applications represent the potential to create more than 100 job opportunities, a minimum potential investment of more than $8.9 million in capital investments in the territory.
For more information, send an email to info@usvieda.org. To learn more about the ABA Tax Section Meeting, visit https://www.americanbar.org/groups/taxation/.
"The Bryan-Roach Administration is investing in the territory's people, infrastructure and future through transparency, stabilizing the economy, restoring trust in the government and ensuring that recovery projects are completed as quickly as possible. Visit http://transparency.vi.gov."