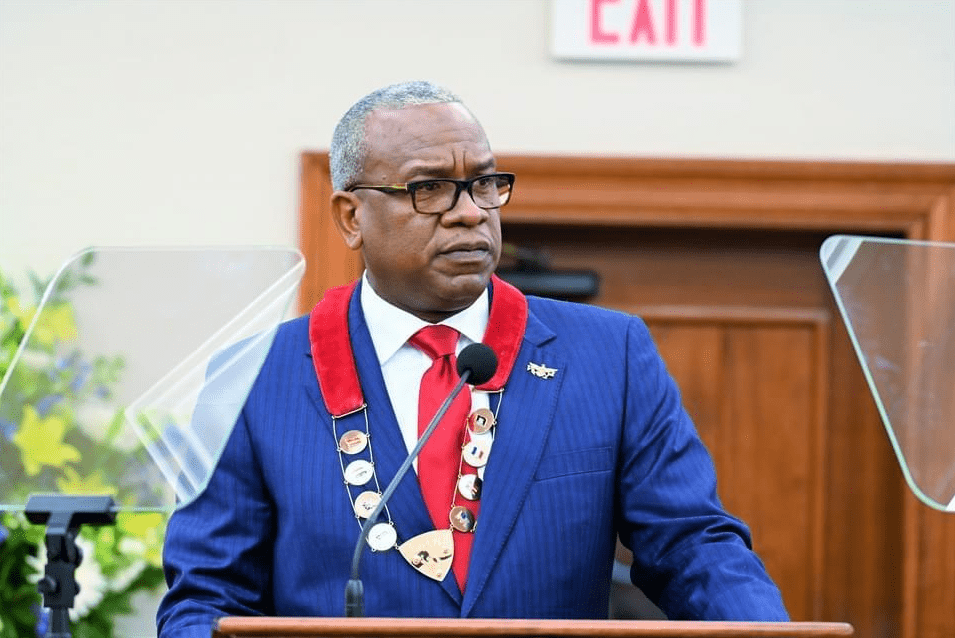 Governor Albert Bryan Jr. addressed the public during his annual State of the Territory address on Monday and was met with mixed feelings by senators who described his speech as hopeful, upbeat, and fluffy.
Bryan touched on many topics during his speech. From the tourism industry to the effects of COVID-19, from hurricane disaster recovery to horseracing, the governor pitched an optimistic outlook for the future of the territory. But, lawmakers felt the governor should have touched on more pressing matters.
"I really think he should've focused more on our challenges in areas, particularly education and housing. Challenges we have with recovery efforts and how we can address those particular challenges," said Senate President Donna Frett-Gregory. She added, "I really wanted to hear a little more about how we plan to truly go about addressing the workforce development issues that we have here in the territory. He touched on it lightly, but more should've been said about that strategy. "
Senators Novelle Francis Jr., Milton Potter, and Steven Payne each said that mental health is an important issue that the governor should have addressed also.
"Mental health is a critical issue that he campaigned on as well. I have not seen any real effort to address that particular situation," said Francis Jr." We're in a pandemic, and there are a number of individuals that's fallen out as a result of the stresses of the pandemic, and there is no real availability of resources to get their health supported in that endeavor."
"Our students are falling so far behind," added Payne. "They're having social issues, isolation issues."
Due to the current social norms affecting the territory as a result of COVID-19, Potter also felt that education was a topic the governor should've addressed in more detail.
"The governor spoke about education and focused on some of the things the department is doing or plans to do…but the issue of the learning gaps that our children have experienced…I don't know if we are moving with the sense of urgency that we need to be moving with to address this severe learning loss," said Potter.
In addition to the mental health concern expressed by senators was the state of the Juan F. Luis Hospital, particularly the major delay in opening the JFL North facility.
"That's the primary hospital on St. Croix, said Francis Jr. "Regardless of what, you have to respond there to be stabilized before you can be taken off-island. The governor is the leader of this community. He has a responsibility to remove the barriers that prevent JFL from opening in the very near future. Yes, he said that he is frustrated, but frustration is not taking care of the issue of getting that healthcare facility open to the people of St. Croix."
"I think he's been doing a really good job dealing with the pandemic. But when it comes to regular healthcare, dealing with our seniors, seeing how we can get more insurance into our territory, those are the types of things I would like to see," said Sen. Alma Francis-Heyliger.
Travel between the islands was a concern raised by Payne, who said that there needs to be a better way to stay "interconnected." The senator said more can be done for "inter-commerce between the three islands." This can address concerns dealing with agriculture and shopping, essentially sharing goods between the islands.
Francis-Heyliger made it a point to address issues relating to the Water and Power Authority. She said, "The fact that he [Bryan] was suggesting that we potentially need to go in and refinance to deal with the VITOL contract, I am not in support of that statement. The Inspector-General has a scathing report out in regards to that VITOL contract," said Francis-Heyliger.
Heyliger also noted that she wished the governor spoke more about the allocation of the American Rescue Plan Act's funds, which she said helped to provide three-quarters of a billion dollars in COVID-19 funding.
"In the legislature, we were able to participate in a committee meeting where we discussed it a little bit, but there seemed to have been a lot of contention as to our activity around this money and how these monies are spent."
Though there are issues that some senators felt the governor should address in an appropriately timed manner, senators expressed that there have been strides over the last year that were made evident during the governor's address. Addressing the VIESA 8% payroll cut, 15% of owed retroactive wages for government employees, and addressing crimes and gun violence were significant items Bryan spoke about. When addressing topics like the Research and Technology Park for the University of the Virgin Islands, Francis Jr. said the governor did an "excellent" job.
"Shout out to the unions that took the government of the Virgin Islands to court to force this to happen," said Francis-Heyliger.
Senators are hopeful to see what the Bryan-Roach administration will carry out for 2022. Potter shared enthusiasm about working with the governor to push the Responsible Fatherhood Act of 2022, and Frett-Gregory would like to see more done for pushing new small businesses.
"I think [Bryan] talking about the infrastructure and the recovery efforts, talking about the EnVIsion program… I'm looking forward to seeing him really putting his team to work around the program," said Frett-Gregory.