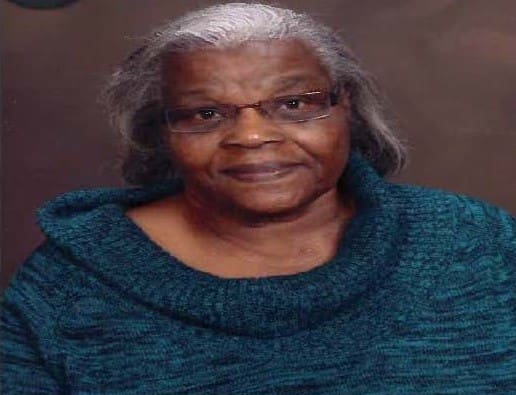 Florine Viola Phillips Osborne of Estate Mt. Pleasant died on Dec. 7.
She is survived by her children: Corine Osborne-Aska, Donna Osborne-Hector, Leroy Jr., Joanne, Raymond, Martha, Michael, Jacqueline, and Anthony Osborne; siblings: Elleanor Phillips, Rita Jackson, Winston Phillips, Patrick Phillips, Lorraine Nibbs and Margaret Henry; and grandchildren: Nichole Samuel-Miller, Tisha Samuel-Jackson, Lystia Aska, Murphy Aska Jr., Kiara Joseph, Delrese Hector-Smith, Derricka Hector, Jelani Osborne, Chioke Tyson, J'Shama Tyson, Enyjah Osborne, Jaluneca Osborne, Akiamah Thomas, Rodney Bell, Latika Browne, Asherdene Pond, Michael Jr., Teirrel, Abrianna, and Arrianna Osborne, Hurbert Barthlett Jr., Shomari Osborne, Jaluumba Charles, Rasejah Charles and Xoe Osborne.
She is also survived by 42 great-grandchildren: Shanicqua, Sean Jr., Shenea, and Nalik Miller, Elijah Motta, Elisha and Ezekiel Rogers, E'Xhyra Jackson, Ashedah Acoy, Ashoy and Akemoi Simmonds, Israel, Ajayden and Ajahnye Christmas, Harmoni and M'Zariaa Aska, Marcus, Avery, Kamryn and Darian Smith, Victoria and Lauren Wright, Tishylah Adams, Tahirah Horsford, Zahiral and Ahirah Felix, Alyssa, Annisha and Akimmani Tyson, Amead Williams, Josiah, Leal and Maison Osborne, Jalei Lee, Joezee Osborne, Akianah and Abijah Moses, Akwaniah Marcellin, T eirrel Osborne, Jaluia Charles, Amari Osborne and Maleni Charles; and 10 great-great-grandchildren: Anaeya President, E'Miah Lynch, J'Sean Miller, A'Xaeyah Ford, N'Shaun Williams, Macaelah and Malaysia McSheen, Messiah Walls, Nassir Smith and Ameerah Johnson.
Other survivors include brother-in-law, Valdemar Jackson; sister-in-law, Janet Brow-Phillips; sons-in-law: Murphy Aska Sr. and Trevor Charles; daughter-in-law: Afi Osborne; nieces: Lenore Schrader, Donna Cisse, Valorie Lynch, and Linda Phillips-Prentis, Deborah Edwards, Rhonda, Raynelle, Reeva, Reeca, Ronice and Ralna Jackson, Audrey and Andrea Phillips, Tania, Ladiqua and Lutisha Phillips, and Lita Dennis; nephews; Warren Jacobs, Paul Edwards, Leroy Pena, Ronald Schneider, Wesley, Michael, Lushane and Lawrence Phillips and Brian Petersen; special family recognition: Phillips family, McAlpin family, Schuster family, Osborne family, Jackson family and Williams family; as well as other relatives and friends too numerous to mention.
Tributes will take place at 9:30 a.m. followed by a funeral service at 10 a.m., Monday, Jan. 10, at Holy Cross Catholic Church. Interment will be at Kingshill Cemetery.
Due to the COVID-19 pandemic and public health regulations, all attendees must wear a mask as well as adhere to social distancing guidelines and contact tracing.