During a press briefing tempered with hope for the new year, Gov. Albert Bryan Jr. made a special plea to residents – businesses, in particular – to keep following health protocols as positive COVID-19 cases increased slightly to 72 territorywide and the weekly positivity rate to 1.6 percent.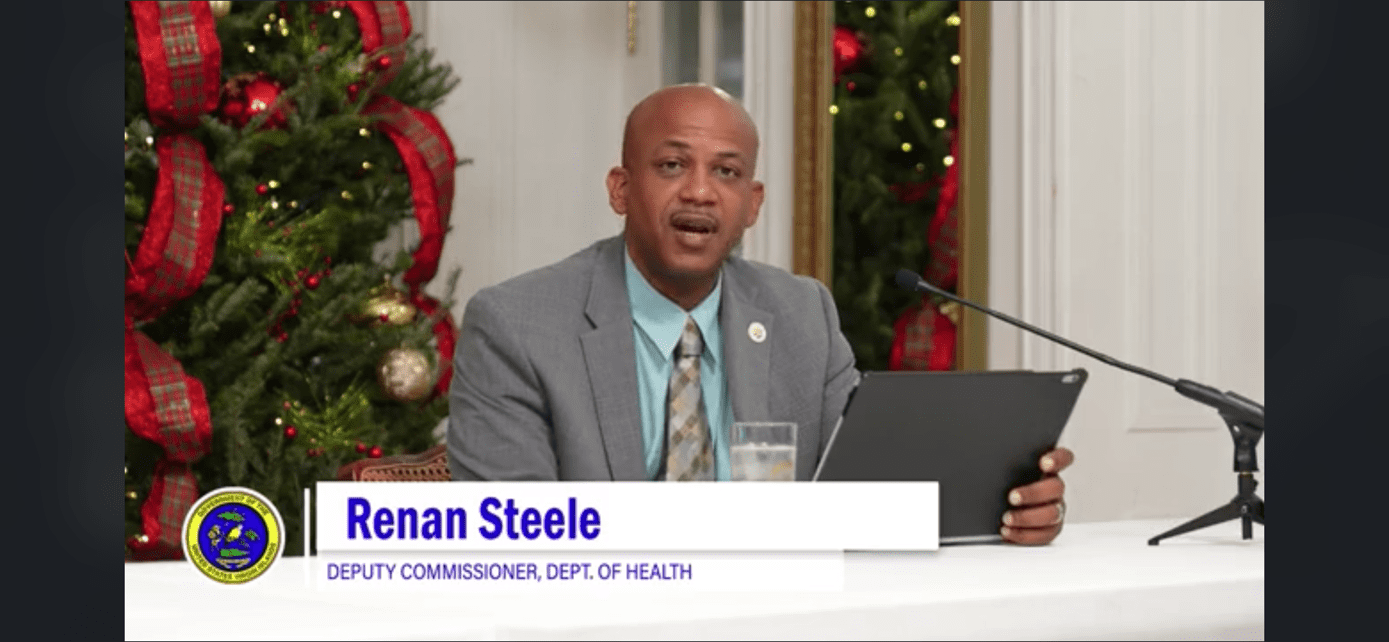 As of Tuesday, the omicron variant has not been detected locally, Health officials added, and samples are being sent regularly off-island for analysis. However, it's a matter of "when," according to Health Deputy Commissioner Renan Steele, who added that the department does expect to see omicron cases within the territory and urged the community to mask up, social distance and follow the regular protocols.
Asked about the impact of recent positives detected on the Symphony of the Seas, which called on St. Thomas this week, Gov. Albert Bryan Jr. said the risk of public transmission is low given that those individuals tested negative upon embarkment, but that Health will also continue to monitor.
Otherwise, both of the territory's hospitals posted zero COVID-19 admissions this week, and as of Dec. 20, there have been 236,999 tests conducted territorywide since the beginning of the pandemic, with 7,681 positives. Among the currently active cases, 49 are on St. Croix, 22 on St. Thomas, and one on St. John.
Bryan said Tuesday that any good news shouldn't offer a "false sense of security," especially around the holidays with friends and family moving back and forth between the territory and abroad and a variant that is becoming more widespread.
"I think we are in a comfortable place now, and I want us to remain in this nice space, doing what we can," the governor added. "But we have to get back to basics. It's up to you to ensure that we don't have to put these mandates back in place this week or the week after." Along with following guidelines for safe operation, Bryan urged businesses to stick to the closing times outlined in their business licenses and to call the Health Department if needed.
Further, residents should take time to get a booster, which Bryan said offers additional protection as omicron moves closer.
Free pop-up vaccination sites are:
– Noon to 3 p.m. on Tuesdays and Thursdays at Cost-U-Less on St. Thomas
– 1-4 p.m. Wednesdays at the V.I. Port Authority Gravel Lot on St. John, with free COVID-19 testing from noon to 3 p.m.
– 10 a.m.–1 p.m. on Tuesdays, Wednesdays, and Thursdays at The Market (formerly Plaza Extra West) and 10 a.m. to 1 p.m. on Saturdays at the Farmers Market and the Agricultural Festival Fairgrounds on St. Croix.
Residents can also get vaccinated at both community health clinics on St. Thomas and St. Croix.
The current schedule for the COVID-19 vaccine for ages 5-11 is 8 a.m. to 4 p.m. Tuesday and Friday at Maternal Child Health on St. Thomas and 8 a.m. to 5 p.m. Monday through Friday at the Community Vaccination Center on St. Croix.
To schedule a vaccine for ages 5 and up, call 340-777-8227 or go online to covid19usvi.com/vaccines. If your child is homebound, the Health Department can also bring the COVID-19 vaccine to you.