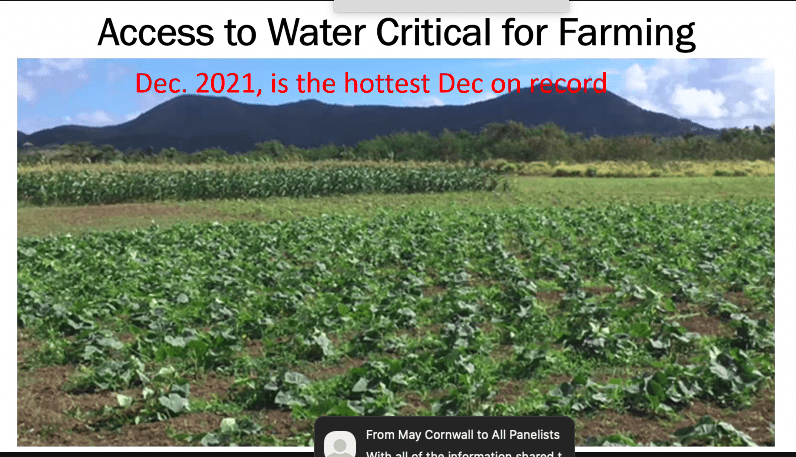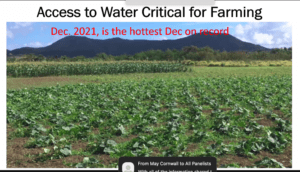 V.I. Delegate to Congress Stacey Plaskett hosted a roundtable of federal and local providers to tell the agriculture community of services available to farmers but no one offered what most farmers say they need most – water.
Around 70 people tuned in to the virtual meeting Tuesday night, including dozens of providers, farmers and community members. The session lasted almost three hours with one government agency and non-government organization after another listing their agriculture services.
Plaskett, a fourth-term representative who is on the Congressional Agriculture Committee, opened the session:
"This meeting is to discuss and understand current difficulties and what works, as well," she said.
While no one offered water, pipes, cisterns or wells, federal partners had long lists of services for farmers including grants, loans and technical assistance.
Kimme Bryce from the U.S. Agriculture Department Rural Development also offered marketing assistance, energy audits and energy-efficient equipment.
Luis Cruz Arroyo, from the USDA Natural Resources Conservation Service in Puerto Rico, said their experts will visit farms and lay out a conservation plan and recommend practices at no cost to the farmer.
The USDA's Farm Service Agency's Madison Charles said her agency offers disaster protection for livestock and drought.
Local organizations such as the V.I. Small Business Association offer access to capital and loan guarantees. Wayne Huddleson, SBA senior area manager, also mentioned COVID-19 loans and $2 million available for farmers dealing with drought. He confirmed that $332 million has already been disbursed to U.S. Virgin Islanders from a disaster loan program.
Similarly, the Small Business Development Center, under the SBA, assists businesses in obtaining licenses, understanding financial information and preparing taxes.
The Organic Trade Association helps farmers become certified organic growers and FarmMed Market representatives talked about the wellness products they make and sell locally.
Courtney Long from Iowa State University described how the stateside college is helping V.I. farmers by creating an e-commerce site. She pointed out it is not a farmers' market.
Local organizations whose representatives spoke about helping agriculturists included the V.I. Economic Development Authority, the V.I. Waste Management Authority, the University of the Virgin Islands Cooperative Extension Service, USVI Agriculture Water Resources, the VI Agriculture Department, The Community Foundation of the Virgin Islands and the V.I. Good Food Coalition.
The territory, especially St. Thomas, has been experiencing drought conditions and in addition to more rainfall, Eldridge Spark Thomas of We Grow Food Inc. said cisterns, wells and pipes are also longstanding needs. Water has been in short supply for 25 years and pleas have fallen "on deaf ears all that time." Thomas has been growing crops for more than 30 years. Gov. Albert Bryan Jr.'s goal for 2040 is for farmers to grow 34 percent of the territory's produce, but only about two percent is currently grown for the community, he said.
Recent setbacks for farmers include the 2017 hurricanes which destroyed produce, buildings and fruit trees, as well as the coronavirus pandemic which has restricted workers, growing and sales.
Christina Chanes of the Cooperative Extension Service addressed Thomas's concerns and pointed out that this December is the hottest on record.
Some of the barriers to water security include the lack of knowledge of the location of the territory's aquifers, not understanding rainfall patterns that affect cisterns and ponds. As Thomas mentioned, Chanes also cited pumps and pipes in disrepair.
Chanes recommended creating a water management board, repairing existing infrastructure, dredging and relining ponds and expanding the use of publicly owned cisterns. She also suggested repairs to the distribution network, backup power for water pumps and a new water truck for the Bordeaux area.