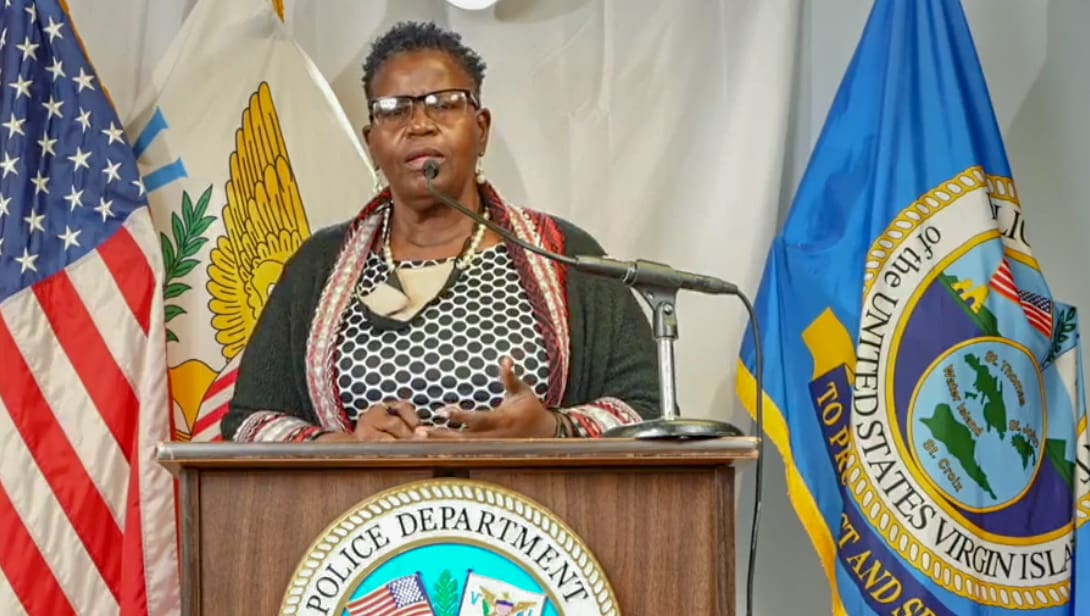 The V. I. Police Department closed three of the 30 homicide cases occurring last fiscal year on St. Croix. Several VIPD officials told local reporters and a Facebook audience Friday that the Police Department needed help from community members to improve this rate.
Chief of Detectives Commander Naomi Joseph said the biggest problem for the police department was "Those that see, don't say."
She then mentioned specific cases – a man shot at his home in Whim, a 14-year-old boy killed in Kennedy projects, and another youth killed in Sion Farm. She said, "A mother cries every day because her son's room is empty."
Deputy Chief Uston Cornelius emphasized youth programs he believed would lead to young residents seeing the police as people and learning to trust officers. On Jan. 5, a new program called Movie with a Cop is slated to begin. A police officer will meet a youngster, buy them a snack, and view a movie with them. Cornelius said the officer would then check in with the youth periodically.
St. Croix District Police Chief Sean Santos, Sr., began the conference urging residents to have a safe and happy holiday season. He said many crimes are committed in parking lots, and residents should be aware of their surroundings when going from stores to their vehicles.
He also indicated that shooting "celebratory shots" into the air will not be tolerated, and the department has noted where the gunshots have gone off in the past and will be watching those areas because "We all know what goes up must come down," and shots in the air have cost lives on the ground.
In another proactive measure taken last fiscal year, Cornelius noted that the department took 78 illegal weapons off the street.
The plea from all officers speaking was that the department needed help from community members. Joseph said, "We can't be everywhere all the time. We can't do anything without you."
Emergency calls should be made to 911 on landlines and from cell phones on St. Croix to (340) 772-9111 and St. Thomas / St. John to (340) 776-9110.
Anyone with information on crime can also call Crime Stoppers USVI at 1-800-222-8477 (1-800-222-TIPS) or submit a tip online at www.P3tips.com or www.crimestoppersvi.org.
Callers will be issued a confidential PIN and are encouraged to check back frequently for reward eligibility. Information that leads to the resolution of a crime can qualify the caller for an anonymous cash reward.