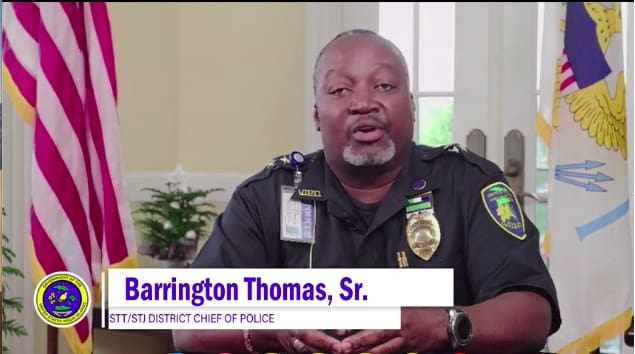 St. Thomas Police Chief Barrington Thomas appealed to the community for help locating a third and possibly a fourth suspect in Saturday's attempted robbery at Havensight Mall in which two people were shot and remained hospitalized Monday, during the Government House media briefing.
The late morning robbery attempt, with shots fired, was reported by several members of the community and video shows three people entering the Glitters Jewelry store and escaping in a dark van with heavily tinted windows. Witnesses reported that one suspect jumped over the counter and took several pieces of jewelry before fleeing in the van at a high rate of speed. A security guard and customer were shot by one of the suspects and they were in stable condition at the hospital, according to Thomas.
Thomas reported Monday that the vehicle used by the suspects is in the possession of V.I. Police Department and was reported stolen in November. Police intercepted the vehicle in Estate Thomas around 3 p.m. Saturday and fired a weapon before the men in the car stopped trying to escape. Two men and two firearms were taken into custody. Kevon Barclette and Shemar Coward have been charged with illegal possession of a firearm; one, maybe two suspects escaped.
"I am asking the public's help to see if anyone can identify these individuals. Yes, they were masked, but you and I can see that we have friends that we can identify them by their stature or simply by their silhouette of what they are wearing," Thomas entreated.
Thomas said a number of preventive measures are in place now to avoid further crime in certain areas of St. Thomas. Patrols have been increased in downtown Charlotte Amalie, Crown Bay, Red Hook, Coki Point Beach, and Havensight. In addition, cameras have been posted in those areas and other locations throughout the island, he said.
"We have to protect our economy," he said.
On Saturday at Havensight Mall, a second incident was reported Monday afternoon and was not discussed at the briefing.
According to police, around 10:30 p.m. Saturday, a man walking with two women was approached by a man wearing a red hoodie who attempted to rob him. The suspect and the victim tussled, and then a second suspect in a black hoodie approached the group with a handgun. The suspects fled the area with the jewelry in a gray sedan. Fortunately, nobody was hurt.
After learning about the second Havensight incident, the Source asked Toby Derima, public information officer for the VIPD, if the two crimes were connected.
"The detectives really don't know, so that is part of the investigation," he said.
Thomas asked that anyone with knowledge of the crimes call Crime Stoppers USVI, at 800-222-8477, 911 or the Criminal Investigation Bureau at 340-774-2211, ext. 5610.
At the weekly briefing, COVID news was reported by V.I. Health Commissioner Justa Encarnacion.
As of Monday, the new Omicron variant has not been found in the territory, although it has infected people in 16 states. Virus samples are being sent from the Virgin Islands to Yale University, Encarnacion said, so Omicron will be identified as soon as it appears.
The commissioner said there are 37 active cases of the virus – 28 on St. Croix, eight on St. Thomas, and one reported on St. John. There have been 87 fatalities, and the positivity rate is 0.81 percent.
The commissioner requested that everyone get vaccinated and said there are vaccines for children over the age of 5. On St. Thomas, the vaccines are given Tuesdays and Fridays from 8 a.m. to 4 p.m. at Maternal Child Health. On St. Croix, the hours are 8 a.m. to 5 p.m. Monday through Friday at the Community Vaccination Center. On St. John, vaccines for children are available at most primary care or pediatrician offices.
For adults, vaccines are available on St. Thomas at Cost U Less from noon to 3 p.m. Tuesdays and Thursdays. St. Johnians can get shots at the V.I. Port Authority Gravel Yard on Wednesdays from 1 p.m. to 4 p.m. Those on St. Croix can be immunized at The Market from 10 a.m. to 1 p.m. Tuesdays, Wednesdays, and Thursdays, and at the Farmers' Markets on Saturdays. In addition, the Department of Health provides free COVID-19 vaccines on St. John every Wednesday from 1 p.m. to 4 p.m. in the Port Authority Gravel Yard located in Cruz Bay.
Anyone holding events must get prior approval from the Health Department, Encarnacion said, at least 14 days in advance. The number of guests allowed depends on the number of vaccinated attendees. More information is available on the DOH website.
Richard Motta, Gov. Albert Bryan Jr.'s communications director, confirmed COVID regulations for travelers. Those vaccinated in the territory can enter the territory without a negative coronavirus test.
Motta also announced that $25 million is being refunded to taxpayers for 2019.