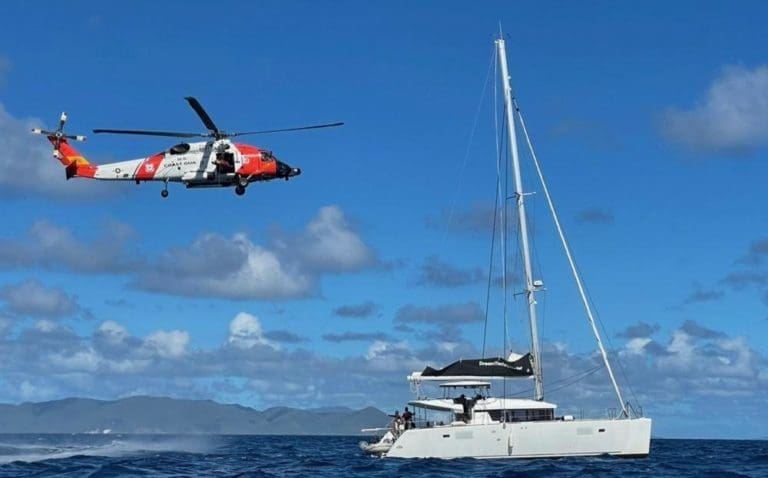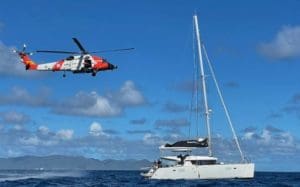 The U.S. Coast Guard medevaced a 66-year old man off the sailing vessel Orion, Monday, about 18 miles south of St. Thomas. The man, a U.S. citizen, got injured while the vessel was sailing from St. Croix to Compass Point on St. Thomas, according to a Coast Guard release.
The Coast Guard's Sector San Juan watch reportedly got a radio mayday call reporting the injury and requesting a medevac. They sent a 33-foot boat from St. Thomas and a helicopter from Air Station Borinquen in Puerto Rico.
According to the Coast Guard release, the Coast Guard boat crew transferred two crewmen to the sailing vessel with a first aid kit and administered first aid to the injured passenger. Shortly after, the helicopter arrived and its crew deployed their rescue swimmer to the sailing vessel to assess the situation. The helicopter aircrew then deployed a litter that was received and transferred by the Coast Guard boat crew to the sailing vessel. Due to active three to five-foot waves, the aircrew hoisted the patient to the helicopter. The rescue swimmer used a rescue sling to secure the man's wife and once secured, they were both hoisted from the water safely aboard the aircraft.
"The multi-unit response and proper instruction from the flight surgeon resulted in the rapid medical evacuation of the injured passenger," said Petty Officer 2nd Class Christopher Beasley, in the release. "The on-scene decisions between the Coast Guard aircrew and our boat crew resulted in a safe and timely rescue. It's a good time to remind mariners and fellow citizens that the Coast Guard is always ready to respond and assist when emergency strikes."
The Coast Guard boat crew reportedly escorted the sailing vessel Orion to Compass Marina in Saint Thomas, while the Coast Guard helicopter transported the man and his wife to the Fernando Luis Ribas Dominicci Airport in San Juan, and local Emergency Medical Service personnel took them to the Centro Medico Hospital in San Juan.