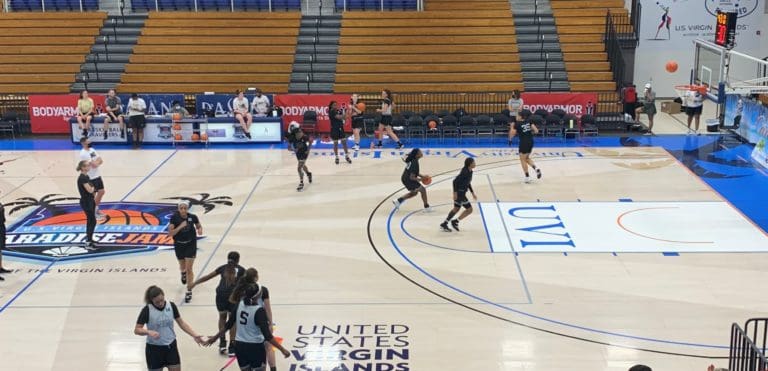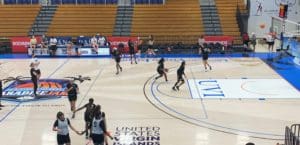 When Paradise Jam first came to St. Thomas 22 years ago, it was solely a women's event. The men's division was added in 2001. Over the years, the women's field at this event is second to none. This tournament has attracted every top program in the women's game over the years. This year's field is no exception.
Now that the boys have played and returned home, it is time for the featured presentation. Let us meet the teams for the 2021 Paradise Jam Women's Tournament.
Island Division
The Depaul University Blue Demons (3-1) are based in Chicago, Illinois and competes in the Big East Conference. The Blue Demons are returning all four of its top scorers from last year. This guard-powered team uses its quickness and speed to generate scoring opportunities. Freshman Aneesah Morrow gives the Blue Demons a real presence down low. Morrow is averaging 17 points, 10 rebounds and has already accumulated 17 blocks in their first four games of this season. Head Coach Doug Bruno is going into his 36th year of coaching at his alma mater. This has been a rewarding experience for him as he has taken the Blue Demons to 17 consecutive NCAA Tournament appearances, making it as far as the round of Sweet Sixteen four times. His teams have won the Big East regular-season and tournament title multiple times.
Rutgers University Scarlet Knights (4-1) are representing the Big Ten Conference. Rutgers has campuses throughout the entire state of New Jersey. The Scarlet Knights 2021-2022 season is off to a great start despite losing all of their top scorers from one season ago. Defense has been the theme for the 2021-2022 campaign as Rutgers held their opponents to an average of 49 points thus far this season. Rutgers University Women Basketball program is led by Hall of Famer C. Vivian Stringer. This is Stringer's 50th year of coaching collegiate women's basketball, 26 of them have been at Rutgers University. Stringer has accumulated numerous titles, awards and honorary distinctions. Stringer's five decades of coaching from the sideline will be needed as she works to blend this team of new players to the program into a championship contender.
Vanderbilt University Lady Commodores (3-2) call Nashville, Tennessee home. The Lady Commodores play in the Southeastern Conference. Vanderbilt just played eight games in the 2020-2021 season and is returning only three players from that roster. This young Commodores team is still struggling to find its way. In the three games they have won this year, Vanderbilt scored 70 plus points, but in their two losses, the team from Tennessee was held to under 50 points. First-time Head Coach Shea Ralph has played or coached on seven national championship teams with the University of Connecticut's women program. She brings all the experience of serving under Hall of Fame UConn coach Geno Auriemma. That knowledge will be tested as her Lady Commodores play in an extremely competitive Island Division at the 2021 Paradise Jam.
University of Arizona Lady Wildcats (4-0) are presently ranked 9th in the Associated Press Top 25 and 12th in the Coaches Poll. This institution of higher learning is found in Tucson, Arizona where they compete in the Pacific-12 Conference. The Lady Wildcats add freshman Aaronette Voniel to a cast of seasoned returners from last year's team. This high-octane offense is averaging 80 points per game this season. Arizona has already passed their first test of this young season defeating top ten powerhouse team, Louisville University Lady Cardinals. Head Coach Adia Barnes is in her fifth year at the helm of this program. Last season Coach Barnes led these Wildcats to the national title game where they lost to another Pac-12 team, Stanford University, by one point. The Lady Wildcats are on a quest to return to the final game of the season, this time with a more favorable outcome.
Reef Division
South Dakota University Lady Coyotes (2-2) hails from Vermillion, South Dakota, and is a member of the Summit League. The Lady Coyotes closed the 2020-2021 season with a 19-6 record winning the Summit League tournament championship, making it to the NCAA tournament. South Dakota is basically returning its entire roster from last season. Their 2-2 start can be a little misleading as they opened their season against Oklahoma Sooners and South Carolina Gamecocks; two traditional powerhouse programs in the women's collegiate game. The Lady Coyotes have since settled down and have won their final two games on their schedule coming into Paradise Jam. Entering her sixth year as head coach of South Dakota, Dawn Plitzuweit has been named Summit League Coach of the Year three times. She has the best winning percentage in the school's history with a 129-30 overall record. The Lady Coyotes are looking to perform well at the 2021 Paradise Jam.
Northwestern University Lady Wildcats (3-1) reside in Evanston, Illinois, and they are associated with the Big Ten Conference. The Lady Wildcats feature two talented freshmen in their starting lineup, Jillian Brown and Caileigh Walsh. Northwestern will look to veteran starters, Veronica Burton, Courtney Shaw and Sydney Wood for leadership. Head Coach Joe McKeown has spent more than 30 years on the sidelines, 13 years at the helm of Northwestern. During his tenure in Evanston, he has helped many of his players earn individual accolades and his teams have done extremely well in Big Ten play. The Lady Wildcats are averaging 70 points per game this young season a trend they are looking to improve on at the 2021 Paradise Jam.
University of Pittsburg Lady Panthers (4-0) come into the 2021 Paradise Jam with an unblemished record despite ending the 2020-2021 season with a disappointing 5-14 overall record. The team from Pittsburg, Pennsylvania, is returning all of their key players from last year except one, 2020-21 team captain Gabbie Green. Senior Jayla Everett has taken up the mantle on offense averaging 18.3 points per game so far this season. Pitt plays in the always tough Atlantic Coast Conference. Head Coach Lance White is in his fourth season and is looking forward to having a breakout campaign this year.
Texas A&M University Lady Aggies (4-0) from College Station, Texas, is one of the top teams in the Southeastern Conference. The Lady Aggies went 25-3 and made it all the way to the Sweet Sixteen Round in the 2021 NCAA Women's National Championship. Texas A&M lost three of their top five scorers from last year, so Head Coach Gary Blair will look to Kayla Wells and Jordan Nixon for leadership on offense and on defense. Gary Blair is a very accomplished coach who has traversed the sidelines for 36 seasons, 18 of those in College Station, Texas. Blair's teams have won numerous regular-season conference titles, conferences tournament championships, WNIT Championship (1999) and the Women's NCAA Championship (2011). The Lady Aggies would love to add Paradise Jam to their list of championship achievements.
Paradise Jam 2021 showcases coaches with a deep wealth of coaching knowledge and experience. C. Vivian Stringer, Rutgers University; Gary Blair, Texas A&M; Doug Bruno, DePaul University and Joe McKeown, Northwestern University, have collectively logged over 3,300 wins and contributed more than 173 years of service to the game they love, women's basketball.
This event is being held with the blessing of the Virgin Islands Department of Health. The doors of the Sport and Fitness Center are open to both the vaccinated and non-vaccinated.
Here are the procedures:
For vaccinated individuals, you must walk with your vaccination card or prove that you have taken the vaccine. A picture ID is also required before entry.
Non-vaccinated spectators must produce a negative COVID test result that is no more than two days old. The Department of Health will be conducting free on-site testing for individuals who are not vaccinated but desire to attend the tournament. Those individuals must also show identification upon entering the arena. So, everyone is invited to journey to the Sports and Fitness Center and enjoy top-quality college basketball.
Here are the times the DOH will be conducting on-site testing:
Thursday, Nov. 25, 12 p.m. – 3 p.m.
Friday, Nov. 26, 2 p.m. – 3 p.m.
Saturday, Nov. 27, 12 p.m. – 3 p.m.