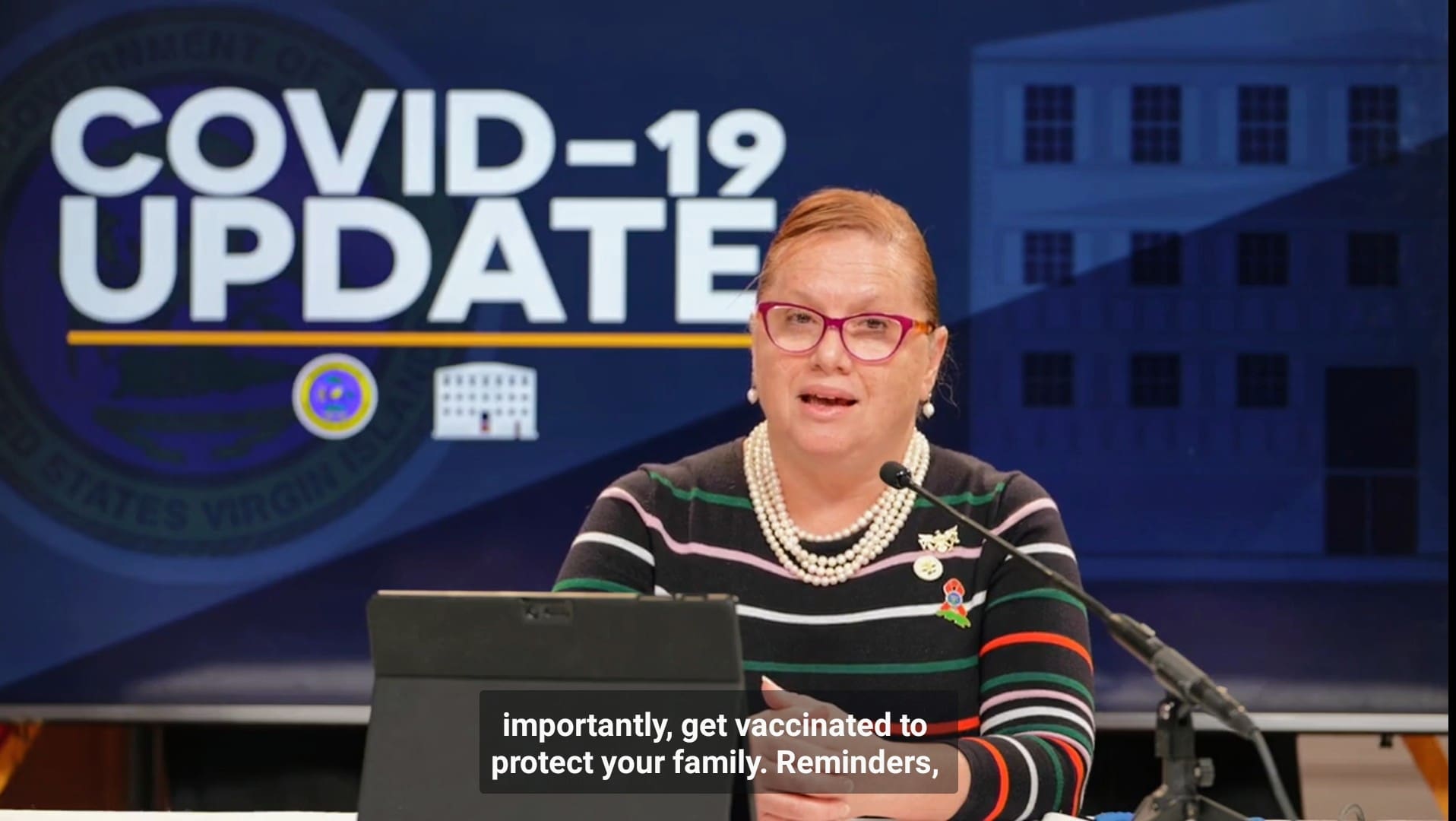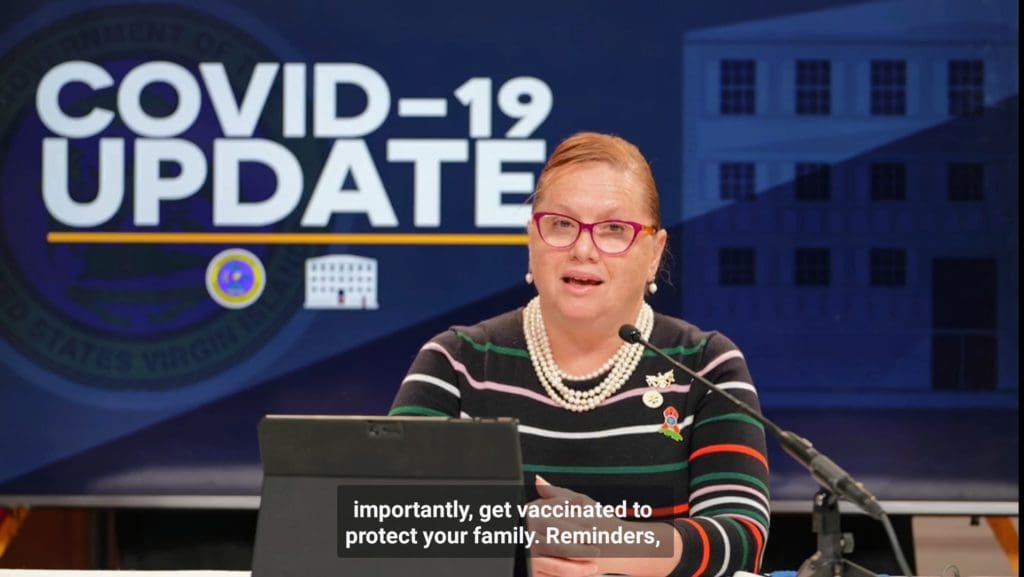 Taking on a seasonal tone, Gov. Albert Bryan Jr. focused on the territory's overall health and well-being during Monday's Government House weekly press briefing, spotlighting mental health and diabetes awareness aside from the Department of Health's push for herd immunity achieved through COVID-19 vaccinations.
This week marks "family table time, the beginning of our Thanksgiving and Christmas season. It's a joyous time for us, one that we celebrate with family and friends, and of course, eat good food. My ask of you this season is to discuss with your loved ones the manner in which you celebrate. It is important to limit gatherings to small groups, wear a mask over your nose and mouth, wash your hands frequently, and most importantly, get vaccinated to protect your family," Health Commissioner Justa Encarnacion said.
The U.S. Virgin Islands "needs to increase community immunity," Encarnacion said as there are 94 active cases – 80 in St. Croix, 12 in St. Thomas, and two in St. John. But "everyone ages five and older can get vaccinated," and everyone 18 years and older is now eligible for a booster shot. Ages 50 years and older are recommended to receive one.
Becoming vaccinated is "not just about getting COVID," Bryan said, but it is also about being considerate and mindful that the territory is not "burning our nurses out" and depleting resources. "That's the concern, and that should be our concern."
While Bryan and his administration ask all residents to become vaccinated against the COVID-19 virus, he added it was at the sole discretion of each individual – their choice.
"I really think it's a person's personal choice whether they want to take the vaccine or not. I realize it was driving a rift in our community by putting the people who are vaccinated against the people who aren't vaccinated. That's just not good," Bryan said.
Instead, he added vaccinations should be encouraged and incentivized, "but if they don't want to take the vaccine, they are on their own."
To view a list of testing sites or to pre-register for pop-up testing, visit the Department of Health's website or call the hotline: St Croix 340-712-6299 St. Thomas/ St. John 340-776-1519.
Encarnacion said President Joseph Biden Jr. and his staff have "prioritized increasing equity and access to vaccines," though the territory's overall vaccination rate pales compared to Puerto Rico, which "has one of the highest vaccination rates per jurisdiction."
She added: "Our rates, not just for the COVID-19 vaccine but childhood vaccines, have always been a little low … Puerto Rico did put in a little more stringent requirements or guidelines going into restaurants and doing a little more in reference to mitigation, and we haven't. It's not because we can't, but we really prefer for it to be a decision made by that individual, so not many mandates have been put in place, but the ask is there."
Bryan had his own request, calling upon residents to remember those who have "one less seat at their Thanksgiving dinner" and to be kind to one another as "it's been a tough time and there is a lot of mental stress."
To alleviate some of this stress, Bryan said that three behavioral health vans were secured in the territory last week and will provide mental health services. One van has been assigned to each of the main islands.
November is Diabetes Awareness Month, and Bryan said in honor of the occasion First Lady of the U.S. Virgin Islands Yolanda Bryan will appear on the Press Box broadcast on Nov. 24 at 5:30 p.m.
COVID-19 vaccines and booster shots are free and readily available in the U.S. Virgin Islands through the V.I. Health Department.
Local, national, and worldwide health officials have long emphasized that getting the COVID-19 vaccine can prevent severe illness and death from the virus. To schedule an appointment, call 340-777-8227 or visit covid19usvi.com/vaccines. Walk-ins are also accepted at the territory's Community Vaccination Centers.
St. Croix's Community Vaccination Center is at the Nissan Center in Estate La Grande Princesse, adjacent to the Honda Dealership and The Paint Shop, on the same side of the street as Food Town.
On St. Thomas, the Community Vaccination Center is at the Community Health Clinic on the second floor of the Schneider Regional Medical Center.
On St. John, free COVID-19 vaccines are available every Wednesday from 1 to 4 p.m. in the Port Authority Gravel Yard located in Cruz Bay.
Vaccines generally available on St. John include Pfizer, Moderna, and Johnson & Johnson. Please note that there are times when a particular vaccine may run out during the vaccine event or may not have been available in the St. Thomas vaccine repository to transport to St. John.
Vaccines are now approved for use in children ages 5 to 11 in addition to the previously approved age group of 12 to 18. Parents or guardians who want to immunize their children should make an appointment at 340-712-6299 or 340-776-1519.
Vaccinations for children are available at Modular 5 at the Charles Harwood Complex on St. Croix (340-718-1311); Maternal and Child Health, 78 Content, St. Thomas (340-777-8804); and on St. John on Wednesdays from 1 to 4 p.m. in the Port Authority Gravel Yard in Cruz Bay.
Additionally, vaccines for children are available at most primary care or pediatrician offices.
A parent or guardian must accompany children ages 5-18 receiving a vaccine, and provide identification for the child and themselves.