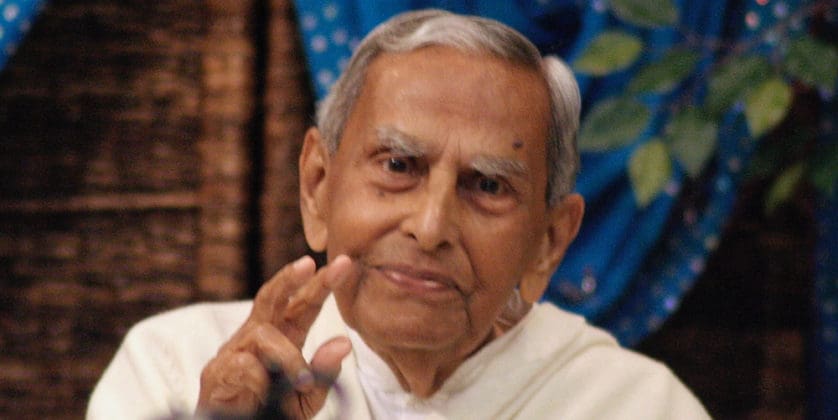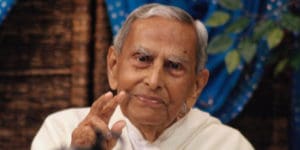 In 1986, Jashan Pahlajra "Dada" Vaswani, who died 21 days shy of his 100th birthday on July 12, 2018, called upon his followers, and the world, to observe Nov. 25 as meatless day in honor of his guru Sadhu Thanwardas Lilaram. Vaswani, who was born in 1879, was a life-long animal advocate.
In a fiery speech presented in 2001 at the World Vegetarian Conference,  "Dada" said, "Animals exist in conditions of which the worst Nazi concentration camps would be ashamed of. "
He understood also the toll that eating animals – especially, but not limited to beef – takes on our environment, but his driving motivation was love.
That is also the motivation closer to home. Local resident and businessman Chandru "Charlie" Sakhrani, who once again is spearheading the local "Pledge to be Veg" day, believes as did his teacher and his teacher's teacher, that asking people to abstain from meat for one day is an act of love, compassion and kindness.
To take the pledge, click here.
Unlike his teacher, Sakhrani is reluctant to talk about the animal cruelty factor, but agreed it cannot be ignored.
The other reality related to meat eating that when ignored threatens human beings is its contribution to climate change.
According to the 2017 New York Times best seller "Drawdown," edited by environmentalist Paul Hawken, raising livestock accounts "conservatively" for more than 15 percent of global greenhouse gasses emitted each year and cattle are the largest offender. "If cattle were their own nation, they would be the world's third-largest emitter of greenhouse gases," it says.
Hawken gathered more than 500 references to create the book, which he subtitled, "The Most Comprehensive Plan Every Proposed to Reverse Global Warming,"
There was a slight twist for Americans this year in the pledge to be veg movement. Nov. 25 happens to fall on Thanksgiving Day – a holiday that, while losing its original mythological panache in light of more and more unearthed atrocities perpetrated on Native Americans by invading Europeans, is still a day celebrated by millions of Americans with gobbling up millions of factory-farmed turkeys.
While it is unknown how mainland Americans are dealing with the dilemma, after issuing a proclamation in October declaring Nov. 25 "Meatless Day in the Virgin Islands" in solidarity with the Virgin Islands East Indian community – which numbers about 800 people, according to Sakhrani – Gov. Albert Bryan Jr., changed his initial declaration in a press release Thursday.
"Because the annual observance falls this year on Thanksgiving Day, Gov. Bryan is asking Virgin Islanders to observe "Meatless Day" on Wednesday, November 24, in the spirit of unity, brotherhood, fellowship and compassion," the release said.
According to Sadhu Vaswani's website, on his birthday in 2019 12,413 people turned vegetarian for life, 44,07,317 took the Nov. 25 pledge and more than 8 million pledged support for the day. The site is not clear what that meant.
India with as many as 300 million and 33 percent of its population by far leads the world in number and percentage of vegetarians. According to Wikipedia, Mexico comes in second at 19 percent. While it's not at the bottom of the list, the United States can claim about 5 percent of its people as vegetarians the website states.
Sakhrani isn't looking for anything like those kinds of high percentages in the territory, but would like to see a small blip on the local pledge to be veg page.
Sakhrani said he will be forwarding the pledge grand total to be part of the two Samadhi celebrations that take place on Nov. 25 in Puna, India.
In his 2001 no holds barred speech about what he called the "atrocities" perpetrated on animals, Dada Vaswani said, "All types of human exploitation must end…if we are to have peace on earth."