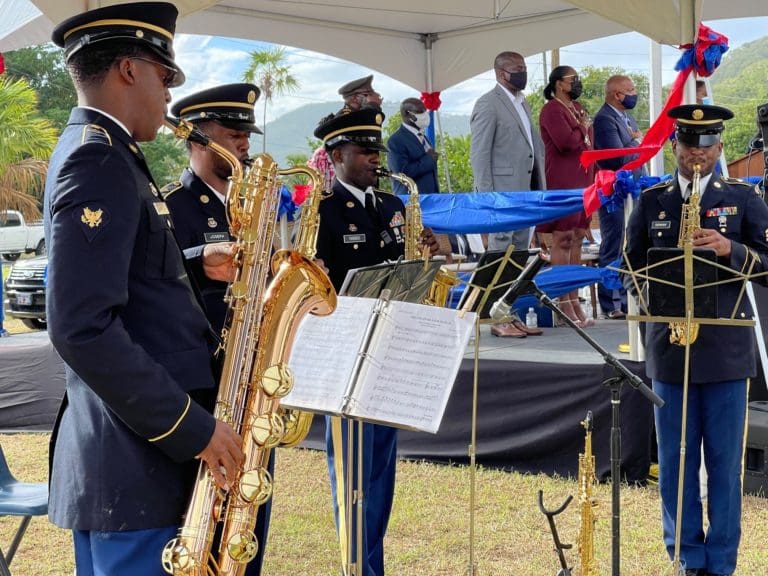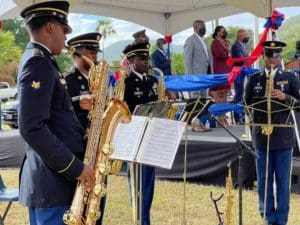 Along with offering their gratitude, speakers at Veterans Day events on St Thomas also filled Thursday afternoon with personal stories of U.S. Virgin Islanders who have served, or who have been there for veterans in times of need.
That included Thursday's honoree, Milford A. Thibou, Jr., also known as "Junior," of Jr's Cakes and Bakes, who Office of Veterans Affairs State Director Patrick Farrell said went above and beyond to provide St. Thomas' veterans with free food and drink after a recent series of outpatient medical labs at the Department of Veterans Affairs clinic.
"They say the quickest way to anyone's heart is with food," Farrell joked as he presented Thibou with a plaque for his service and detailed how the effects of the procedures were felt immediately after, with some veterans even experiencing low blood pressure after fasting for a day in preparation. Without skipping a beat, Thibou dropped in, bringing dumb bread, bush tea and a smile.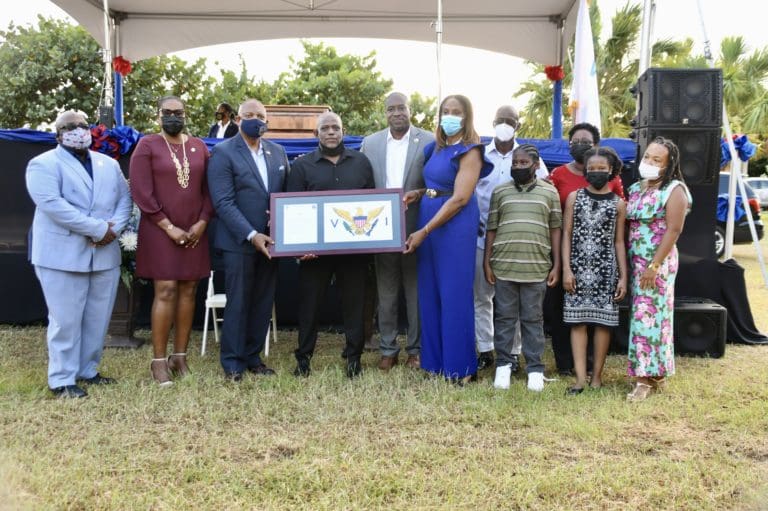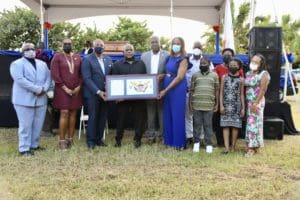 Delegate to Congress Stacey Plaskett also awarded Thibou a Congressional recognition and said that at the heart of every battle, U.S. Virgin Islanders have met the call to serve with enthusiasm and honor. After listening to words of inspiration from Senate President Donna Frett-Gregory about the legacy left by the late Army four-star general, Gen. Colin Powell, Plaskett pointed out that it was a U.S. Virgin Islander – Crucian-born Samuel Emanuel Ebbesen, a retired lieutenant general and deputy assistant secretary of defense for military personnel policy – who was among those closest to Powell that spoke at his funeral.
"That's how great our V.I. men and women of service are," Plaskett said. "Our veterans of the territory have played an integral role in safeguarding the safety of our nation and its freedoms."
In remembering the service of her father Jacob Frett, Frett-Gregory also chose a heartfelt quote from Powell that echoed the feeling of the day.
"The nation owes a great debt to its veterans, whose service to the nation spans every decade, every year, every day of our country's existence," she quoted. "Through untold courage and sacrifice, America's veterans have secured the liberty which the founding fathers sought to establish in times of darkness and danger – as well as in times of peace and prosperity. America's veterans have been there."
And with their service has come hope, Frett-Gregory added, remarking on the outline of the rainbow that dotted the grounds of the Reichhold Center for the Arts, where Thursday's ceremony was held.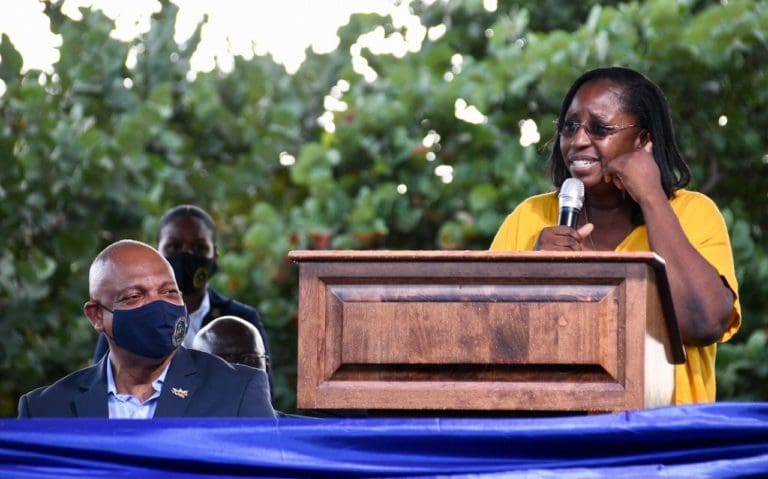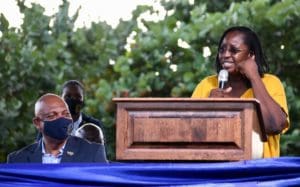 The keynote speaker of the day, retired 1st Sgt. Monet Davis also spoke about her own experiences leading the V.I. National Guard's 73rd Army Band, and the calling of those soldiers to also support those in active duty.
"When I tell people that I served in the military, they want to know what my MOS (military occupational specialty) was. I feel unworthy because I was a musician. But last night, I read an article that put the military musicians' service into perspective," Davis said.
The article is from the Southern Maryland news, by Sheila Klotz, retired commander of the 257 Army Band from the Washington, D.C. National Guard.
"Her words were, 'I am humbled by it (her service) because I didn't do what other veterans did. They went on the ships and went into other countries, and they fought. And there I was playing music to communicate the military's message. It's hard because I try and be low-key, because knowing what other people – the tank operators, the MPs and the infantry did, you do kind of realize that your role is to support and represent them.''"
Her statements, Davis said, are what military musicians do in a nutshell.
But those contributions are powerful. Among her many accomplishments, Davis made history as the first U.S. Virgin Islander to serve as drum major for the nation's Fourth of July parade, leading the combined 257th and 73rd army bands of the District of Columbia and U.S. Virgin Islands national guards, respectively. Additionally, when she was promoted in 2014 to the rank of first sergeant, she had the distinction of also being the first female first sergeant of her unit as well as the first female diamond wearer in the history of the 786th Combat Service Support Battalion.
Looking over a career that spend more than 30 years, Davis thanked her family, including her mother and daughter, along with the members of her unit and the VI National Guard for their support.
"We supported each other during darkness and happiest times, hurricanes, parades, homecoming's, and deployments," Davis said. "They helped me as I navigated the course of my military career."