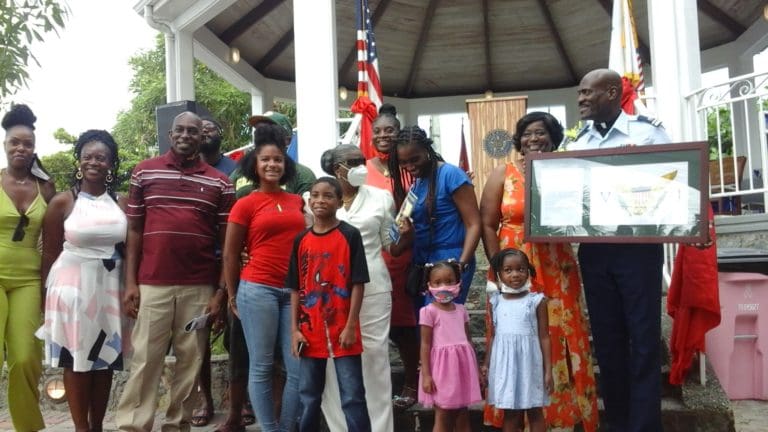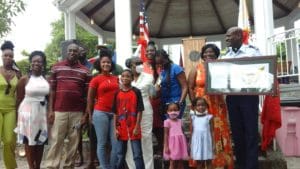 Observances of Veterans Day in the Virgin Islands started off with a tribute to Michael Jackson. The top official present at the Nov. 5 celebration, Gov. Albert Bryan, seemed to enjoy the fact that the Washington, D.C.- born Coast Guard vet shared a name with the late, world famous pop singer.
The governor was among several public officials taking time to honor those U.S. Virgin Islanders who serve or have served in the U.S. Armed Forces. He noted Jackson was singled out not only for his military service, but his community service at Our Lady of Mt. Carmel Catholic Church. Among his duties there, Jackson works with Catholic Charities to feed and look after St. John's homeless populations.
"He can do everything except sing and dance," the governor said. The honoree quietly mentioned from his seat in the bandstand at Franklin Powell Park that he does that, too.
As he accepted a commemorative plaque, the St. John vet told a story of entering the service and meeting three Virgin Islanders who were fellow service members, including his bride-to-be Cheryl Boynes. After they wed, he joined her father's marine transportation company and became a barge captain, along with his wife and years later, their children.
Senator-At-Large Steven Payne spoke about the importance of Veterans Day — once known as Armistice Day — established to mark the end of World War I. Lt. Gov. Tregenza Roach added his voice at the ceremony, held on a Sunday afternoon and attended by a small gathering of residents and visitors.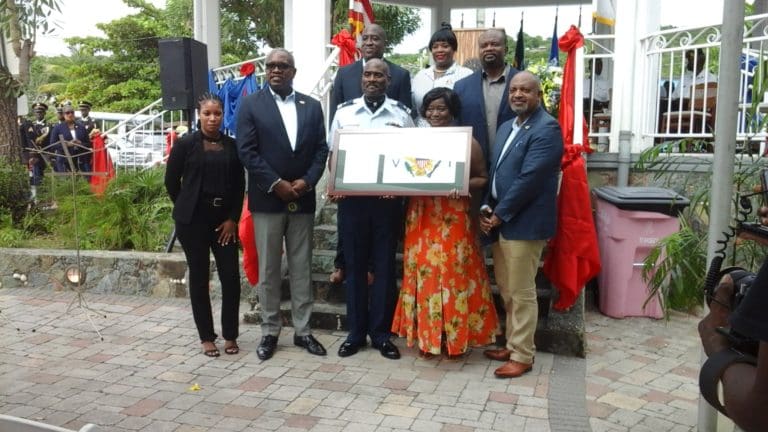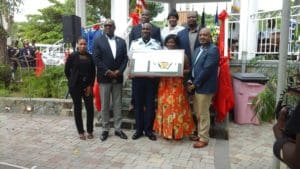 The federal holiday set aside to honor the nation's vets is usually marked by parades on St. Croix and St. Thomas, while St. John may see a display on that scale occasionally. Bryan said as long as his administration is in charge, there would be public observances of Veterans Day on St. John, "even if only three people show up."
American Legion Post 131 Commandant Harry Daniel and Chaplain Alvis Christian joined the Sunday celebration. Officials said they would like to see more V.I. vets join associations like the American Legion that helps to advocate for their needs when their days in military service are done.
Daniel, a St. Johnian, was a former state director for the Virgin Islands Office of Veterans' Affairs. The current state director, Patrick Farrell, delivered the keynote address.
The theme for the 2021 celebrations is "Honoring Those Who Support Us." Jackson's co-honorees include Milford Thibou Jr. on St. Thomas and Angel Diaz Jr. on St. Croix