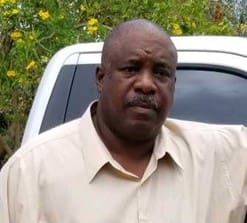 Steve Alan Javois, also known as "Mac Queen," of White Bay, Frederiksted, St. Croix, died on Oct. 17. He was 56 years old.
He was preceded in death by his mother, Nathalie Parrote Javois; father, Sylvain Edgar Javois; son, Kai Javois; sister, Adeline Javois Brandt; and brother, Michael Javois.
He is survived by his spouse, Melanie Javois; stepdaughter, Tanesha Y St. Brice; stepson, Benjamin St. Brice Jr.; step-grandchild, Alyssa Bethea; sisters: Sharon Javois, Marie Louise Sanderson, Maria James, and Sheila James; sisters-in-law: Theresa Javois, Kimelon Britton and Samantha Bacchus Forde; and brothers: Henry Javois, Antonio James, Frankie James and Alphonso James.
He is also survived by brothers-in-law: Vincent K. Adams, and Earson Adams; nieces: Latoya Javois, Aisha Javois and Nikita Javios; nephews: Raheem Javois, Akeem Javois, Khalid Javois, Kesta Cave and Ron Cave; great-nieces: Alyerah Pemberton, Emma Javois, Jemisha Javois and Aminah Javois; and great-nephews: Abijah Javois, Dejahni Lawrence and Michael Javois III.
Other survivors include aunts: Ramona Cox Romain, Ulrica Cox, Anita Parrotte Anicett and Nora Parrotte; uncles: Albert Chance, Joseph Parrotte and Denis Parrotte; great-uncle, Edward Siller; mother-in-law, Rhoda Joseph; father-in-law, Vincent Adams; special friends: Joycelyn Nation, Jeff Nation, the entire NIS family, Samantha Jagrup, the Refinery family and Bishop Emanuel Etienne; as well as other friends and relatives too numerous to mention.
The funeral service will take place on Friday, Nov. 12, 2021, at First Pentecostal Church, with tributes at 9:30 a.m. and the service beginning at 10 a.m. Interment will follow at Kingshill Cemetery.
Due to the COVID-19 pandemic and public health regulations, all attendees must wear a mask and adhere to social distancing guidelines.
James Memorial Funeral Home is in charge of arrangements.