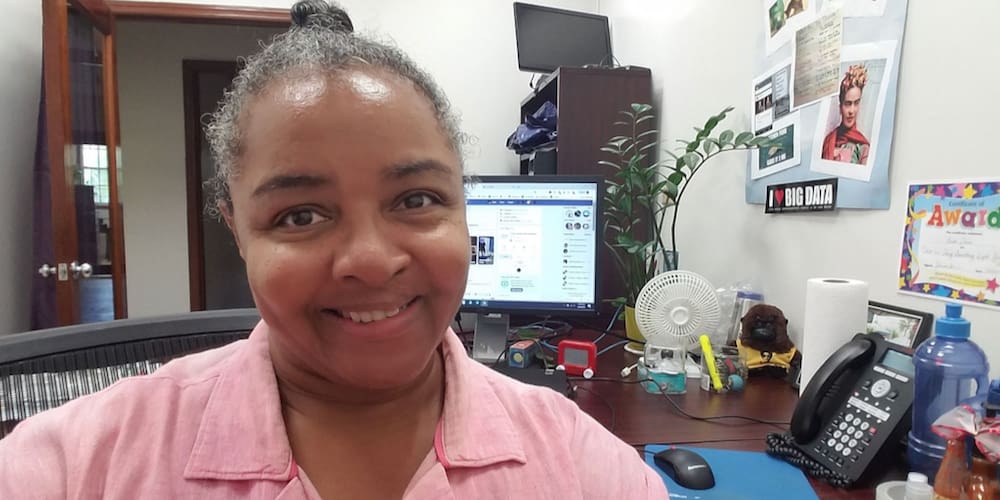 Anita Davis-Sedlak was an influencer. Not just on radio or social media – though, in recent years there were few community issues that she didn't weigh in on over Facebook with her trademark humor and wit – but in real life, where the example she set through volunteering and mentorship helped inspire others to build an even brighter future for the Virgin Islands.
That was evident Monday as the news of her passing was met with shock and sorrow, not only by those who knew her best, but by people who may have met her a few times in passing, who listened to her on the radio growing up, or by those she had simply helped pass a digital literacy course at one of the public community centers. Davis-Sedlak was battling ovarian cancer, which she announced publicly last year.
By all, she was described as a "beautiful soul" whose hope was just to make the world around her better.
"I knew her voice before I even knew who it belonged to," one friend wrote on social media, recounting conversations between her and the late Irvin "Brownie" Brown on WSTA, where Davis-Sedlak got her start. Through storms, parades, losses and triumphs, Anita broadcasted through it all, offering a steady presence – and a calm voice – for all those tuning in.
The station was a hub for media giants, and it was there that Davis-Sedlak began working alongside colleagues like Addie and Peter Ottley, Jean Greaux and Lee Carle.
"She came in knowing all facets of broadcasting: she was on-air, she managed the staff, she did the programming – she was just a wonderful, well-rounded person, and a great communicator," Greaux said to the Source Monday night.
"You name it, and she did it. That was what made her so special," WSTA Programming Manager Peter Ottley added. "She did live events, news, carnivals. She was just a multitasker and, of course, an amazing producer."
What really got the pair, though, was Davis-Sedlak's continued optimism, which was missed when she headed over to Knight Quality Stations and ventured more into talk radio.
"She was really the warm-up for Sam Topp for several years," Greaux said, recounting the glory days of AMVI, and Davis-Sedlak's upbeat voice on the air. "She will never know the true impact she has had on the V.I. community, always being the voice of positivity and hope. She always embraced the vision of a 'better tomorrow' and that was what she passed along to her listeners."
While radio and broadcasting were her first loves, Davis-Sedlak also explored the print side of news, adding her byline to the Source as a contributing writer in the early 2000's.
"Anita was one of those spacious people. She was filled with generosity and intelligence," V.I. Source founder Shaun Pennington wrote Monday. "Her forays into the darker nooks and crannies of the community as a communications professional never made her cynical or hard-hearted. She was one of those people who always said yes to life – and always with a smile and her inimitable chuckle. Her contributions to the Source contributed immeasurably to our credibility as we found our place in the news lineup. Her byline added to the gravitas of the publications. But more than any of that, she was loving and lovable and always humble and joyful. Oh, how she will be missed."
Always interested in what she called "new media" and its evolution, Davis-Sedlak eventually made a shift to learning more about websites, internet technology and operating digital help desks, which ultimately prepared her for her role as Community Outreach Manager for the V.I. Next Generation Network. There, she wrote lovingly in her social media updates about managing the public computer centers, interacting with the residents who came in and helping them become more computer savvy.
"I did an interview with her while she was working at viNGN," Ottley said. "They were promoting digital literacy and education, and she just loved volunteering and sharing her time with people from all walks of life. She just wanted to be there for them, to be part of their lives."
And to provide them with opportunities, Greaux added.
"I think that's why this is such a shock for us," he said. "No one really knew what she was battling – she was always about helping everyone else around her. There was always a level of optimism, always a level of love and care through her giving. She was just a beautiful soul."
Monday night, Sheldon Turnbull was on DaVybe sharing similar sentiments as he hosted Davis-Sedlak's show "Anita and You."
"The show never ended," Turnbull said of his host. "We took a break, and it looked like it was going to come back. But that was how she was – she didn't want people to know she was sick and be sad. Instead, she kept us all hopeful. She was a beautiful person, inside and out. It's a huge loss for us and this community."