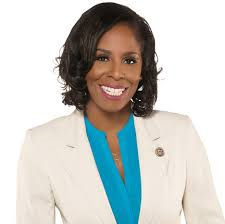 Congresswoman Stacey E. Plaskett, a member of the Ways and Means Committee, released the following statement regarding the advancement of the Build Back Better Act out of the committee process in the House of Representatives as it moves toward final passage:
"Today, with the passage out of committee, we came closer to achieving President Biden's and Congressional Democrats' vision to Build Back Better, as the House Ways and Means Committee met its deadline to submit our legislative proposal to the Budget Committee.  We are now prepared to continue negotiations with the White House and Senate to reach reconciliation on legislation that meets the everyday needs of the American people and that addresses the climate crisis.
"The Build Back Better Act is about creating good-paying jobs while lowering costs, cutting taxes for America's families, and having the wealthy and big corporations pay their fair share. In doing so, we will transform our economy in terms of women in the workplace, and we will protect our planet with climate action.
"For the Virgin Islands, the Build Back Better Act includes revenue and tax measures for the economic development of the Virgin Islands, increases transportation and infrastructure funding for the territory, addresses the educational needs of our students and youth, and includes important Department of Interior Office of Insular Affairs funding to support our island communities.
"Earlier this year, House Democrats took action to address the COVID crisis with the passage of the American Rescue Plan, which put vaccines in people's arms, money in people's pockets, children healthily back to school and workers safely back to work.  Now, we build on this progress as we Build Back Better for women and families.  Since working women with responsibilities at home took an enormous loss of jobs during COVID, we are now proud to be advancing legislation that is transformative for women with children learning and parents earning.  This means childcare, home health care, universal pre-K, the Biden Child Tax Credit, paid family and medical leave, and more.  We are advancing an agenda that helps our families and the economy because 'When Women Succeed, America Succeeds!'
"The Build Back Better Act is a historic opportunity to support working families and ensure our economy is stronger, more inclusive and more resilient for generations to come. I look forward to its final passage in the House and the Senate and becoming law with the signature of President Biden."