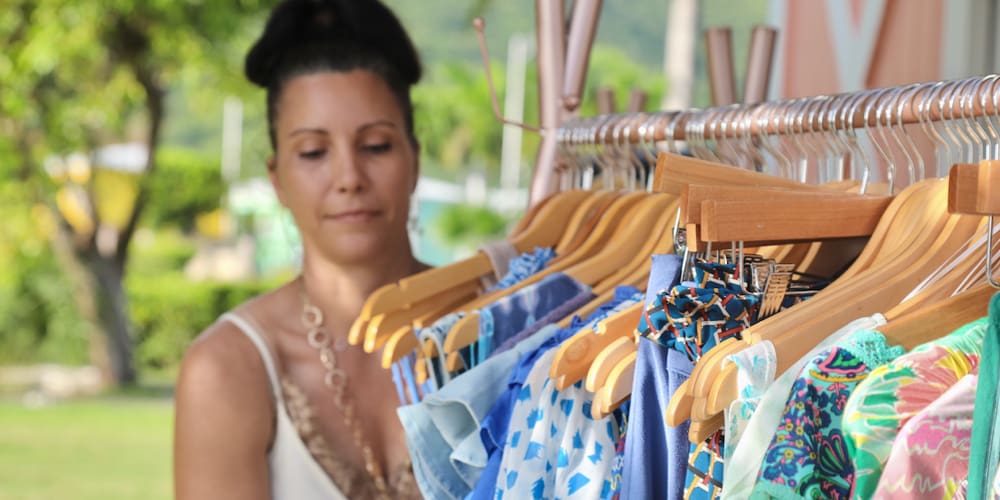 When you grow up as Nicci Roos did, on a 13-by-3-mile island, you learn to think small, at least in the physical sense.
Perhaps that's why Roos is able to pack so much into her new storefront, Nicci's Boutique, housed in an 11-foot by 11-foot by 11-foot peach-colored box on the Yacht Haven Grande waterfront promenade. It's overflowing, not only with women's fashions featuring Fair Trade and local brands, but also with a community spirit offering connection, fitness and fun.
Located in what was originally a retail mecca for cruise ship and yachting visitors, Roos's boutique is a classic example of how COVID has changed our thinking about business in a remarkably short span of time.
The daughter of former St, Thomas restaurateurs – her parents owned Cuzzins Restaurant on Back Street for 30 years – Roos had dreamed of having a small boutique in this location for over a decade.
"Growing up, I always felt we were really lacking for clothing," she said on a recent Friday afternoon as the promenade began to fill with people. "For me and my friends, there just wasn't a lot going on."
The boutique of her imagination was a neighborly place where people gathered and buoyed one another up as well as shopped. "Our local community is our backbone. Locals have always been my jam," Roos explained.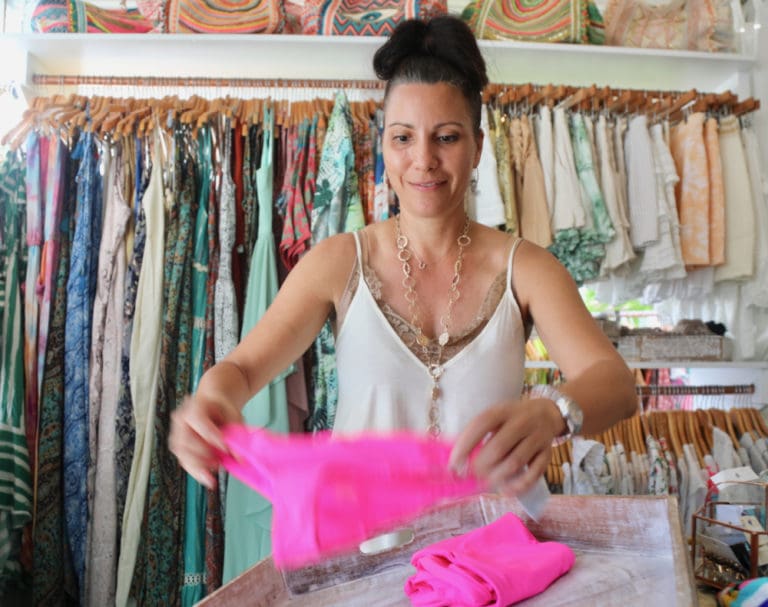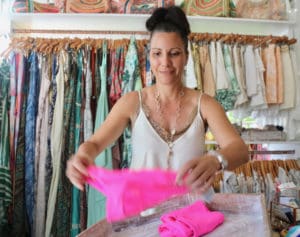 When COVID kicked in and she was furloughed from her job with Marriott Vacation Club, Roos finally had time to develop her plan.
She first tried purchasing an existing business. When that fell through, her thoughts turned to the Shops at Yacht Haven Grande kiosks. The founding intent of the 12 tiny stores was to serve as an incubator for local businesses, which could migrate to Yacht Haven's brick and mortar spaces as they grew, according to Charlie Irons, who handles the leases.
"One thing that has been a positive since the pandemic is that we as an island have started to learn to adapt to not having cruise ships," Irons said. "We can't forget the local population shops as well. The local dollars are plentiful, and you can have a business that thrives."
With the hurricanes of 2017, and then the pandemic, the colorful clapboard box stores shut their awnings, but are slowly re-opening. For Roos, with a green light from the corporate owner and a V.I. business license process that "wasn't that bad," the real challenge began:
"Forgive the pun, but with the build-out, I had to think outside the box to make everything fit," she said. "I'm excited. The store has been open for five weeks and it's taken off."
This way to the Poinciana tree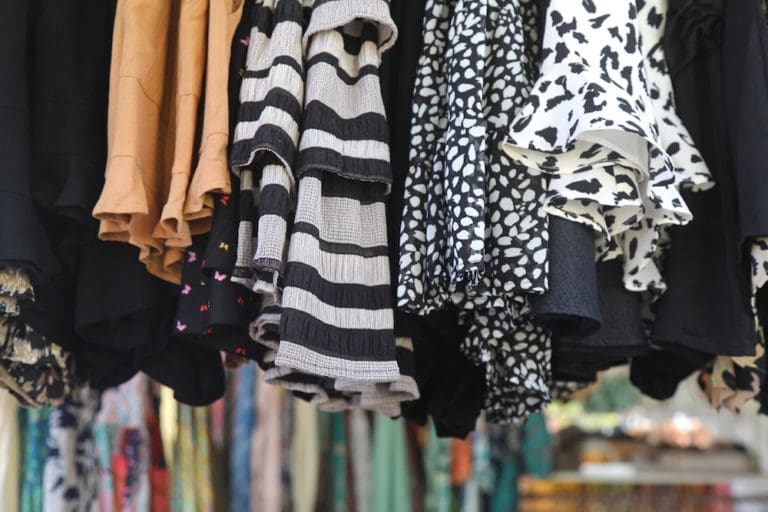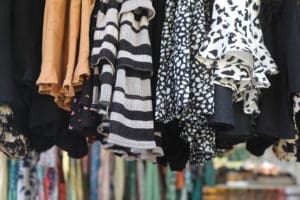 Framed by the Box Bar on one side and a shade-giving Poinciana tree on the other, Nicci's Boutique first greets the eye with four outdoor racks of dresses, skirts and tops in light, colorful fabrics that flutter on the breeze. Heavily featured are boho designs from one of her favorite labels, America and Beyond; a Fair Trade business that draws on the talents of women in rural Indian communities, teaching them new techniques and providing a fair wage for their work.
Roos is building her local rack, too, with V.I.-inspired leggings from Christine Belmonte; swimwear from fellow Antilles School alumnus Fianna Fluess; lifestyle apparel from her childhood friend Shanda Chiumento of Sugar Apple Design; and more.
"It's a women's boutique. We all have curves, and I keep that in mind when I'm purchasing," Roos said. "And while I love colors and patterns, I know not everyone does. I've started integrating solid and neutrals as well."
The store hours from noon to 8 p.m. or later are local-friendly. So are the prices, with inexpensive as well as mid-priced and luxe outfits and accessories for all ages and shapes.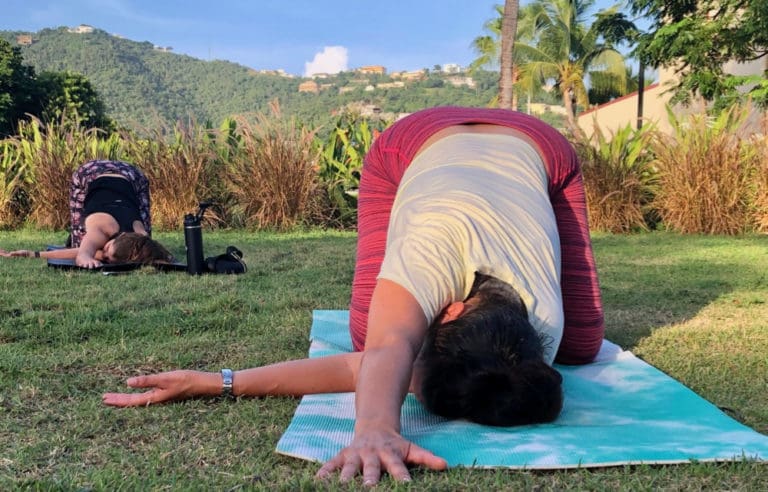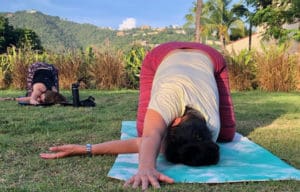 Looking good, feeling good
Roos has activated the grassy area around and behind the kiosk with fitness and art classes that welcome anyone to participate without a signup or membership commitment. There's Power Flow yoga with Billie on Monday afternoon at 5:30, focusing on breathing and fluid movements; gentler Yin yoga classes on Tuesday evening at 6:30 and Saturday morning at 7:30 with Jane; kickboxing with Trey on Wednesday evening at 6; and Latin fusion dance classes with Alexi on Thursday evenings at 6:30.
The art classes will be offered in different modalities by local artists at a scattering of picnic tables that will be set up beneath the Poinciana tree. The fee is $10 for any class; just show up and pay the instructor, Roos said.
"At the end of the day, most of us don't have $300 or $400 dollars a month to spend on fitness classes," she explained. "I want the classes to be affordable so you can feel good and get fit, but also be motivated to show up. Our days are challenging enough without having to take an extra step to sign up online."
A place for the gently worn
If that wasn't enough, Roos is working on the website for her consignment store, Samsara; a name from the Sanskrit embracing the cycles of life, she said.
The boutique will offer a convenient alternative to buying or dropping off used clothing at Four Corner or on What's Up St. Thomas, with a traditional consignment split and immediate payment. A portion of the proceeds will be donated to the Family Resource Center.
"That's really important to me; to make this a community collaboration and to give back," Roos said.
On this day, as parents chatted, children rode their bicycles and an after-work crowd mingled at Box Bar for cocktails and mocktails, the promenade that in latter days thronged with cruise ship passengers looked more like the community Roos grew up with.
"It just has a nice, symbiotic relationship, a nice fluidity to it," the store owner said, looking around with satisfaction. "Everyone lifting each other up."
Nicci's Boutique located at Yacht Haven Grande is open Mon.-Sat. from noon to 8 p.m. For more information, call 340-244-5760 or visit the store's Facebook page.