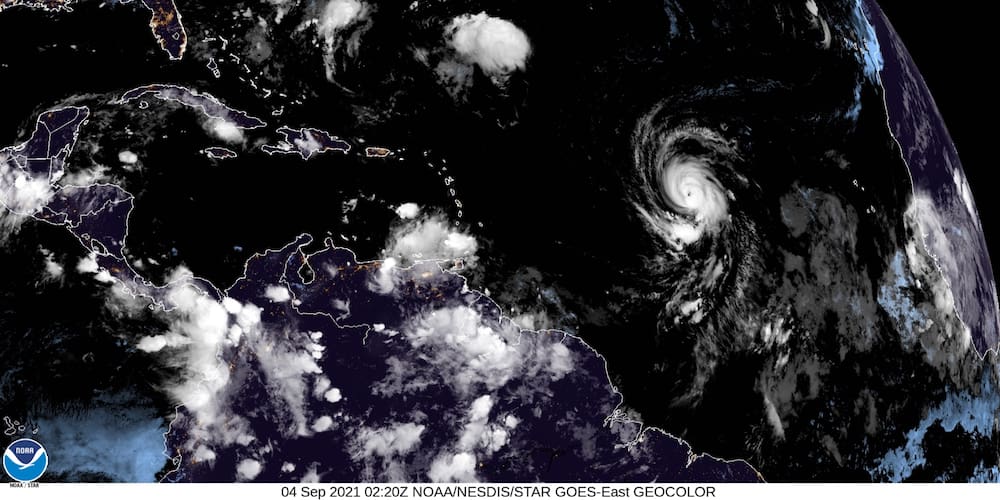 Hurricane Larry continued its course west-northwest Friday, moving it away from the U.S. Virgin Islands even as it continued to grow into an "impressive" storm, the National Hurricane Center reported in its 5 p.m. Friday update.
"Over the course of the day, Larry's appearance has become more impressive," the NHC wrote. "The eye has been gradually becoming better defined on visible satellite imagery as the center cloud top temperature has been warming on the infrared channel. Several microwave passes have been received since the last advisory. The most recent pass at 1900 UTC [3 p.m. Friday AST] suggested the eye and surrounding eyewall convection is becoming better defined, though still weaker on the east side.
UTC subjective Dvorak classifications were still both CI 4.5/77. The NHC advisory intensity was raised to 85 knots for the 5 p.m. update, making Larry a category 2 hurricane, but the NHC said improvement in the storm's structure on satellite imagery indicated the hurricane may be starting another rapid intensification cycle.
Because of its path, no coastal watches or warnings have been issued about the storm.
As of 5 p.m., the hurricane's center was near 15 degrees north, 42 degrees west.