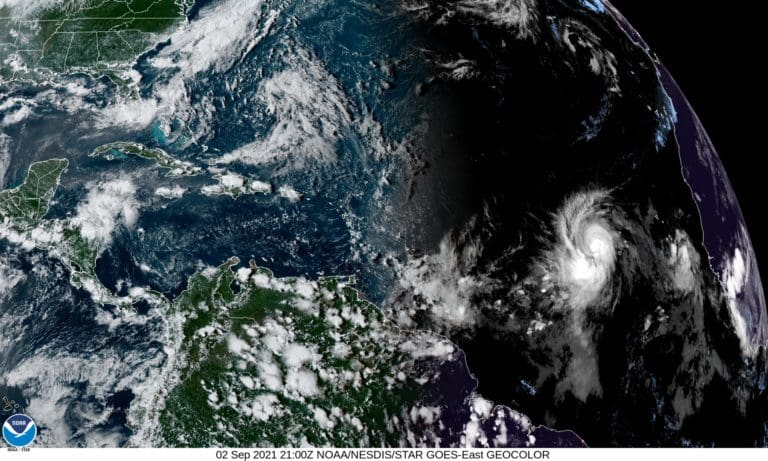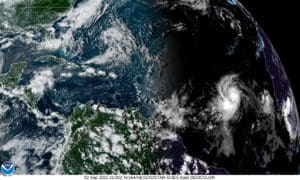 Hurricane Larry continued to gain strength Thursday afternoon as it moved westward across the Atlantic but is expected to make a gradual turn to the west-northwest and decrease in forward speed by late Friday, steering the potentially powerful storm north of the Caribbean.
In its 5 p.m. Thursday update, the National Hurricane Center said the storm was undergoing an "eyewall replacement cycle," or ERC, in which a ring of clouds forms a second, outer eyewall, eventually replacing the first. During eyewall replacement, the storm temporarily is weakened, but typically ends up stronger than before.
Once Larry completes the ongoing eyewall replacement cycle, Hurricane Center meteorologists expect significant or even rapid intensification. The short-term intensity forecast has been raised a bit more since it appears more likely the present eyewall replacement cycle will happen by early Friday morning.
At 5 p.m. Atlantic Standard Time Thursday the center of Hurricane Larry was near latitude 13.7 North, longitude 35.8 West, about 765 miles west of the southernmost of the Cabo Verde Islands. Larry is moving toward the west at about 18 mph. Forecasters expect a gradual turn towards the west-northwest with a decrease in forward speed over the next few days. A turn to the northwest is then expected by early next week.
Maximum sustained winds are near 80 mph with higher gusts. Significant to possibly rapid intensification is forecast, and Larry is expected to become a major hurricane Friday night.
Hurricane-force winds extend outward up to 25 miles from the center and tropical-storm-force winds extend outward up to 160 miles.
Because of the expected turn to the north or northwest n the next few days, the National Hurricane Center concluded in its update that the storm poses no danger to land.