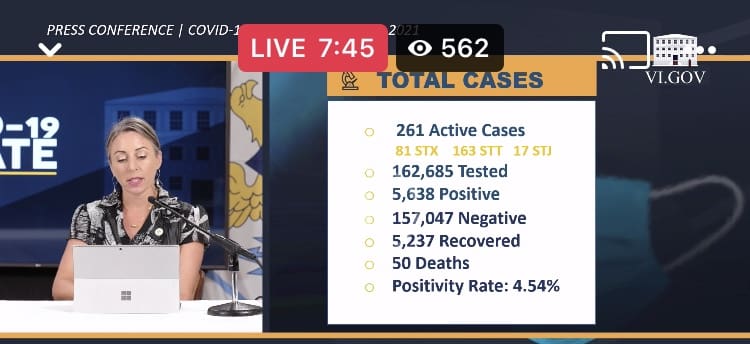 A 53-year-old St. Thomas woman has become the territory's 51st person to die of COVID-19, the V.I. Health Department reported Wednesday morning.
The death is the sixth fatality related to COVID-19 reported so far this week, on top of four the week prior.
Health officials have said the recent surge in cases and deaths is due to the highly contagious Delta variant of the virus, people not quarantining when they are sick, and the low rate of vaccination in the U.S. Virgin Islands.
Just 45.7 percent of the territory's eligible residents are fully vaccinated against COVID-19, Territorial Epidemiologist Dr. Esther Ellis said Tuesday at the weekly Government House press briefing. The government has said at least 70 percent of residents need to be fully vaccinated in order to achieve community immunity and prevent the virus from further mutating.
There are currently 261 active COVID-19 cases in the territory, with nine hospitalized at Gov. Juan F. Luis Hospital on St. Croix as of Tuesday, and 15 at Schneider Regional Medical Center on St. Thomas, said Ellis. Of the active cases, 81 are on St. Croix, 163 on St. Thomas and 17 on St. John, she said.
"None of the people that died were fully vaccinated. With each death I am saddened. We can prevent more deaths by using the best tool we have against the virus – the COVID-19 vaccine," said Ellis.
Speaking a day after the Food and Drug Administration gave its full approval to the Pfizer vaccine on Monday, Ellis said, "The vaccine is safe, and works to save lives. I am hoping that many of you who are waiting for full FDA approval take this opportunity to get vaccinated." She added that those who have recovered from a COVID-19 infection on their own can take the vaccine right away. While those who have had the virus carry some immunity, that does not extend to variants, and people can become infected again, Health officials have warned.
Patients who received a monoclonal antibody treatment to aid their recovery are safe to receive their shots after 90 days, said Ellis.
"Vaccination is one of the greatest public health achievements in the 20th century, which has helped to build a society free of vaccine preventable diseases and save millions of children and adults across the globe. The COVID-19 vaccine is one of those vaccines that is working against a preventable illness that can continue to save lives during this pandemic, and everyone has access," said Ellis.
The recent surge in cases and fatalities is "a solemn reminder that we are still in the vice-grip of this pandemic and that we must continue to take every precaution to keep ourselves and one another safe," said Lt. Gov. Tregenza Roach.
Roach headed Tuesday's news conference for Gov. Albert Bryan Jr., who has been out of the territory since Aug. 16 on both personal and government business and will return on Thursday.
The Health Department on Wednesday urged residents to continue to practice social distancing, wear a mask when in the company of others outside of those in their household, clean frequently used areas thoroughly, and wash their hands often with soap and warm water.
To schedule a COVID-19 vaccine appointment, call 340-777-8227 or visit covid19usvi.com/vaccines. Walk-ins are also accepted at the Health Department's Community Vaccination Centers.
St. Croix's Community Vaccination Center is located at the Nissan Center in La Grande Princesse, adjacent to the Honda Dealership and The Paint Shop, on the same side of the street as Food Town.
On St. Thomas the Community Vaccination Center is located at the Community Health Clinic on the second floor at the Schneider Regional Medical Center.
To report a suspected case of COVID-19, 340-712-6299 or 340-776-1519. If you have a medical emergency, call 911. For more information, visit covid19usvi.com. For COVID 19 updates, text COVID19USVI to 888777.