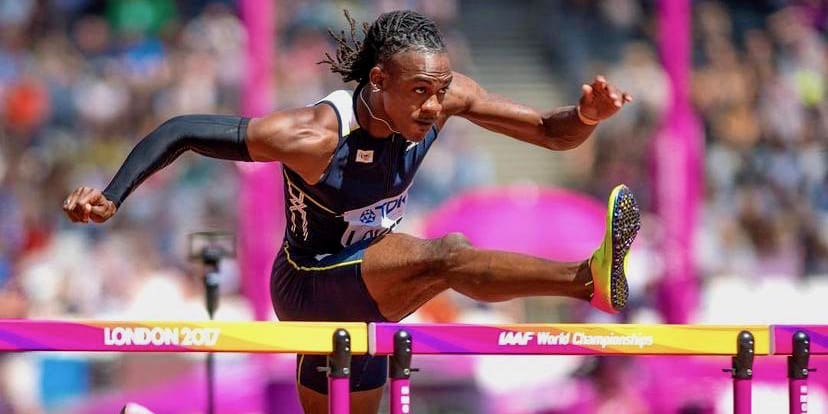 Eddie Lovett, the two-time Olympian representing the U.S. Virgin Islands, saw his 2021 Olympic Odyssey come to an end Tuesday morning in the first round of the 110-meter hurdles when he finished outside the group that qualified to move on to the semi-finals.
Lovett, who also competed in the 2016 Rio Games, ran his fastest time of the season, 14.17 seconds, but that was only good enough for seventh in the eight-man field. (Spaniard Orlando Oretega would have made it a nine-man draw, but he did not start.)
The heat was won by Aurel Manga of France, who finished in a time of 13.24 seconds. Next was Shunsuke Izumiya of Japan in a time of 13.28; followed by Brazilian Rafael Pereira, 13.46; and Wenjun Xie of China, 13.51.
The semi-finals for the mens 110-meter hurdles will take place Wednesday morning.
Meanwhile, Kyron McMaster of the British Virgin Islands finished just outside medal territory Monday, finishing fourth in a 400-meter hurdle final that sports fans will be talking about for years. The race was a duel between Karsten Warholm of Norway, who the day before had broken the world record in the event, a record that had stood for 29 years, and American Rai Benjamin. In the final, Warholm took an early lead. Benjamin began moving in on him as they reached the final turn. The American drew even with Warholm as they entered the home stretch, but the Norwegian seemed to shake him off and put on a final burst that caried him across the finish line .23 seconds ahead of Benjamin, in a world record time of 45.94, making him the first person ever to break 46 seconds in the event. Benjamin also broke what had been the world record, in a time of 46.17, but still had to settle for silver.
With all the attention focused on the two front runners, Brazilian Alison dos Santos took third place and the bronze medal in a time of 46.72, and McMaster finished an eyelash behind him in fourth, out of medal contention, in a time of 47.08.