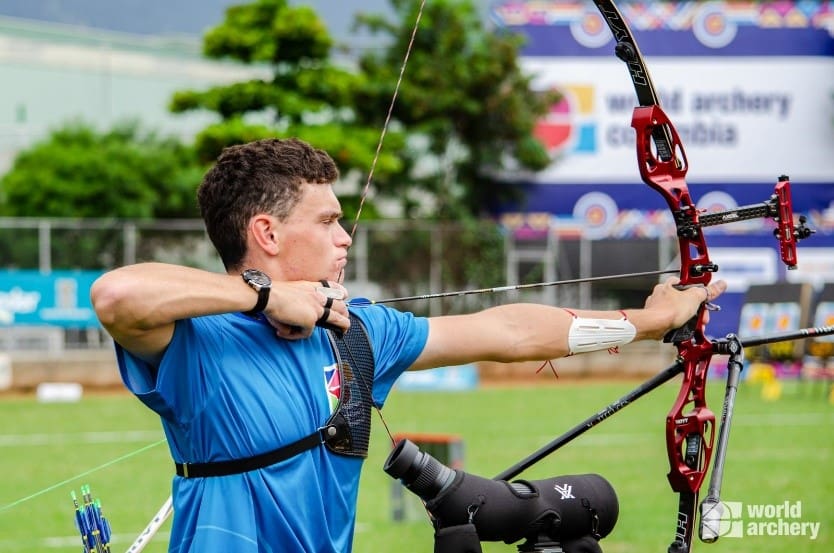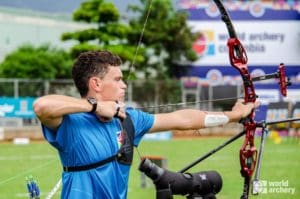 Australian archer Ryan Tyak edged Nicholas D'Amour from the U.S. Virgin Islands in a close match in the men's individual archery elimination round at the Tokyo Olympics.
The match began at 11:06 p.m. Wednesday Atlantic Time (12:06 p.m. in Tokyo).
According to the match results posted on the Olympics website, D'Amour, who is ranked fourth in the world in the event, fell behind two sets to none to open the match, as Tyack edged the Virgin Islander by scores of 27-26 and 29-26. The winning archer gets two points for winning a set, so Tyak took a 4-0 lead.
D'Amour fought back, holding the third set to a 27-27 tie, giving both archers one point. With the match on the line, D'Amour went on to win the next two sets, 28-25 and 28-26, tying the Australian and forcing a shoot-off.
But Tyack edged D'Amour in the shoot-off, 9-8, earning the final point and winning the match 6-5.
Nikki Barnes, 27, who was born on St. Thomas and serves in the U.S. Coast Guard, represents the USA in the women's two-person dinghy – 470 with crewmate Lara Dallman-Weiss. The pair, ranked 12th in the world in their class, advanced Wednesday to the next round of races, set to get underway at 11:15 p.m., Thursday, Atlantic Time (12:15 p.m. Friday, July 30 in Tokyo).
USVI 110-meter hurdler Eddie Lovett, at 29 the oldest athlete in the USVI delegation, will compete in the men's 110-meter hurdles, with first-round heats set for Aug. 3 starting at 6:10 a.m. ET (7:10 p.m. in Tokyo).
Born in Miami, Florida, Lovett frequently visited St. Croix as a child to spend time with his family and is named after the late reggae artist Eddie Lovette, who was his grandfather.